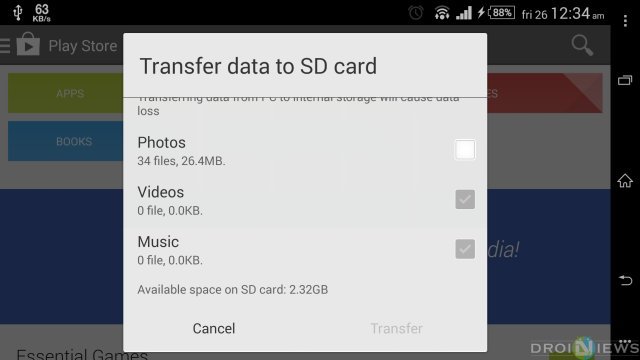 The evolutionary caliber of any Operating System in this age is highly dependent on its Gaming ecosystem and related developer enthusiasm. And when we do factor-in the above, Android has been seeing a great extent of buzz all around. To compliment the same, flagship devices from most major OEMs come with no-compromise silicon these days and ample legroom when it comes to RAM. But the moment we turn our focus towards the storage, a lot is left to desire.
There has been a spate of devices since the last couple of years which have a limited internal storage of 16gb or so. Although there are certain options of a device with more storage; sometimes the price difference just doesn't seem reasonable enough and we end up buying the device with the lesser storage and opting to extend it with an external microSD card instead.
But that's not where the problems end. Most graphic-heavy games are well worth over a GigaByte of storage, take GTA, NFS MW, COD, or any other popular title for an example. And, most of that data comes in the form of an '.obb' file which is distinct from the installable APK and takes up your precious internal storage.
Android 4.4 KitKat even took away write permission from most third party apps and we could do nothing but frown, except for obviously applying workarounds and 'fixing' the feature ourselves with build.prop edits or other, you know, flimsy methods. But let's get back to ways to fix your gaming needs now with the help of that external SD card you've got.
Xposed Framework is a boon for the the more 'daring' of us folks who don't want to get their hands dirty with manual system tweaks or Recovery-installable mods. And today too, Xposed is to our aid with the Obb on SD module. The module is simple, does what the name suggests, and is extremely easy to setup. You just need to install the apk (downloadable from the repository website or from within the Xposed Framework app), activate it via Xposed Framework, and reboot!
After this, all that is required of you is to put the obb files on your SD card in a similar Android -> Obb folder, and the module will automatically direct your game to your external SD instead of Internal storage. And voila! You are unrestricted by the constraints of your Internal Storage capacity now!
Ahem! Yes, you've read it all where we just shared a solution to the constant headache that the gamer in you had. Nah! Don't mention it folks! 😉