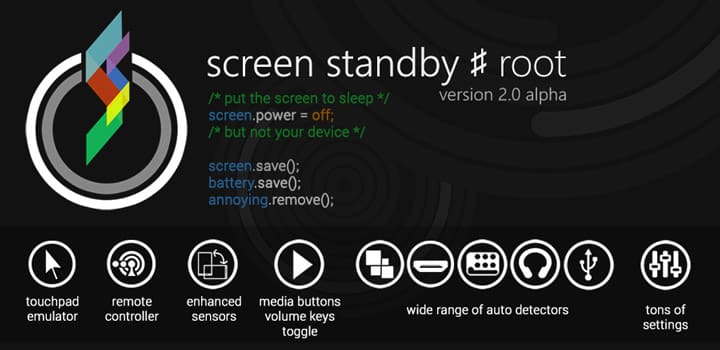 Screen Standby is a very powerful app when it comes to saving battery and avoid overheating of your device while streaming videos, gaming over HDMI or MHL, screen casting and more. You can now turn your screen off while doing various operations or running any app. For instance, if you enable Screen Standby, you can broadcast games over other screens or devices with HDMI or MHL connection, and still turn off the screen of your phone without interrupting the game. The operations in your Android device runs in the background and you can enjoy your game or broadcasts on other screens. The major advantage of using the app is avoid overheating of your Android device and also save a lot of battery. This will cut short the screen on time.
You can stream videos from YouTube and other video broadcasting apps with screen off. So if you just want to listen to the audio, then it is possible with Screen Standby. The app goes well with all your favorite apps. The development of this app has been going for over 2 years now, and the developer has added tons of features throughout this period. Along with Screen Odd feature, the app also features a remote controller using which you can auto detect or connect to other devices, turn their screens off, launch app on remote device, send text input and more.
Outgoing call automaton is a new  and unique feature that has been integrated into the app recently. You can assign a quick dial number to perform an action like launch Screen Standby, screen on/off and more, within the app. The touchpad feature is simply overwhelming. With screen off, you can use your Android device
FEATURES
– Switch off the screen temporarily without actually putting the phone into 'sleep mode'. The phone is still running! It saves your battery, avoids heating to prolong battery life
– Remote controllers control Android devices using Wifi / Wifi-direct
– Having TOUCHPAD feature! Great for controlling external display without the need for buying a new mouse.
– Having 4 methods of disabling screen backlight so it guarantees to work with all devices
– Simple interface
– It has a nice little widget that let you quickly turn the screen off from your homescreen
– Works with every device
– Various settings
– Tasker compatible
Screen Standby is certainly a unique and powerful app that has something for everyone. However, the app requires root access. Your devices needs to be rooted in order to use all its features. The app comes free, with some in-app purchases to unlock more features.