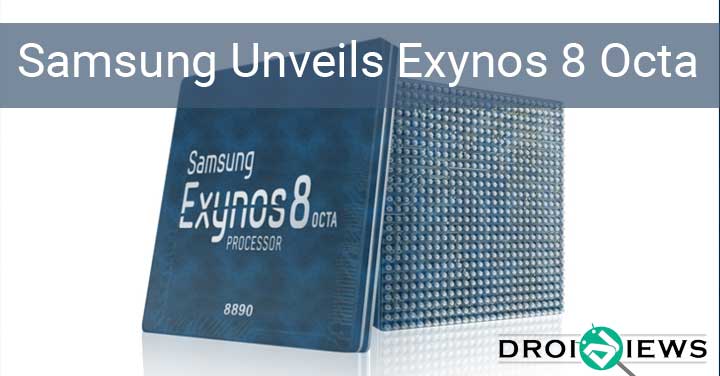 Samsung has just launched its own custom high performance CPU core design with its Exynos 8890 SoC, which may appear in the Galaxy S7, stating that its custom CPU offers a 30 percent improvement in performance and 10 percent in power efficiency compared to Exynos 7420 in the Galaxy S6. However, unlike Qualcomm the overall SoC design is still based on a big.LITTLE design and will feature eight CPU cores: four high performance custom APs and four Cortex-A53 cores for lower power consumption.
Just like the Exynos 7420 before it, the 8890 is a processor built on a 14-nm process, meaning that the distance between the microscopic components of the chip is just 14 nanometers. The smaller the process, the lower the power consumption and heat generation. Qualcomm's freshly announced Snapdragon 820 (also manufactured by Samsung) is also 14-nm.
Exynos 8890 is a 64-bit octa-core design, with four Cortex A53 chips and four of Samsung's custom cores. This is the first chip from Samsung to feature in-house designed custom cores. Previously, Samsung used ARM's ready-made Cortex designs. The four Cortex A53 cores are the power efficient cores, while the four Samsung cores provide the grunt needed for intense applications.
The Exynos 8 Octa is Samsung's first application processor to include the company's initial premium custom CPU cores based on 64-bit ARMv8 architecture providing over 30 percent improvement in performance and 10 percent in power efficiency compared to the Exynos 7 Octa. This chip also supports enhanced heterogeneous multi-processing for efficient usage of the eight cores, four custom and four ARM® Cortex®-A53, to deliver the highest performance and power efficiency in its class.
The Exynos 8 Octa is Samsung's first integrated one-chip solution in its premium line-up that combines the application processor and modem. Samsung has delivered one-chip Exynos solutions for mid to high-end smartphones in recent years. The Exynos 8 Octa integrates the most advanced LTE Rel.12 Cat.12/13 modem that enables maximum download speed of up to 600Mbps (Cat.12) and upload speed of up to 150Mbps (Cat.13) with carrier aggregation. With such a high data transfer rate, the Exynos 8 Octa will contribute to delivering an excellent mobile experience, allowing users to enjoy and share high resolution video content on the go with ease.
Also the one-chip solution benefits OEMs with a reduced number of parts needed and overall space required for a device, allowing more flexible design options.For a graphic-intensive user interface, highly immersive 3D gaming and life-like virtual reality experiences, the Exynos 8 Octa employs ARM®'s latest GPU, Mali™-T880.
Samsung plans to begin mass production of the Exynos 8 Octa in late 2015.