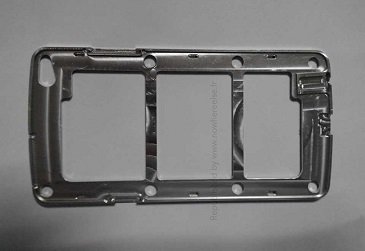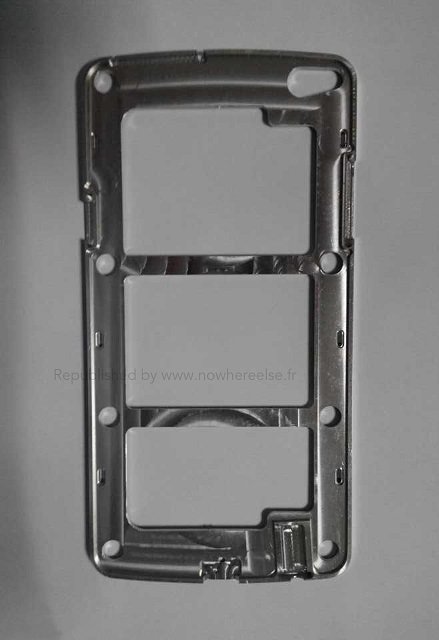 Well well, what do we have here? This certainly looks to be like our first ever leak of Samsung's upcoming flagship device for 2014 (and quite a leak indeed). According to a French tech news site (called Nowhereelse.fr) we are taking a first look at the frame of the upcoming Samsung Galaxy S5 that is expected to be released early next year.
Now as usual (just from the title) we already expected some sort of polycarbonate-based product (based on Samsung's history and dedication to the material) that is designed to look and feel like metal but definitely is not (a design technique Samsung is now very famous for). But looking at the photo above, boy are we in for quite the surprise this time around. It's actually metal!
And just look at what we have below!

Based on the photos above, it looks like we are given several measurements of the frame as well as hint of what might be in store for the device. Here is our short list based on what we are able to find from these photos:
Midplate Frame: Metal-based material
Device Height: 143.83 mm
Device Width: 72.27 mm
Headphone Jack Placement: Bottom Right
microUSB connector: microUSB 2.0 (not wider 3.0 like in Galaxy Note 3)
In comparison we have made a short list of same Galaxy S4 specifications to give you an idea what to compare to:
Midplate Frame: Polycarbonate-based material
Device Height: 136.6 mm
Device Width: 69.8 mm
Headphone Jack Placement: Top Left
microUSB connector: microUSB 2.0
Based on this comparison we are seeing that the device should be both wider and taller than the Galaxy S4 as well as moving the headphone jack back to the bottom-right corner of the device like the Galaxy Nexus had (something we absolutely love to see). Unfortunately, however, it looks like the device will not carry over the microUSB 3.0 connector that started on the Galaxy Note 3 (perhaps size limitation?).
Of course, this still tells us nothing about the back surface of the device (which is certainly more important), but it definitely gives us an idea that Samsung is interested in changing its pace this time around.
So what do you guys think of a metal-based Galaxy S5? Is this the Samsung dream-device we have been hoping for all these years?
Let us know what you guys think in the comments section below.