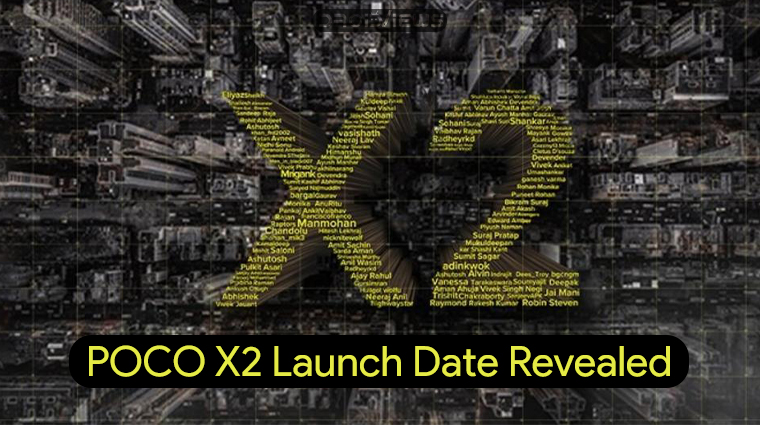 Xiaomi pulled a OnePlus when it brought out the POCO F1 (Pocophone F1) to the market. As OnePlus keeps getting more and more expensive, Xiaomi struck a chord amongst people looking for a cheaper OnePlus alternative with the same speed and power. POCO has since then been separated into its own brand. And now the company is ready to launch the POCO X2, another device with the POCO brand.
POCO X2 Launch Date
POCO India took to twitter to announce the POCO X2 launch date as well as tease the device.
An Xperience that will make you go, "Bruh, it's #SmoothAF". #POCOX2 is arriving on Feb 4th 2020.

Want to know if your smartphone is Smooth AF? Visit now: https://t.co/LQqSvTpgLz pic.twitter.com/BB5RFQ8lVO

— POCO India (@IndiaPOCO) January 27, 2020
There's a reason that the POCO X2 is not named POCO F2. This new device is apparently not a successor to the POCO F1. The Pocophone F1 packed in the best Qualcomm processor of its time but if rumors are true, the POCO X2 will be an even more affordable device. It is rumored to be a rebranded version of the Redmi K30 4G. And that device, launched in China late last year, had a Snapdragon 730G SoC.
POCO X2 could be a rebranded Redmi K30 4G
What are these rumors based on? Not much except that a listing for a new Poco device on the Bureau for Indian Standards (BIS) website mentions the model number M1912G7BI. Chinese listings for the Redmi K30 4G confirm that it offers the model numbers M1912G7BC and M1912G7BE. According to Xiaomi's naming conventions, the last letter in the model numbers denotes the market. So C is for China, E for Europe and I possibly for India.
Moreover, while teasing the POCO X2, Xiaomi shows a render of the bottom edge of the device. This bottom edge looks very similar, same in fact, to the Redmi K30 4G.
POCO X2 Specs (rumored)
If the rumors and speculations stand true, we can already make an assumption about the possible POCO X2 specs. Like the Redmi K30 4G, it should pack in a Snapdragon 730G. Other rumors have also mentioned the Snapdragon 765G. It is also entirely possible that POCO surprises us with something further high-end. As for the RAM, there should be at least 6GB of it and maybe another variant with 8GB of RAM. The device could offer anywhere from 128GB to 256GB of storage.
We can also expect support for expandable storage and a 4,500 mAh battery. The company also makes a reference to a high-resolution camera sensor in the teaser. This could more than likely be the Sony IMX686, the same sensor used on the Redmi K30 4G. The teasers also confirm the presence of liquid cooling and fast charging, possibly a 27-watt fast charging.
POCO India also takes a dig at OnePlus' 90Hz displays. Well, they take a dig at all displays lower than 120Hz. This could only mean that the POCO X2 should have a 120Hz or a 144Hz display. You just have to visit smoothaf.co.in from your phone to see it yourself. For further evidence, the Redmi K30 4G also packs a 120Hz FHD+ LCD screen.
We will know more on the 4th of February.