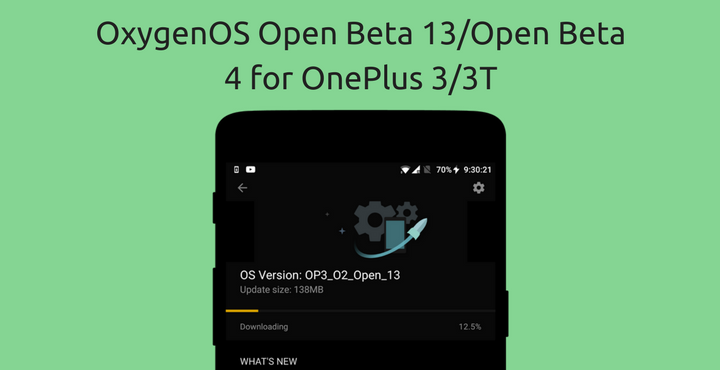 My, oh, my! OnePlus is one a roll! They have been releasing official as well as beta builds back to back for both the OnePlus 3/3T. And lately, if you have noticed closely, the users are very satisfied with the updates. Which means that the updates are almost bug-free. As a OnePlus 3 Beta user myself, the beta software is really good. I don't know what it is with these manufacturers and changelogs – the changelogs are always incomplete with very less information and often some changes are left-out. I just installed the latest OxygenOS Open Beta 13 on my OnePlus 3 and here are all the changes.
Download the latest beta for your OnePlus 3/3T:
Before looking at the changes, head to the below links to get the latest beta for your device:
Note: The changelog of OnePlus 3(OxygenOS Open Beta 13) and OnePlus 3T(OxygenOS Open Beta 4) are almost the same.
OxygenOS Open Beta 13/Open Beta 4 – New Features:
1. Redesigned UI for launcher settings:
The first thing you will notice is the completely revamped OnePlus 3/3T default launcher.
It looks a lot like the Pixel Launcher. Which is a good thing, by the way.
You can change the icons to any custom icon pack you have installed on your phone.
All the other icon customizations are gone.
Swipe up to Open App Drawer.
App Shortcuts is supported by default launcher now.
Shelf (optional) is still there.
Redesigned launcher settings (read: fewer options *sigh*)
2. Gaming Do Not Disturb mode:
Now you can enable special do not disturb mode when you are playing games. You can access these settings under Settings > Advanced > Gaming Mode. The below options are offered:
Ability to enable/disable do not disturb while you are gaming.
Ability to lock the capacitive buttons when you're gaming.
Option to add the games you want, for which the 'Do not disturb' settings will be applied.
3. Automatic Night mode:
Night mode has always been there. Now you get the option to enable/disable it automatically. These settings can be accessed under Settings > Display > Night Mode. You can automatically set it to activate/de-activate it on based on the below conditions:
Let OnePlus do it automatically based on the Sunrise/Sunset timings. I have no idea where these information is coming from.
You can set your own timing.
4. Secure Box:
There is now a built-in option to securely encrypt and hide your file. This option can be accessed from File Manager > Secure Box. The first time you go to this setting, you will be asked to set a password with which you want to secure your files.
To secure the files, go to any of the photo/videos on your built-in file manager > long press on the file > 'Set as secure'. The files will now be added to the Secure Box. You can also unlock the secure box with the fingerprints registered on your device.
5. Quick Pay (For India – as per the official statement):
This will allow users to set up a QR-based quick pay feature that can be quickly accessed while the screen is either on or off with a long press of the home button.
This will only activate right now if one of the following apps is installed: Paytm, Wechat, or Alipay. This can be found in Settings>Security & Fingerprint>Quick Pay.
6. Native Call Recording Support:
(Not listed in the official changelog). Now you can record calls without any 3rd party app on your OnePlus 3/3T. When you are inside a call (InCall UI), a new recording button is enabled as soon as the call is connected.
You can simply tap on it to start recording all your voice calls. All the recorded voice can be found in the 'Recorder' app. Also, you can choose from two different file formats for recording: AAC and WMV. All the recorded files can be found in Internal Storage > Recorder > PhoneRecord folder in your phone.
7. Notification denoising:
This is to allow priority levels to be assigned to peek notifications and will let you grant only the most important apps and their notifications the ability to interrupt you. This needs to be set at a per-app level. For example, Settings > Notifications > Choose an app and then tap on 'Notification denoising'.
You can also long-press on a notification to set this feature. When you choose this for a particular app, the app's notifications will be grayed out and will be shown at the bottom and can be seen only when you swipe down to see the notifications. These notifications will on appear on notification bar or the lockscreen.
8. Network Speed Indicator:
As someone who has been a long time user of Custom ROMs, I kinda missed this feature. There is now native option to display the network speed on your status bar.

This option can be enabled in Settings > Status bar > Display network speed. As simple as that.
Miscellaneous Changes:
Apart from the major changes listed above, below are some of the key findings:
The clock on lockscreen is now small compared to the previous one. And to be honest, it actually kinda looks neat. (Not listed in the official changelog)
Optimized touch latency. To technical? Your phone should now be more responsive to your touches.
Optimized camera EIS for videos. Have not tested it myself but user reports say it is, indeed, improved.
Improved contacts management with linking and merge functions.
If you have not updated already or not in the beta channel, I would recommend giving this build a try. It is definitely worth it. It makes the already awesome OnePlus experience, even better.
Did we miss any changes? How is the new update working out for you? Drop a comment below and let us know!