VPN for Your Android Phone
If you're like most people, you use your Android phone for just about everything. You check your email, surf the web, chat with friends, and much more. And that's why it's so important to have a VPN for your Android phone.
A VPN (virtual private network) secures your internet connection and allows you to browse the web anonymously. It does this by encrypting your data so that your ISP (internet service provider) can't see what you're doing online. A VPN also hides your IP address, making it harder for third-parties to track your online activity.
There are many benefits to using a VPN, but the most important one is security. With a VPN, you can rest assured that your data is safe from prying eyes. And since a VPN encrypts your traffic, it also makes it more difficult for ISPs to throttle your internet connection.
Why You May Need to Think of Using VPN
There are a number of reasons why you might want to consider using VPN. Here are some of the most common ones:
You want to keep your online activity private
If you're concerned about your online privacy, using a VPN can help. By encrypting your traffic and routing it through a VPN server, your ISP (internet service provider) and other third-parties will be unable to see what you're doing online. This is especially useful if you're using public Wi-Fi, as it can help prevent others from snooping on your activity.
You want to access blocked content
Another common reason for using VPN is to bypass internet censorship and access blocked websites or content. In some countries, the government restricts access to certain websites or content. By connecting to a VPN server in another country, you can bypass these restrictions and access the desired content.
You want to improve your streaming experience
If you're trying to stream video content from Netflix, Hulu, or another service, using a VPN can sometimes improve your streaming experience. This is because some streaming services use geo-blocking, which restricts content based on your location. By connecting to a VPN server in a different country, you can bypass these restrictions and access the desired content.
You want to protect yourself when using public Wi-Fi
When you connect to public Wi-Fi, there's always the risk that someone could be spying on your activity. By using a VPN, you can encrypt your traffic and help protect yourself from potential threats.
You want to save money on travel expenses
If you're planning a trip abroad, you can use a VPN to save money on your travel expenses. Many hotels and airlines offer discounts for booking through their websites. However, these discounts are often only available if you're located in the same country as the hotel or airline. By connecting to a VPN server in the country of your destination, you can bypass these restrictions and access the discounted rates.
NordVPN
NordVPN for Android is a wonderful way to keep your mobile traffic secure, due to its friendly interface and excellent security features. Your mobile may not have a LAN port or need to use Wi-Fi, however that doesn't mean you're safe from the prying eyes of three-letter government agencies, attackers, or advertisers. That's why it's a decent plan to induce a virtual non-public network, or VPN, akin to NordVPN, for your Android smartphone. NordVPN is impressive, with the biggest assortment of servers we've seen, specialized servers, ad blocking, and a superb user interface.
How Does NordVPN Work?
NordVPN encrypts your internet traffic and routes it through a secure tunnel to a remote server. This way, your data is protected from prying eyes, including your ISP and government agencies. NordVPN also hides your real IP address, making it difficult for anyone to track your online activity. In addition, NordVPN provides a number of security features, such as a kill switch and DNS leak protection.
Features of NordVPN
NordVPN's features are what set it apart from other VPN providers. NordVPN offers a variety of features that make it the perfect choice for those looking for a reliable and secure VPN provider.
Some of NordVPN's most notable features include:
AES 256-bit encryption with 2048-bit key: This is the same level of encryption used by the US military and is considered to be unbreakable. NordVPN uses this encryption to protect your data from prying eyes, ensuring that your privacy is always protected.

No logs policy: NordVPN does not keep any logs of your activity while you are connected to their servers. This means that your identity and activities are completely safe with NordVPN.

User-friendly interface: NordVPN's interface is designed to be user-friendly and easy to use. Even if you are not tech-savvy, you will be able to easily navigate NordVPN's interface and use all of its features.

24/7 customer support: If you ever have any issues with NordVPN, their customer support team is available 24/7 to help you. You can contact them via live chat or email, and they will always be happy to assist you.
These are just some of the great features that NordVPN offers. If you are looking for a reliable and secure VPN provider, then NordVPN is the perfect choice for you.
How to Set Up and Use NordVPN on Your Android Phone?
First, you'll need to sign up for a NordVPN account. You can do this on their website or through one of their apps. Once you have an account, download the NordVPN app from the Google Play Store.
Once the app is installed, open it and sign in with your NordVPN credentials. Then, select a server location from the list. We recommend choosing a server that's close to your current location for the best speeds.
Once you're connected to a server, you can browse the internet as usual. Your traffic will be encrypted and routed through the VPN server, so your privacy will be protected.
If you need help, NordVPN offers 24/7 live chat support. You can also find helpful tutorials and FAQs on their website.
Privacy Policy
NordVPNs privacy policy is mostly clear, though some may be intimidated by its dense wall of text. The good news is that NordVPNs privacy statements are strong. Towards the beginning, the policy reads, "We [NordVPN] process only minimal user data – only as much as it is absolutely necessary to maintain our services." These functions are limited to the provision of the NordVPN Services, payment processing, and running a website and mobile applications. Accordingly, "NordVPN uses third party data processors only for the processing of payment data, and basic website analytics," which is pretty standard. You can send a request to NordVPN to find out or correct any personal information the corporation has been collecting about you.
In terms of VPN usage specifically, "NordVPN guarantees a strict no-logs policy for NordVPN services, meaning that your activities using NordVPN Services are provided by automated technical process, are not monitored, recorded, logged, stored or passed to any third party." The policy continues, "We do not store connection time stamps, session information, used bandwidth, traffic logs, IP addresses or other data." All those policies seem solid to us, but ultimately you need to be comfortable with this policy on your own, so make sure to read it for yourself as well.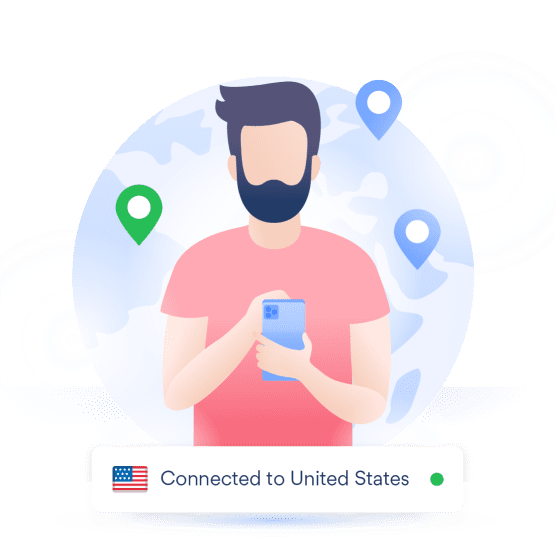 Usage and Speed Test
We tested NordVPN on a Google Pixel running Android 9. We tended to not have any problems work into the app nor did we expertise any lag or crashes in use. The reliability of a VPN app is important since it's your 1st (and probably most important) line of defense against internet-based privacy threats. The app's style and layout are slick and stylish, a marked departure from the dull, confusing interfaces that dominate the safety sector.
The app's main page shows a large map with all of NordVPNs server locations. The massive Quick Connect button at a lower place on the map connects you to the server NordVPN thinks is best for you. You are able to choose a server from the map, too, or scroll right down to select from a list of servers organized by country. Users even have the choice to feature servers to My Favorites, select one amongst NordVPNs specialty servers, or seek for a particular server.
Any VPN service you decide on can probably impact your network speeds. Your speeds whereas connected to a VPN rely on many variables, like your geographic location, the time you connect, the server you select, and even your device. As such, contemplate our take a look at results more of a shot of VPN performance at the time of testing than a definitive ranking.
When we tend to check mobile VPNs, we shut down mobile information and hook up with PCMags snappy FiOS association over Wi-Fi. we tend to think about this to be a VPN best-case situation. It conjointly controls the mercurial nature of cellular networks and reflects the scenario during which a VPN can presumably be used. If, as NordVPN does, the app mechanically chooses a server, we use that one for testing. If not, we select the highest obtainable server within the US.
Once connected, we run many speed tests victimizing Ooklas Speedtest.net app with and while not the VPN active. we tend to then compare the median-based average of these tests to search out a % change. (Note that Ookla is closely held by Ziff Davis, who jointly owns PCMag.)
How Much Does NordVPN Cost?
NordVPN has recently interrupted its free trial because it was said that scammers were abusing it. The service is out there for $11.95 per month, which is on the dear facet of a VPN. This average monthly price for one in all PCMags top-rated Android VPNs is $10.16. Personal web access, on the opposite hand, prices solely $6.95 per month. There are several great free VPN services available, so being short on money isn't any excuse for not staying safe online. For instance, ProtonVPNs ($6.63 Per Month for 2 Year set up at ProtonVPN) free service doesn't impose any data limitations. If you notice that you just love NordVPN, you can go for longer-term plans. A six-month plan is priced at $54, and $83.88 gets you a year's usage of VPN service.
A NordVPN subscription allows you to use the service on up to 6 devices synchronically, which is slightly over the average. That said, IPVanish and CyberGhost offer 10 and 7 simultaneous connections, respectively, and Avira Phantom VPN allows you to use as many devices as you prefer with no limitation. If you've got each iPhone and Android device, you're in luck. NordVPN iPhone app is quite similar to the Android one. Additionally to Android, NordVPN offers services for Chrome, Firefox, iOS, Linux, macOS, and Windows. You'll conjointly configure NordVPN on your router to guard all of the devices on the network.
Conclusion
There's no doubt that you simply would like Associate in Nursing Android VPN, and NordVPN is one of our favorites. The service earned an Editors alternative award on the desktop with its straightforward design, a wealth of advanced features, and wonderful speed. Take a look at scores. Whereas the Android version won't have all of NordVPNs desktop features, it does have a high-notch interface, an outsized range of servers (including specialized servers), and powerful leads to our speed tests. Accordingly, NordVPN is an Editors alternative winner for Android devices as well. Non-public net Access is another top pick, because of its in-depth customization options, while TunnelBear is a perfect choice for general users.