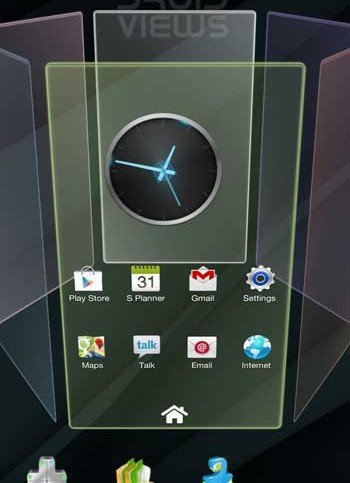 The Go Team Developers are back in action with the Beta release of their next-gen launcher for Android called the 'Next Launcher". The app is compatible with all Android 2.3.3 and up phones.  While the performance of the app on HDPI and XHDPI devices with dual core is smooth and fast, it might feel a little laggy on other models. I tested the launcher app on the Galaxy S3 and it ran like a charm.
Install the app as a normal apk and press the Home button on your phone to launch it. The app will ask you to share the news with your friends before it launches, a very clever way to advertise the app to users!
On the homescreen, you can see a home screen slider bar just below the status bar which can be hidden via launcher app Preferences configuration. On the bottom, there are five icons, the app drawer icon being in the middle. When you tap on an icon, on home screen and app drawer, you see an animated ripple effect. The app drawer icon displays beautiful animation effect when you comeback to the home screen.
Whether it be to add a page new, page, app shortcut or a widget, the Next Launcher does it all in a beautiful way. In some of the interfaces, one can easily smell the smack of SPB Shell 3D. Here are a few screenshots of the launcher app to give an idea of how it is.
Features:
Various operation for icons.
Unlimited screen layout.
Stereoscopic screen preview.
Quick screen management.
Rotatable dock.
Powerful app drawer.
Beautiful scrolling effects.
Fancy 3D widgets:  coming soon!
Download Next Launcher Beta 4 (latest)