Back in 2011, Google has made MTP (Media Transfer Protocol) as the prime means of file transfer in Android devices replacing the much-used mass storage option. It's a good move from Google back then as MTP allows your PC and phone to access the storage at the same time without any interruption to the device functionality. MTP is quite easy to use and even though there was a bit of resistance from the people at the start, eventually everyone is used to it. To transfer the files using MTP, all you need to do is to plug your device to the PC and transfer the data. Wait!!! Are Mac users reading this? Well, then there is a bit more to move files from Android to Mac.
The Media Transfer Protocol is widely accepted and it's a piece of cake to use it on Windows PC. But Macs are different, let's say "a bit annoying" which doesn't allow MTP for file transfers. Google rolled out an official fix back in the day to allow moving files from Android to Mac in the form of "Android File Transfer" app. AFT is a reliable app for Mac that allows file transfer from Android but it hasn't been updated by Google in a while which makes it kind of buggy every once in a while. Fortunately, there are other 3rd party apps that will make the task easier. Today, we will see some popular methods to move files from Android to Mac.
Let's Start with Android File Transfer
Download and install the Android File Transfer app on your Mac. Installation instructions are on the download page itself and it's as easy as a double-click.
Plug your Android device into the Mac using a USB cable. The Android File Transfer app should automatically launch on your Mac for file transfer.

If you're on Android Marshmallow or above, MTP mode is not enabled by default when you plug in your device. So, you need to choose the MTP mode on your Android device to transfer files.
Let's try an alternative — HandShaker
HandShaker is a free app available in the Mac App Store. It has an improved interface which looks more like the normal finder window on Mac rather than the rusty old AFT window. Even though this doesn't alter the functionality, it is a bit more pleasing for the Mac users. Also, you can now view the thumbnails, sort the photos and files on your Android device from Mac through HandShaker. It also allows you to perform few file and folder management tasks from the Mac.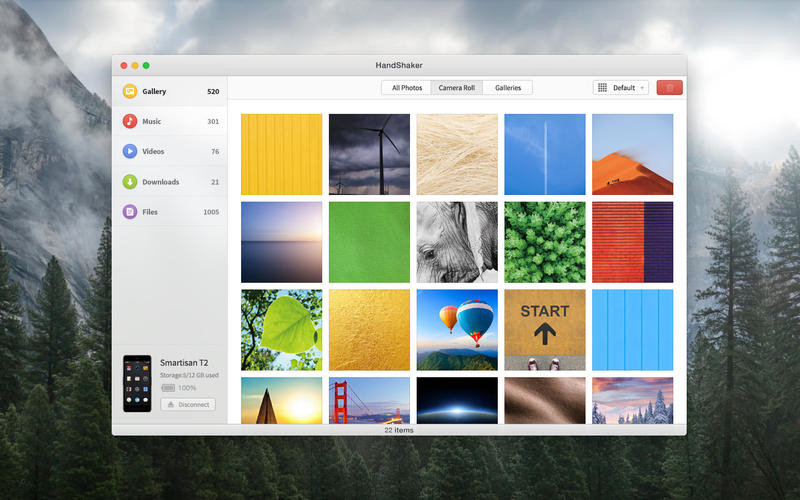 It is quite easy to setup HandShaker on your Macbook, just follow the below steps:
First, get rid of the AFT on your Mac if you have it installed. Else, the AFT will pop up every time you plug your device to the Macbook.
Enable USB debugging on your Android device. To do so, open Settings application and then click on About Phone. Tap the Build Number 7 times continuously and you will get a visual message "You're now a developer." Get back to the Developer Options  in the settings and enable USB Debugging option.
On your Mac, click on "I have Authorized this Mac to access my Phone" after enabling the USB debugging on your Android device.

Now connect your Android device to the Mac to transfer files via HandShaker. You will need to authorize HandShaker on your Android device. For that, check your device and you should see a popup on the screen for USB debugging, check the "Always Allow" box and click OK.
You can now browse and move files from Android to Mac more easily.
Move files from Android to Mac Wirelessly
If you're fed up using USB cable to transfer files from your smartphone to laptops, there are many apps that will help you go wireless. For starters, Portal is a simple app available on Google Play Store which will allow wireless file transfer from Mac to Android. Download the Portal app from below link and visit portal.pushbullet.com on your Mac.
Scan the QR code from the Portal app on your Android and you're done. Unfortunately, Portal only allows one-way file transfer i.e. from Mac to Android. If you want to explore much more versatile options, you can try apps like Airdroid, AirMore etc… Just download them from below links and follow the onscreen instructions to move files from Android to Mac wirelessly.
If you know of better ways to move files from Android to Mac, please share with us in the comments section below.