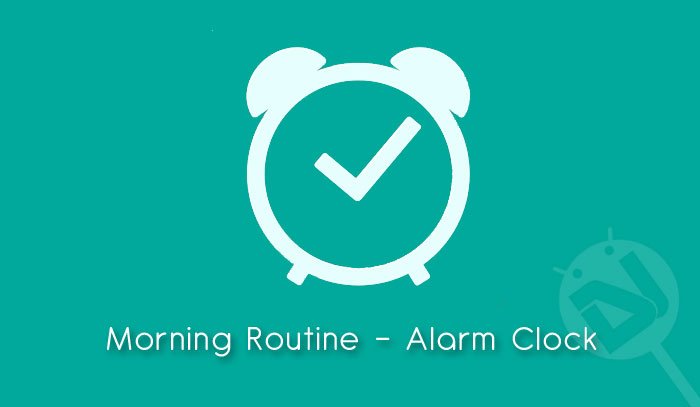 Waking up in the morning and realizing you're late to work again is the worst thing that can ever happen to anyone. No matter what you do, you can't help it. In the morning your bed automatically feels the most comfortable place on the earth, which resists you from waking up. The traditional alarm clock, the one which needed to be hit on the top to snooze/kill the alarm is now all gone. It's the generation of tech. Every morning your Android device does its best to get you out of your bed, but it fails with just a simple tap, the snooze button, or worse – the turn off button. Wouldn't it be great if there was an application which would totally bring you out of your deep sleep? There is – Morning Routine.
You may have come across many creative alarm applications which involve gestures like shaking your device to snooze the alarm. But I bet, the application we're going to review today is totally different. Morning Routine is an Android alarm tool which would shut down or snooze the alarm only if you do a specific task, like scanning a bar code. It would be really hard to get out of your bed and then find a product with a barcode on it, and then scan it with your phone to simply snooze your alarm. But this process will wake you up, and will ensure that you'll never be late again.
Morning Routine is available on the Google Play Store for free. The first time you launch the application, you'll be taken away by the 'beyond' Material Design looks. The UI of the application is one of the most awesome features that make it to the top of our preferences. Morning Routine responds to your touch in a much more beautiful way. The animations of the application are just amazing. The color scheme of it is also one of the things which makes it look so attractive. But, this application isn't totally about its design, its about it amazing features which makes it so creative. Let us get into more detail.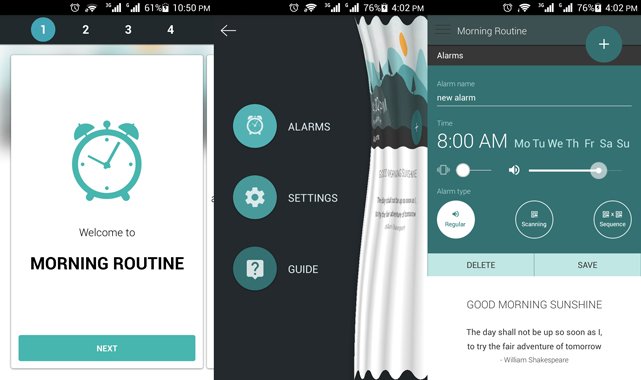 With Morning Routine, you set the alarm as you normally would on your stock alarm application, with just a tap. But, there is another option which lets you choose how to snooze/switch off the alarm. One is the normal mode, in which  you just need to swipe to snooze the alarm. The other is the scan alarm type. When enabled, the user has to scan any bar code of any product to turn off the alarm. So, it would be quite hard to find a bar code while in half sleep. The third mode, the sequence alarm is the main specialty of this application.
With sequence alarm, the user can create his/her's own sequence of steps, which will make your perfect morning routine! For each step you can scan a code, or just snooze it with the flick of a button. If there are more than one steps in your sequence alarm, then you can set how many minutes until the alarm would go to the next step. This will create your own healthy time-table. No matter how many steps you set in your sequence alarm, the last step will always turn it off. For every step, you get a 'Step Action' in which you either open up a webpage of your liking, or an application. This will force you to read your daily news, or check out your newsfeed. Some additional tasks require Tasker to be running. You may think, what would happen if I'm not at home and do not have the specific items to scan? Morning Routine provides another awesome feature known as the 'WiFi Lock' which would recognize if you are home or not. If you're not home, the application will accept any bar code to turn off the alarm.
Apart from these amazing features, Morning Routine is a very attractive application. It is much more than a normal Material Designed application. Take a look at the following screenshots to examine the beauty of the application.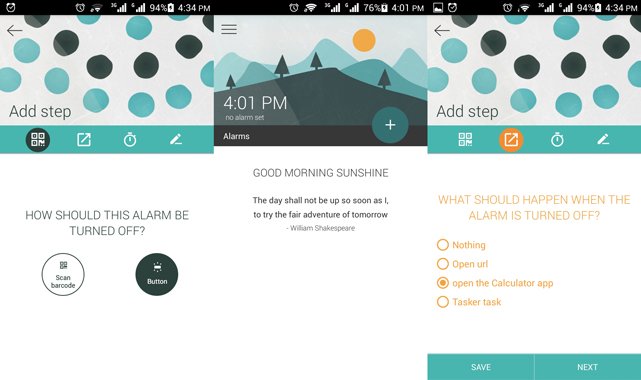 Overall, Morning Routine lets you wake up in the morning with a healthy start. It makes up your very own perfect routine. After reading this review, I know you're tempted. So you can grab the application off the Play Store for free by clicking the following link.