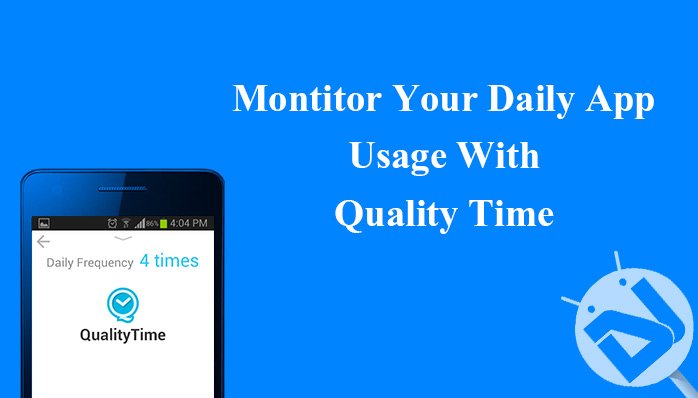 If you are a frequent Android user, you must have used really addicting applications like YouTube, for watching videos, Facebook for checking out on your friends, Google +, to stay updated with technology, and WhatsApp to stay in touch with your near and dear ones. Sometimes, games can also be addicting. Games like Flappy Bird, and Don't Touch The White Tile take away most of your leisure time. You will need to monitor the time you spend to use an application to keep yourself balanced. With Quality Time, you can! Quality Time records the time you spent on a specific application, and displays it in the application. Quality Time being a really small application ensures that you don't run out of memory while downloading the application. But, on the other hand, Quality Time very efficiently does your work of monitoring your phones usage.
You have an option to login via Facebook, create a new account, or Login with an existing account if you've already created one. If you don't want to get the special benefits of a Quality Time account, go ahead, by clicking on 'Register Later'! There are easy swipe-features to use this application. You can swipe left and right to view the different dates, and swipe down once to see daily usage charts, and twice for weekly usage! To view the statistics of a single application, just simply tap on it. You can also create alerts to notify you if you're using a specific application too much. There is a 'Take A Break' Feature in this application too, and you can use it whenever needed. The Take A Break feature lets you record you apps usage only when needed. Take a look at the below screenshots.
If you create a Quality Time account, and use it, you'll be on an advantage where you will be able to record and save your phones usage for up to six months, and it will be secured in a cloud backup. If you use a ton of applications on your device, and fear you will not be able to make out the time you spend on each application, worry not! Quality Time has a fun and beautiful timeline like UI, so no matter how many applications you have used, this application will not get any ugly! There are the Daily and Weekly usage sections to make it easier for you to monitor your usage. You can customize to stop tracking of an application, and delete any tracking previously done.
Overall, this application does what it says – tracking your daily device usage! You can get this application on the Google Play Store :