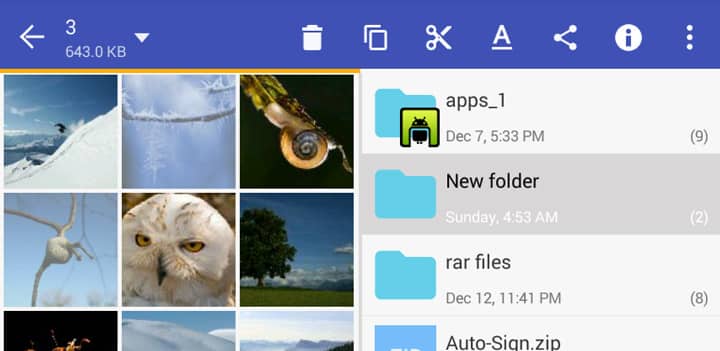 MiXplorer is more than just a file manager or a mere explorer. It is a lightweight file manager brimming with features that most other file managers lack. Although it has not been launched on the Play Store yet, MiXplorer can give a tough fight to most other file explorers in the market like ES File Explorer, Solid Explorer and more; in terms of speed, smoothness, compatibility. Along with the various file operations like copy, move, rename, etc., MiXplorer supports file compression, file decompression, built in server protocols, file encryption and tons of other features.
The best part about MiXplorer is that it's absolutely free for ever, or as the developer claims. Amid all these features, the user interface is simple and easy to use. You track all the options with ease keeping the interface tidy. If you have root access on your device then you can modify system files right from MiXplorer; this saves you the hassle to install another root explorer for that purpose.
MiXplorer was developed by a single developer and not as a team. Hence there are no profit strategies or monetary gains associated with it. Its absolutely free for now. For Android users still on the Android 2.1 or SDK 7, this explorer will run with no problem. Moreover, it supports the latest Android Lollipop version. With almost every new update comes a new feature and some stability improvements.
Here is a full summary of the features from the MiXplorer.
Features of MiXplorer

Customization options that enables you to select any color you like.
Unlimited Tabbed browsing and Dual panel in landscape mode and Drag and Drop between panels also supported.
Perform operations like copy, paste, cut, rename, move etc.
Various view modes and sorting options for each folder separately.
Customizable bookmarks drawer with essential file types already categorized.
Advanced search functions.
Export/Import all preferences and bookmarks and customized skins.
Includes an extractor and compressor that supports almost all types of extensions like 7z, TAR, RAR, ISO and many more.
All your cloud storage is accessible from a single app. MiXplorer supports 19 such cloud storage providers.
Root access for advanced operations.
User and System app management with data backup ability for rooted devices.
EncFS volumes supported for all storages.
File encryption and decryption using Aescrypt file format.
FTP/HTTP Server built in.
MP3 Tag Editor.
Built-in Image Viewer (it supports GIF animation).
Built-in Media Player.
Powerful Text Editor.
SAMBA, FTP, SFTP, WEBDAV, BLUETOOTH supported as well.
In short, it is a fully featured app that serves more than what is expected from a file manager. Installing MiXplorer would certainly help you lose some apps from your app drawer. If you want MiXplorer for your Android device, then get it from the download link given below.
Download Section
Download | MiXplorer