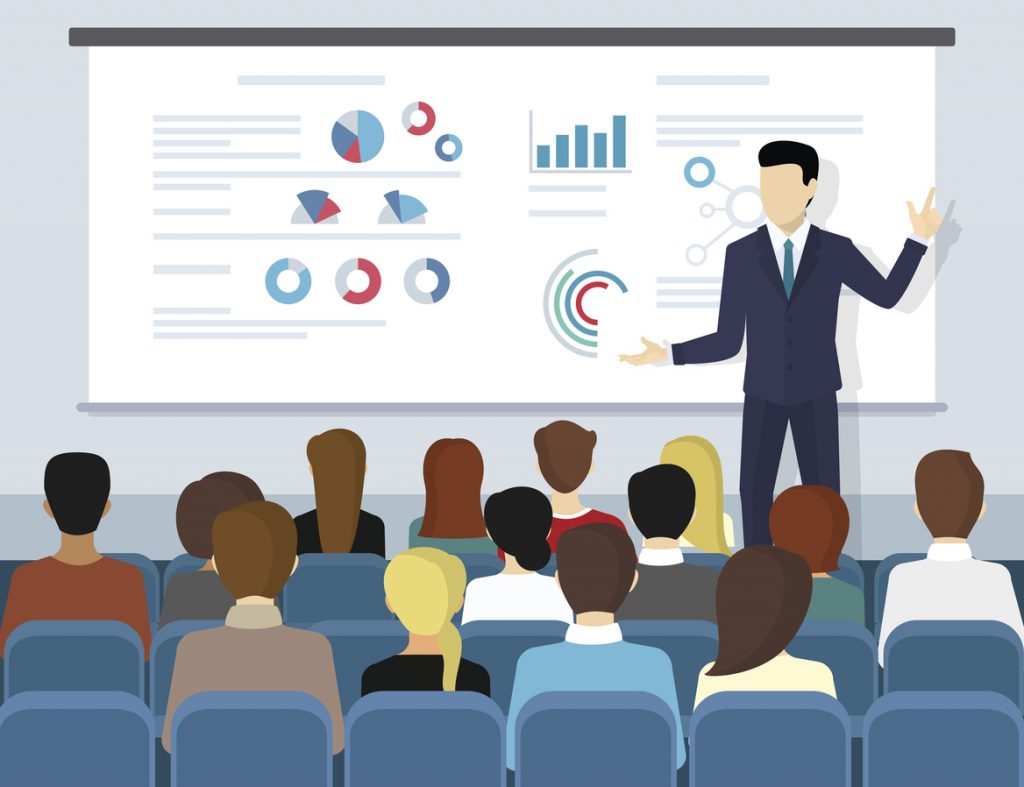 The idea of presenting your work to a wide audience can often be daunting for some and exciting for others. 
It is important to understand that a presentation is an integral part of marketing and business development. From being a speaker at a conference to pitching to clients, from hosting webinars to train employees to sharing ideas with clients, presentation plays a role in various roles in your career. 
However, presentations are still often treated as an afterthought. As a result, you settle for an average presentation. A presentation can decide whether you will be signing that client or not. It is not something to be left for the last moment. It needs to be appealing. 
In this article, you can read about different ways to make your presentations more compelling and effective. 
Take your time to curate valuable content 
Focus on the term valuable. It is crucial for you to know your audience before you can offer valuable content. Thus, make it a point to understand what your audience wants, make an outline, and then work on your content. 
If you have tight deadlines, there are plenty of authoring tools that offer a wide variety of themes and templates to make the process of creating your presentation easier. They save time and also costs, to some extent. 
These tools also allow you to make a presentation that includes text, videos, and other forms of multimedia. It is best to make use of images and videos to make your presentation more appealing. 
Moreover, you can use screen-recording tools to get over the old screenshots and add recorded videos of the screen. 
When presenting your work, keep in mind that less is more. No one wants to listen to you speak for hours on end. This will make your presentation monotonous. 
To avoid making your audience get bored and lose interest, the first thing you need to make sure is that you use slides and not documents when presenting. Keep every point as precise as possible. It is often recommended to mention one point per slide. 
This way, you will have your audience focused and make sure they don't get lost in the maze of text and visuals. 
It often helps to keep your presentation minimalistic. 
When presenting, adding data can either be a good strategy or it can take your presentation down the drain. It all depends on how wisely you are using your data. 
Wherever possible, avoid using excel graphs and charts. The main reason is to make sure your audience doesn't get confused. It can often act as an element of distraction for your audience. 
Simplify your complex data by presenting it in an infographic style rather than your typical Excel chart. 
It is true that your stats will make your work seem more authentic. However, make it a habit to always source your stats. Also, it is recommended to use the most recent information. Using data and stats from a couple of years back can make your audience question your credibility. 
As obvious as it sounds, there are many who leave their presentations at default. Having a professionally designed presentation can quickly add to your credibility. When your content is great but your design quality is poor, your audience will still get distracted. 
You can use the templates offered by authoring tools if you are not a design person. All you need to do is add your content to the template that has been made for you and you will be good to go. 
Also, make sure your presentation is rightly branded and not over-branded. It is also important for you to have an organized and clean layout to make your presentation look more appealing. 
Conclusion
Presentation is often seen as an additional task. It is important to keep in mind that a presentation is equally crucial as any other task, especially when you are pitching. So, make use of the right tools, data, and design to make it look more presentable.