Dead Island 2 is a big release for publisher Deep Silver and developer Yager Development. The game features a brand-new engine and is reportedly the largest open world in the franchise so far. It is ideal for gamers who love playing action-packed games with makeshift weapons on pc. Unfortunately, it's also mustering up some crashing problems.
Here's what you need to know about the forthcoming Dead Island 2 Hot Fix.
What Are The Possible Reasons
Dead Island
2 Is
Crashing
?
Sometimes the startup may be crashing because of an outdated GPU driver, problems with the game files, compatibility issues, or unmet system requirements. You can deal with these issues only if you are aware it could happen as the game does not update you with the problem.
You will have to try out and check which solution might work for you, depending on the status of your system and game.
How Can I
Fix
Dead Island
2
Crashing
On My
PC
?
The difficult part about the game crashing is that there is no way to find out what is causing the issue for sure. Hence, it can take a lot of methods to figure out the solution. What works for one system may not work for another system.
Therefore, try the different fixes mentioned here till you get rid of it. 
1. Clear Out Your Web Cache
You can get rid of the temporary files stored on your system from web browsers. It can be helpful to clear it up as storing it on your device can take up lots of storage space. This can lead to the slowing down of applications or persistent performance issues on your device. Follow the steps to clear out the web cache from your system:
Step 1: On your system, operate the run command or use shortcut keys from your keyboard (Windows + R) to open it. 
Step 2: Go to local app data by typing %localappdata% in the field and selecting ok.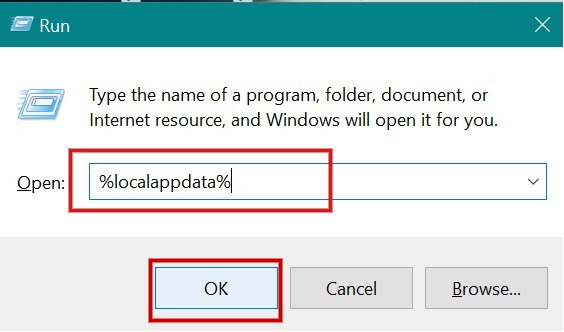 Step 3: Once your local files window opens, go to the Epic Games Launcher folder in your program files and click on it.

Step 4: You will now find another folder called web cache here. Right-click on it and select delete.
You can restart your pc and launch the game to check if the issue is resolved. 
2. Try Reinstalling The Game
Sometimes the game tends to have temporary glitches which can be solved by uninstalling your current version of the game and reinstalling it. It is a simple task and your progress will not be erased. 
Step 1: Go to your launcher and search for Dead Island 2 in your Epic Games library.
Step 2: To uninstall it, click on the three dots and do so.
Step 3: Now that the game has been deleted, you can reinstall it on your system. 
Now try opening the game on your pc and see if the issue has been fixed. 
3. Try To
Disable
 The
Fullscreen Optimization
Many gamers have noticed that their pc is not compatible with the fullscreen optimization option; therefore, there is an option to disable fullscreen optimization on your Windows system. It is usually done as a default, but it is good to recheck and confirm by following the steps given below:
Step 1: Open the executable file of Dead Island 2 on your Windows system.
Step 2: Open the application file, then click on its property, and a properties window will appear on your screen.
Step 3: Now click on the compatibility tab on top of the window, and here check the option that says 'Disable fullscreen optimizations.' 
Step 4: Finish this process by selecting 'Apply' and exit. 
4. Go Through The
System Requirements
When you install the game, ensure that you check system requirements and your system is compatible with the game's requirements. If it does not meet these specific requirements, it can damage your system or crash it. The minimum requirements are mentioned as follows:
The

OS

should be a minimum of Windows 10 and it can be higher.

The resolution required for the best experience is 1080 pixels.

The

CPU

requirements are for it to have

amd fx-9590

or

amd ryzen

or the

intel core

should be a minimum of i7 7700HQ.

The

pc

should also have a graphics processing unit or a

dedicated GPU

which can be either an

AMD Radeon RX

480, Radeon

XT,

or

GeForce GTX

1060 /

GeForce RTX

3090, which is a

preferred graphics processor

. 

A minimum of 10GB is required for

RAM

for proper functioning and

storage

space of at least 70GB.
5. Try To Reinstall The Microsoft C++ And Update
Directx
It is important that both Directx and C++ redistributions are updated to the latest version. You can do so by following the steps mentioned below:
Step 1: Go to your main menu on your pc or laptop desktop and visit the Microsoft store or Microsoft Services.
Step 2: Go to the Visual C++ runtime and reinstall it again. 
Step 3: Wait for the complete reinstall process and reopen the game from your launcher. 
This will ensure that your redistributables are on the latest version and power with your Windows updated version.
6. Update Your Windows To the Latest Version
It may be possible that your game is constantly crashing due to the outdated version of your Windows. Updating your Windows to the latest version can provide the latest security patches and early bug fixes. You can update it to the latest version by following the steps that are mentioned as follows:
Step 1: In your main menu, head over to the settings of your system.
Step 2: Now click on 'Updates and Security', another window will appear on your screen.
Step 3: You can check for updates here on a small tab.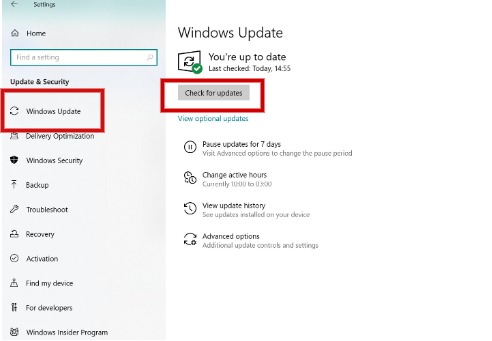 Step 4: If any pending updates are required on your system, download and install them. Now you have the latest version of Windows on your device.
You can also similarly update the driver by going to the device manager and checking on the GPU version. Reopen your game and check if the problem with crashing has been solved. 
7. Shut Down All Background Tasks That May Be Unnecessary
It may be especially useful to close all unnecessary background processes that are running on your device. If the background applications are constantly running then it can consume system resources and hinder the game from running with high performance. To end the background tasks on your device, you can follow the steps given below: 
Step 1: Go to the search button in your pc or laptop and type task manager or use Ctrl + Alt + Esc button on your keyboard to open it.
Step 2: Open task manager and in the additional settings on the startup tab, you will see processes on top.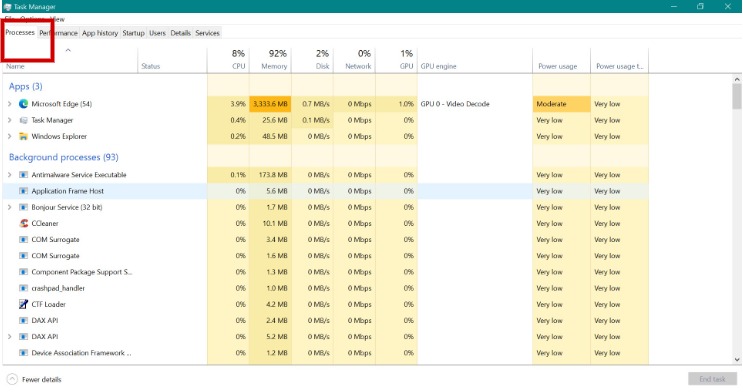 Step 3: Click on the processors and you can see all the background tasks that are currently running on your pc.
Step 4: You can right-click on the tasks that are taking too much memory or power usage and click on 'End Task'.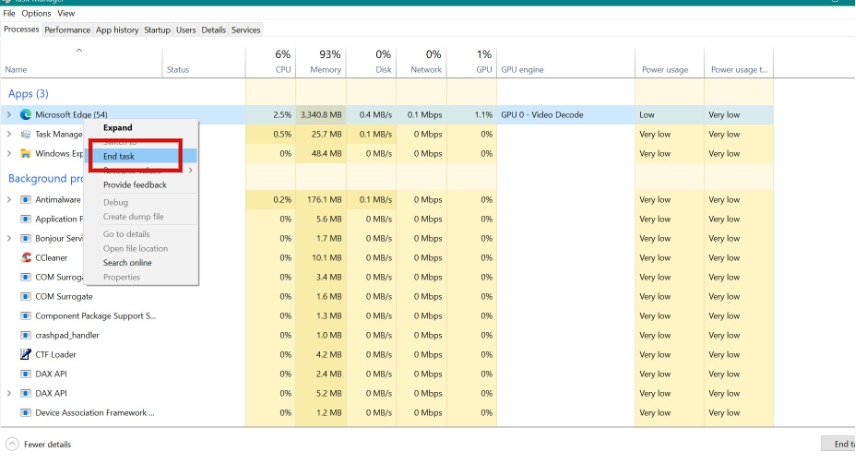 This will remove all the tasks in the background and you can reopen the game and see if the problem is fixed. 
Additional Tips
If none of the above solutions or methods helped in fixing the problem with your Dead Island 2 crashing on inventory, here are a few more tips that we have compiled for you to try out. 
You can temporarily turn your Windows Firewall and

antivirus software

off, especially for the

Dead Island

game in particular, and see if the problem is fixed. 

Another method you can try is by disabling all

third-party overlay apps

like

Discord

or

Xbox

game bar

, and instead

enable in-game overlay

.

You can also enable

high-performance mode

by adjusting it on your system. This will maximize the performance of your device's GPU,

CPU

, and

RAM

. 

Adjusting your

graphics settings

can help solve the issue by going to

display adapters

. Also, check for

outdated graphics

or perform a

clean boot

.

Ensure there are no

missing game files

, and if they are make sure that you

repair game files

. 
Conclusion
Overall, you can try this list of methods to see which solution works best for you. While updating your Windows version or Graphics driver may be simple, it may not work for every case. Try out other solutions discussed in this article and follow them. Hope this article is helpful.