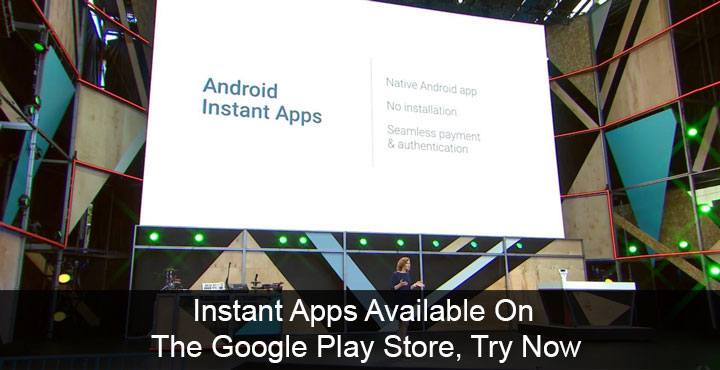 Google announced some changes to its Google Play Store on Android, today. None of those are, as worthy of being talked about though as this one – Instant apps. Originally announced at last year's Google I/O, Instant apps instantly painted a picture of the future. A future where you don't have to download a complete app just to get that one thing done after which you won't need the app. Maybe you just want to try the app before you go ahead and buy it or download it. Instant apps were originally opened to a selected group of developers for a test run. At this year's Google I/O they were finally opened to all developers along with some new tools.
What are instant apps?
Just to make it clear, if it isn't already, instant apps aren't another breed of apps, separate from the original native apps. It is simply a technology that allows parts of an app to be loaded up on a user's device instantly. This is possible if the app developer supports the feature, by breaking their apps down into much smaller parts so they can load within seconds. Instant apps can be opened simply by pressing a link or a button which will bring up an app's UI.
Say you want to book an online ticket. Generally, if you're doing this on a phone you'll either have to download an app or go to the service's mobile website, which is not as pleasant an experience as an app. Downloading an entire app is not a big deal for many. But it can be a big data commitment for those on a limited data plan. Only to uninstall the app once the job is done because they won't need it again until next year maybe. That's where instant apps can be most useful. The load-as-you-go technique can lighten the load on those with slower or metered data plans.
It will load only the part of the app that'll help you book your ticket. Once you're done with an instant app, you can close it and move on with your life like it was never there. Native apps, on the other hand just sit there in your app drawer, often eating system resources until you manually delete them.
When can you try instant apps?
So Google opened the feature to all developers, big deal. When can you get your hands on an instant app? How about … right now?
You'd be forgiven if you didn't know about all this until now. The lack of popularity is perhaps why Google is now adding the Try Now button on the Play Store. There aren't a lot of apps you can try right now. But the small number of them is big enough for you to get the idea. You can click the link below to go to the all new Apps to Try Now category on the Play Store. Here you can try apps like Hollar, Skyscanner, BuzzFeed, Onefootball Live, Red Bull TV, dotlooop, ShareThe Meal and The New York Time Crossword Puzzle. A new category makes it easier to identify and find apps that support the said feature.
Source: The Verge