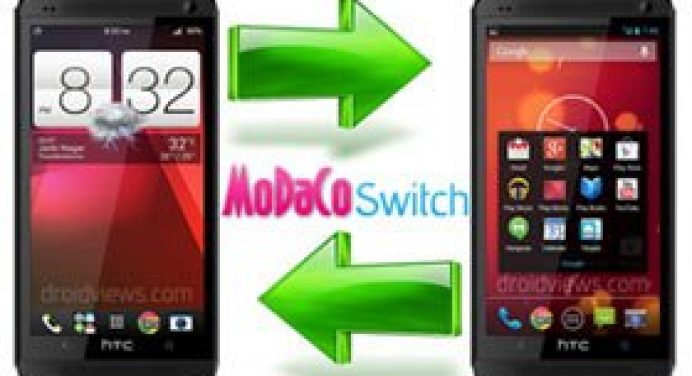 The first time I enjoyed dual boot was on my PC with Windows and Ubuntu installed simultaneously. It was not even possible to think of such thing on a mobile device a year ago but it happened. Our great developers successfully developed custom ROMs with dual boot for various devices. However, these ROMs allowed hopping between different flavors of Android and not different operating systems.
Ubuntu Edge will be the first major smartphone that will come preloaded with Ubuntu and Android dual boot. When Samsung and HTC released the Google Edition version of their flagships, the owners of regular variants of these smartphones were full of hope that the pur vanilla flavor would be ported soon and it happened to. Android is a magical world of possibilities where you get what you wish and sometimes you might get even a double bonanza!
What was just an exciting piece of news for the users of HTC One till yesterday, has finally turned into reality. PulOBrien previewed his MoDaCo Switch ROM in a video while it was still being tested and now he has released the Beta 8 version for the users. Unlike any known Dual Boot ROM switcher, this one is unique in itself as it allows hopping between Sense 5 and Google Edition AOSP on HTC One while using a single set of app data.
I have been playing around with the MoDaCo Switch ROM for a few hours and my first impression is that it is one of the best things HTC One users might have on their phone— it gives you the best of two worlds! The most amazing point of the story, as I mentioned above, that it lets to flip back and forth between the two without losing any of your data.
Requirements:
HTC One GSM with root access and a custom recovery (CWM/TWRP). To root your phone, click here.
Ensure your device has S-OFF (recommended but not mandatory). To achieve S-OFF on your HTC One, read this tutorial.
Downloads:
If your mouth has already begun watering to get this amazing switch on your HTC One, just grab the required files from below and install the ROM. Since it is not a normal ROM, it needs special steps to get it working on your device.
Download MoDaCo Switch Beta 1 ROM.
Also download the Beta 8 Package.
If you want S-ON support, download the following file too, otherwise skip it:  SWITCH.S-ON.zip
SuperUser root package: SWITCH.SuperSU.1.41.zip
How to Install:
Having taken care of the above prerequisites and downloading the files, let's now move on to install it on the phone.
Copy the downloaded zip files to your device.
Now turn off the device and boot it into Recovery Mode. Here is how you can do it: press the Volume Down + Power keys at the same time till the screen turns on your device enters the Bootloader mode. Using Volume Down, scroll to RECOVERY option and select it with the Power key.
When the device is in recovery mode, go to backup option and backup your current ROM and return to the main menu.
Then wipe data/factory reset, cache partition and system using corresponding options in CWM/TWRP.
Now go to "install" or "install zip from sdcard" option and select  Switch.Beta1.zip.
When it is installed, also install SWITCH.Beta8.zip over Beta 1 using Step 5.
If you have downloaded the S-ON package, install it too.
To avoid any issues with root, also install SWITCH.SuperSU.1.41.zip.
Finally, go back to the main menu in the recovery and reboot the device.
In case you see fix root message before rebooting, select "Do Not Fix" or you might loose the root access.
 Please note that it will take a while before the device boots first after installing the Switch ROM. When it boots up,  go through the setup wizard and start enjoying dual boot between HTC 's stock Sense UI and the pure Vanilla Google Edition. Cheers!
Also Read These:
Use The Volume Buttons To Control Camera On Your HTC One
Install Xperia Honami I1Apps on Your HTC One