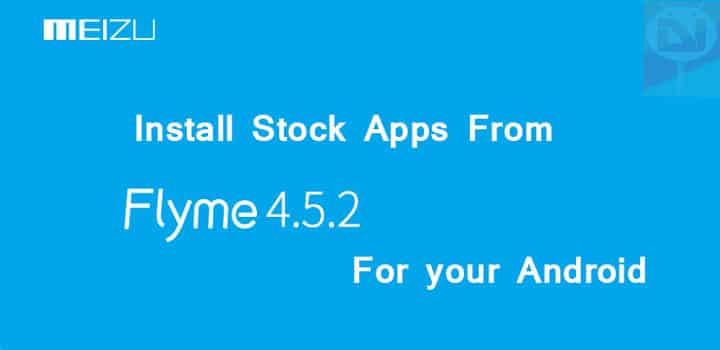 Meizu MX5 is a stunning smartphone with brimming features. Apart from its specifications, Meizu MX5 has become more popular for its advanced 64 bit Flyme OS version 4.5 which has recently been updated to 4.5.2. Flyme OS 4 had some glitches so they have made tremendous changes and optimizations for its further updates.
Flyme OS 4 was updated to the 64-bit Flyme OS 4.5 based on Android, with more than 100 functional updates. Developers for Flyme OS claim that they have optimized over 2,000 items to achieve an increased smoothness of 20%. No wonder Flyme OS has become so popular among Developers that they have started porting Flyme OS ROMS to other popular devices.
As the Flyme OS has been updated for optimization, its apps have been developed to save us memory and brings an exquisite user interface to it. If you would like to have a taste of these apps on your device or ROM then you must port these apps.
Developer at XDA androidexpert35 has exhibited a means by which you can port Flyme OS 4.5.2 stock apps to your device. While many apps can be installed directly to your system, some need to be flashed via recovery. However, these app can only be ported on Android running version 5.0+. These apps can be installed on any device and have been successfully tested on Sony Xperia Z, Sony Xperia Z Ultra.
Apps like MX5 Camera, MX5 Launcher and MX5 Calculator come in apk files and can be installed directly. MX5 camera is a simple but great camera with an attractive UI and with a lot of real-time effects for great selfies.
The MX5 Launcher is a fast and smooth launcher with good features. Calculator app also has been added with widgets capability. Install these apps directly and make sure you have Enabled "Install Apps from Unknown Sources" found in Settings>Security.
Rest of the apps like MX5 Weather, MX Keyboard, Sound Recorder, Music, need to be installed using a custom Recovery like TWRP, CWM or any other recovery meant for your device. Weather, Keyboard and Sound Recorder all have a wonderful design that goes well with all the ROMS with Android version over 5.0. You can also see which files can be flashed in the names of the files.
Downloads
Download | Meizu MX5 Stock Apps
Warning: Rooting your device and using a Custom Recovery may void your device's warranty. We are not responsible for any damage to your device whatsoever. We are not responsible if you brick your device accidentally or by any means. 
Backup all your files and media from your device on your PC before you proceed in case you brick your device by accident.
Installation Instructions:
Download Flashable files from the Downloads Section.
Connect to PC via USB cable. Before plugging the phone to the computer, be sure that you have installed correct USB drivers.
Then, copy all the zip files to the internal storage of phone or SD card.
Make sure you have Custom Recovery installed on your device.
Now, turn off the device and disconnect from the PC.
Then perform the regular Recovery Mode sortie by press-holding 'Volume up' and 'Power' buttons for most of the devices.
After entering the Recovery mode click Install and select the location you stored it to. Install the files one after the other. Remember only the flashable files.
Now Reboot your phone.
Once rebooted you can enjoy your new apps. If you have any queries let us know via comments.