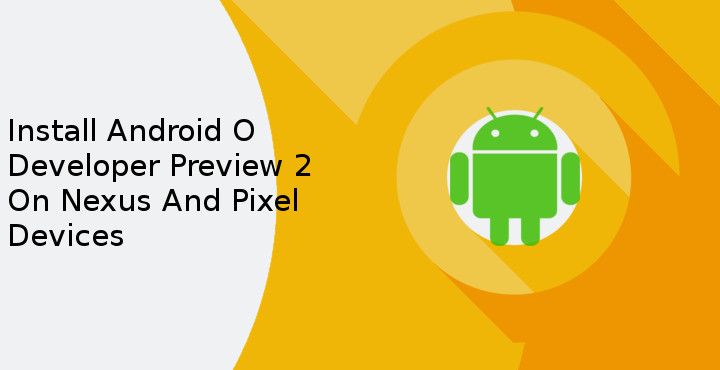 Earlier this year, as users waited for a Nougat update to their non-Google Android devices, the Android maker released the first developer preview of Android O. The next version of Android in the works arrived with some pretty cool features but installing it wasn't as cool a process. Interested users had to rely on fastboot commands to install the Android O images. The second release of Android O, that is developer preview 2, arrived with the keynote speech at Google I/O and luckily, it's a beta release. This means that if you want to install Android O, you don't have to use fastboot commands, although that method still works.
What's new
If you were disappointed that Android O looked exactly like Android Nougat apart from a couple of visual changes, you're in luck. Android O Developer Preview 2 brings with it improvements and fixes as well as new visuals.
Redesigned quick settings
The second release of Android O brings the settings icon and the date below the quick settings toggles. The entire panel is now a shade of white, or should we say really light gray. The text and icons, as a result, are now black.
Notification dots
The app icons now display a dot signifying an unread notification. This dot extracts its color from the app icon so it's different for each app.In addition to notification dots, the entire long press shade has been redesigned. It looks sort of iOS-esque and displays a unified panel with app shortcuts, shortcuts to the widget panel and app info page. The latter two are still displayed for apps that don't yet feature app shortcuts.
Change app icon shape
The latest version of the Pixel Launcher out with the Android O DP2. The new launcher allows users to change the shape of app icons to one of the following:
Square
Rounded corner rect
Squircle
Cylinder
As was the case with round icons on Android Nougat, only some Google apps can change their icon shapes as of now.
Android O Developer Preview 2 has been out for less than 24 hours and we're still trying to figure things out ourselves. There are possibly a few more subtle changes here and there that we couldn't mention here. Rest assured, if that is the case, you'll soon see them all listed in another post at DroidViews.
Also see: How to Sync Android Notifications to Your Windows PC
Install Android O Developer Preview 2
In general, the OS should now be more stable. Seeing as it is now a beta release, and it can be installed just by signing up for the Android beta program. If you have already joined the beta program, you might already have received an OTA. If not, you will be in a short while.
Want to enroll in the beta program, but are unsure how? Let us guide you through the process.
A word of caution
Keep in mind that the Android beta program is currently only available for the Nexus 5X, Nexus 6P, Pixel, and Pixel XL. Also, since the update arrives as an OTA, the general restrictions apply to it as well. Meaning if you have rooted your device, switched kernels, or made any changes that required root, the OTA updates will fail to install o your device.
It is important that you think through this first. Even though Beta releases are generally more stable, they are still not meant for consumers because it can be buggy. The software hasn't been fully tested, and as such there can be issues with emergency services or the general stability of your device.
When you install Android O, there will be files on your device that are not compatible with Android Nougat. Therefore, rolling back to Nougat will trigger a factory reset to wipe these files. So in case you ever want to opt out of the beta program, back up all your data. There is one way you can safely opt out of the beta program without losing any data in the process. Stick with it until the stable, official release of Android O and then choose to opt out.
Don't miss: How to Root Android O Developer Preview
Sign Up for the Android beta program
When you are ready to sign up for the Android beta program, simply follow the link below.
Sign in with the Google ID you use on your eligible Android device. Scroll down towards the bottom where you will see a list of eligible devices that you own. To opt a device into the beta program, simply tap ENROL DEVICE next to the device you want to receive OTA updates on. Check the box next to I agree and tap the Join Beta button at the bottom.
Once you have signed up for the beta, all you have to do is wait. You should receive a notification on your phone automatically, offering the Android O update. You can also check for updates by going to Settings > About Phone > System updates > Check for system update. In case you ever want to opt out of the beta program, all you have to do is revisit the link above. Tap Unenroll device then select Leave Beta. You will receive an OTA that will install the latest available version of Android Nougat on your device.