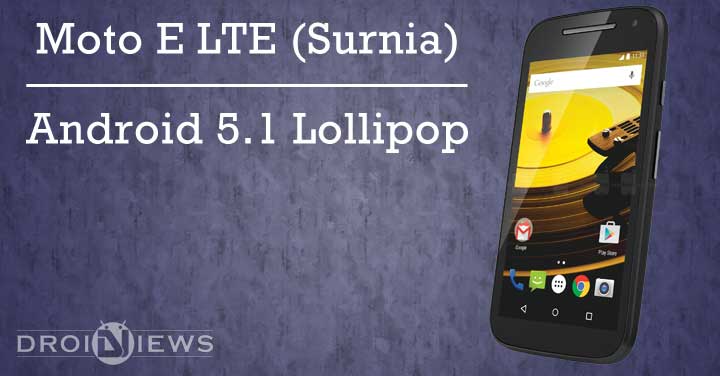 As far as budget phones go manufacturers often have a hard time when it comes to making smartphones that offer performance and other features due to restrictions on the price of the handset. Often big players such as Samsung, HTC, etc. have faltered because their so called "budget" devices aren't always up to the mark when it comes to performance.
One company that kind of nailed it was Motorola, their recent revival in the market has gone noticed. And the Moto E was as some would say the perfect budget handset, a powerful processor with ample RAM, a decent camera with a well-constructed body and to top it off, it operates on the latest Android offering from Google. Its successor, the Moto E (2015) was a step above from the previous model, giving users LTE support and a bigger screen at the same price point.
One of the big reasons Motorola is doing well in the market today is the fact that they provide timely Android updates for all their devices. The Moto E LTE (2015) was recently treated to this and has been updated to Android 5.1 Lollipop. The update improves some UI elements, like easier choose and connect for Bluetooth and WiFi in the quick settings pull-down. The official list of changes in this update can be found here.
For those users who haven't gotten the OTA yet, worry not just follow this guide and you'll be updated.
Preparations
Make sure you are using the Moto E LTE version, code name Surnia
This tutorial requires your Moto E to be rooted and running a custom recovery such as TWRP or CWM.
If you haven't rooted or installed TWRP, follow our detailed guide on rooting Moto E 2015 and install TWRP Recovery.
Ensure you have at least 80-85% of battery charge
Make sure you have a backup of all your important data.
Downloads
This update file is available as a FXZ (Full XML Zip) format, so it can be only flashed through a custom recovery.
Moto E LTE(Surnia) 5.1 – Download here
How to Install
Copy the downloaded file into the internal memory of your device.
Boot your device into Recovery Mode to access the TWRP recovery
Select 'Wipe' and slide across the slider bar (Factory Reset), this will wipe your internal data (apps only), cache and dalvik cache because most of the time it's all you need.
Head back to the main menu, then select 'Install', then navigate to the folder where you had previously stored the downloaded .zip file and select it to begin installation.
Then select 'Wipe Dalvik cache and Cache' and Restart the phone.
And that's it! You will now running the official 5.1 update on your Moto E LTE (2015).
If you faced any problems after installation, do let us know in the comments below.