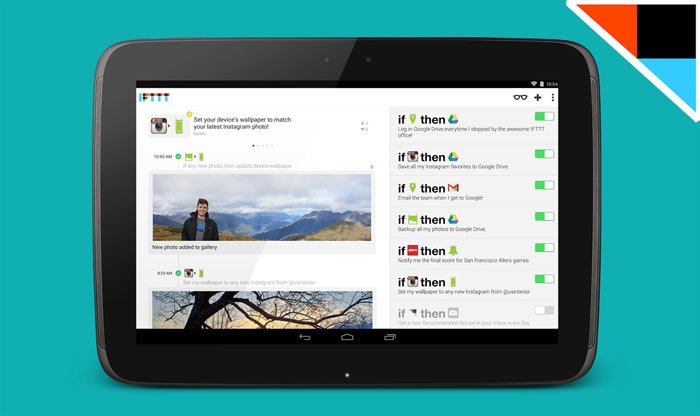 Since we live in an age in which phones pack more computing power than PC's from less than 10 years ago, the number of tasks we can accomplish with mobile devices grows very fast. Which means the functionality of applications gets better every day, to give us a faster way to achieve our goals, on a day to day basis. That's why a lot of automating apps these days try to stay on top of it for us. One of these apps is IFTTT – If This Then That.
Tasks we can accomplish with the app range from scanning for updates on RSS feeds, eBay, Reddit or Youtube and connecting to different apps, like Facebook, Gmail, Twitter and much more. For instance, we can receive a notification, if a new item is available on eBay, or when we are tagged on Facebook. It all sounds great, but the question is how well does it work in the real world?
I installed IFTTT mostly in the hope to be able to stay on top of news and new items, which works really well and is really easy to set up. All you need to do, if you want to scan for specific items on eBay, is to add a new recipe (+ button on top) and search for the eBay trigger, select it, and activate the channel. After that, enter the search terms or keywords for which the recipe should be searching for. Now that the trigger is set up, we can choose actions or in other words, what should happen when we get a match. There are a lot of actions to choose from, like adding the item to a spreadsheet or text file on cloud-based storage services, or simply sending an email to a friend that the item is available.
The procedure to scan the RSS feed of a website is also very straight forward. We simply select the RSS trigger, after we created a new recipe, and then we paste the feed link and enter the desired keywords, for which we are searching for. Now, we just need to finish the recipe with the desired action, and we are good to go. Anytime something with the desired keywords is posted, we know about it. IFTTT looks for changes every 15 minutes.
On the other hand, this is not an app which is great in automating only device based actions. It is not meant for that, yet. The problem is not in triggers which give you more or less what you need but in actions. Let's say I want to disable the pattern lock screen when I get home. While the trigger for a specific wifi SSID is available, the action for disabling the pattern lock screen is missing. We can only choose to change the ringtone volume and update the wallpaper under actions, which is actually pretty scarce. But this is not where its true power currently lies.
To sum it up, IFTTT is great for connecting together services or different apps like Twitter or Pocket and it is also very straightforward with the building of recipes. Anyone can do it. This is something that other automating apps are missing, which is why IFTTT fits right in. Nobody did provide such functionality in such a simple manner to this day.
Read Next: Does Lowering Screen Resolution Increase Battery Life?