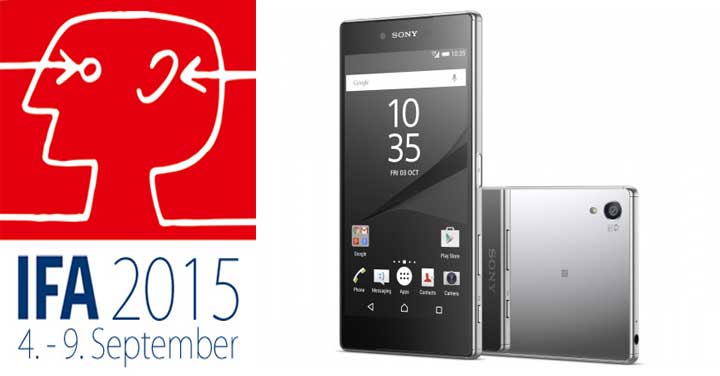 One of the biggest announcement so far at the IFA 2015 has to be the launch of the Xperia Z5 series from Sony. Just a few moments ago Sony officially took off the veil from the Xperia Z5 series which consists of the main flagship, Xperia Z5, the Z5 Compact and highest variant of the family the Xperia Z5 Premium. The new Z5 premium could be the perfect device Sony fans have been looking for.
From the outside of the Sony Xperia Z5 Premium doesn't seem a whole lot different from past Xperia offerings. It offers the same iconic glass and metal styling that we have come to expect from Sony and Just like the other members of the family the power button on the side is a bit bigger, which is to make room for the new integrated fingerprint scanner.
The main highlight of the Xperia Z5 premium has to be the display as this handset is the very first handset ever to offer a 4K resolution display. Harboring a 5.5 inch size display it pushes out a massive PPI of 806 which is nothing short of pure amazing. As for the other specifications the Xperia Z5 premium brands on the same Snapdragon 810 processor with 3 GB of RAM, 32 GB of storage and a microSD card slot and 3430 mAh battery which Sony says should provide at least two days of battery life. But that can be questionable due to the fact that the display might eat a lot of its juice.
Exactly like the other two Sony Xperia Z5 family members, the Z5 Premium also features a revamped camera sensor which comes in at 23 megapixels having an auto-focus of just 0.03 seconds and F2 .0 lens technology. It also offers 5X clear image zoom and an improved low-light capability.
It has been announced that the Xperia Z5 and z5 Compact will be available starting from October but fans of the new Z5 Premium will have to wait a little longer as it is expected to launch in the early weeks of November. It is still unclear if the phone will be made available in the US, but we think that it will be snapped by all the major carriers in the US although pricing is still an issue considering the humongous 4K display.