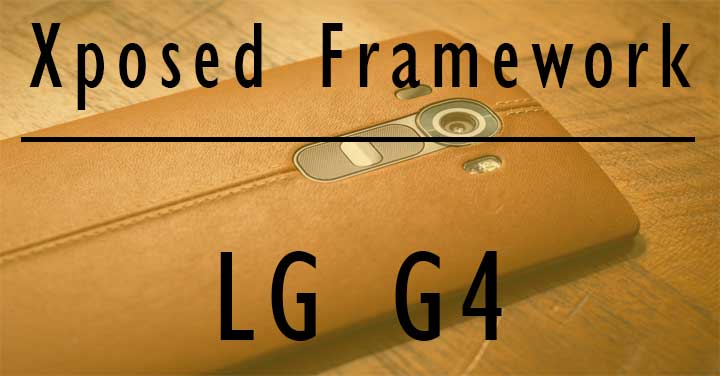 We all know by now the LG G4 has risen up to the challenge from other high-end flagships and established its name as one of the phones to beat this year in terms of specifications and performance. And as it goes with any flagship there's always room to improve. By installing the Xposed Framework on LG G4, you can make the most of it.
Now, this improvement may not always come from the manufacturers. Instead, the public has to turn to the one person who can help them bring out the best in their device, the developers. One such tool that allows extended customization of the smartphone usability without imposing much strain on the hardware or messing around with stock settings is the ever popular Xposed Framework.
Now for those beginners out there who don't know what Xposed Framework is and what it does. Xposed is a framework for modules that can change the behavior of the system and apps without touching any APKs. It means that modules can work for different versions and even ROMs without any changes (as long as the original code was not changed too much). It's also easy to undo. As all changes are done in the memory, you just need to deactivate the module and reboot the device. Multiple modules can do changes to the same part of the system or app.
This tutorial will show you how to install and use Xposed Framework on your rooted LG G4.
Downloads
Caution: For the following procedure you will need a rooted LG G4, this won't work with root access.
For Guides on how to Root the LG G4 Refer the following links given below:
Install Xposed Framework on LG G4
Once you download all the required files, we can start with the flashing.
Step 1 – Transfer the Xposed framework (.zip) from above into your LG G4 internal storage.
Step 2 – Disconnect it from any power source and Open FlashFire and browse to the location where you saved the Xposed framework (.zip) file and flash it. [Do not check Automount!].
Step 3 – The flashing process will take up to 15-30mins, so be patient. Once the process is complete your phone will boot up normally.
Step 4 – Install the official Xposed Installer (.apk) application and you're all set to try out different Xposed Framework modules on your LG G4!
If you had any issues while flashing do leave us a comment in the comments section below.