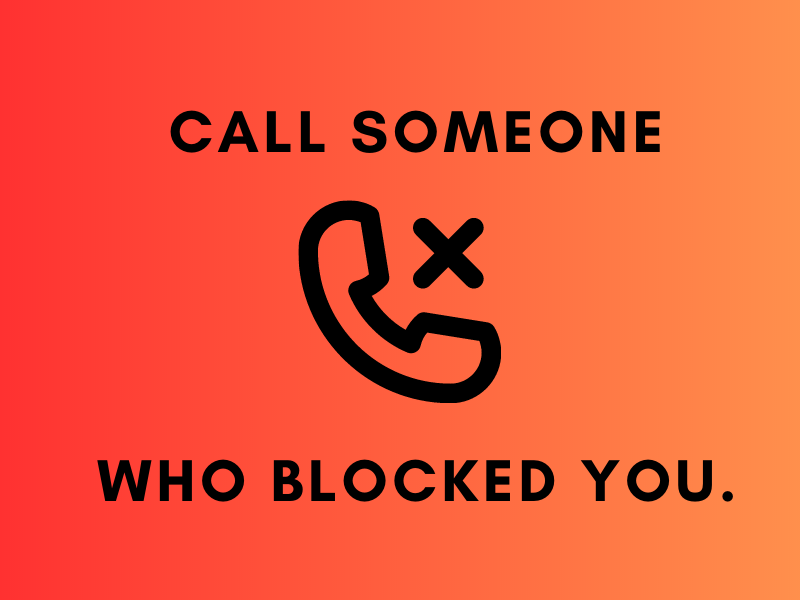 During a conversation, coming across a blocked number can be a delicate circumstance that calls for prudence and consideration for the other person's privacy.
It's crucial to know that blocking a number can happen for a variety of reasons, such as interpersonal tensions, privacy issues, or other privacy considerations. If required, try to contact the person using alternative avenues of communication, such as email or messaging services.
However, any attempt to go around the block should be avoided because it could have negative legal and personal repercussions.
We'll explore a variety of methods for contacting someone who has blocked your number in this article.
Understanding Blocking Feature
Modern-day smartphones have a feature called "blocking" that allows users to stop certain numbers, spammers, or annoying callers from calling, texting, or contacting them in any possible way.
This function may prove to be quite useful in preventing bothersome callers or other troublemakers. Any efforts to call or text someone who has been blocked will not be successful, and their phone number or caller ID will no longer be displayed on the user's phone.
Respecting the decision of the person who blocked you is important. Refrain from contacting them using chance phone numbers or unreliable free apps.
It's important to note that a restraining order along with aggressive legal action can be taken against someone who tries to keep in touch with someone after being blocked as one is testing the legal hot water.
Exploring Other Options Besides Phone Calls
You can contact the person through their email or social media accounts if you have access to those accounts. Be sensitive while sending your message, letting them know that you're aware that they have blocked your phone but still want to connect.
It's crucial to avoid sounding overly pushy or insistent because the other person might not be prepared to interact with you right now. Contacting someone via social media is considered to be less privacy-invading in nature.
Hence, if you want to stay on the safe side, contact the desired person via email and social media channels.
Another choice is to get in touch with your mutual friends. If the person who has blocked you is in the same friend circle, things have been made easier for you. All you have to do is contact your mutual acquaintance and they can convey the respective message.
Hide Caller ID
The feature of Hiding your caller ID is available on both ios and almost all Android devices. Once this feature has been activated, one can contact the person in question by giving them a call without the call revealing their true identity in the Caller ID menu section.
What this does is that person who has blocked you is more likely to receive the call and possibly engage in conversation.
The hidden caller id feature can be helpful if one is looking to protect their privacy to avoid legal action. However, before using this feature, it's essential to consider the ethics of hiding your identity.
To hide your caller ID on an iPhone, simply go to Settings, select Phone, then Show My Caller ID, and toggle it off. On an Android phone, open the phone app, select Menu, then Settings, then Calls, and additional settings, choose Caller ID, and select Hide Number.
It's crucial to respect the other person's decision to block you and not to use this feature to bypass their decision. If you need to contact someone who has blocked you, it's better to reach out through other means, such as social media or email.
Using a Different Phone Number
If someone has blocked your phone number and you are unable to reach them, try a different approach, such as getting a new phone number from your carrier or a virtual phone number service.
What this software does is generate temporary phone numbers that are easily disposable once they're no longer needed. It should also be noted that such software-generated numbers can only be used once and not more than that as they have a finite nature.
You can call and text using the generated temporary phone numbers from these apps. This function can be useful if you want to send a brief message or call without disclosing your identity.
Conclusion
While being blocked by someone can be irritating and unpleasant, there are still ways to get in touch with them.
Respect their decision to block you and refrain from acting in any way that could be interpreted as intrusive or combative. If you need to get in touch with them, think about using social media or email as alternatives.
And as a final resort, employing the caller ID concealment function or a temporary phone number may be necessary. Keep in mind that you should always respect and be mindful of the boundaries of others.