Contacts and Messages can make up some of the most important information on your phone. This data can be crucial for businesses and individuals alike. However, it can be surprisingly difficult to backup your contacts and messages to a PC.
If you're looking for an easy way to effectively manage your Android phone contacts and backup your messages, we recommend the Droid Transfer app.
Backup over Wi-Fi or USB
Droid Transfer allows you to backup your Android device to your PC using either Wi-Fi or a USB connection. To use the app, you will need to install Droid Transfer on your Windows PC and download the free Transfer Companion app on your Android device, from Google Play Store.
The app will connect your phone and your PC using your chosen method of connecting, Wi-Fi or USB.
To connect using Wi-Fi follow these steps:
Launch Droid Transfer on your computer and Transfer Companion on your Android phone.
Ensure that both devices are connected to the same local Wi-Fi network.
On your phone, tap "Scan Droid Transfer QR code".
Using the on-screen QR code scanner, scan the QR code shown on the Droid Transfer welcome screen with your phone's camera.
You're now ready to backup and manage your Android device through your PC!
Backing up Android Contacts
Whatever you want to do with your Android contacts, Droid Transfer gives you the tools you need do it.  You can keep a copy of your contacts on your PC, import them to Outlook, transfer contacts from Android to Android, as well as edit and delete your contacts from your PC.
If you wish to backup your Android contacts to your PC, you have 4 options:
Transfer contacts as vCard – this format is the standard used by most contact management apps. Copying your contacts as vCard enables you to view them through a manager like Windows Contacts, or you can import them into your favourite contact management app.
Export contacts as CSV – this is a great option for people who need to keep a track of their contacts and is great for businesses. A CSV (or "comma-separated value") file can be opened in spreadsheet managers like Microsoft Excel.
Copy contacts directly to a contacts manager – Droid Transfer will take out the middleman and copy your Android contacts directly to Windows Contacts or Microsoft Outlook for you.
Backup and Restore – you can create a backup file of your Android contacts which you can restore to your phone or another Android in the future. Unlike traditional restore/sync processes, you can choose exactly what you want to backup and restore with Droid Transfer – no scary overwriting syncs!
Droid Transfer will backup all the info included in your contacts… names, numbers, addresses, location, notes, photo, email, organisation and more!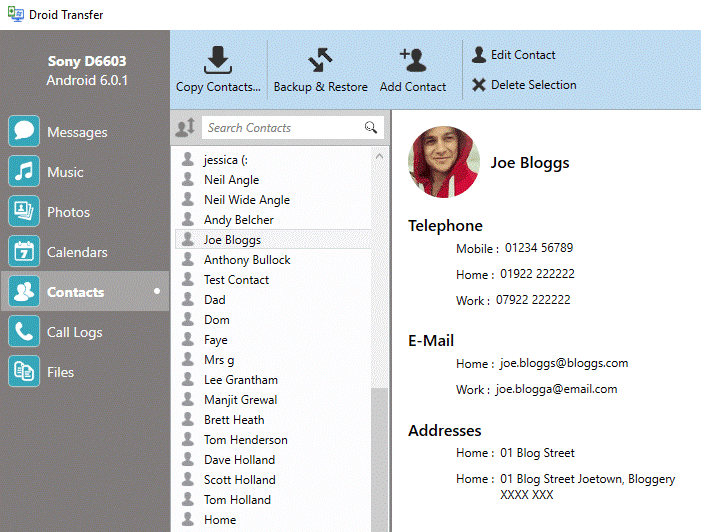 Saving and Printing Android Messages
Saving messages to your PC can be a tricky feat to pull off. If you need to keep a copy of your text message conversations, for either your business or personal records, you may find yourself spending hours taking screenshots of your messages. This is neither efficient nor desirable.
Luckily, this is where Droid Transfer really excels. With it, you can access all your Android SMS and MMS conversations through your computer. Droid Transfer ensures that all important information is saved with your messages, including any photos or videos in your messages, as well as the time and date that each message was sent and received.
As with managing your Contacts, you have a few options when it comes to backing up your text messages:
Save Messages as PDF – The best format for sharing your messages via email or for easy viewing. PDF (or "Portable Document Format") will include any images in your messages.
Export images and videos in messages – Use the Save HTML option in Droid Transfer to save your conversations to a HTML file and export include any attached images and videos to a separate folder on your PC.
Save as Text file – Use this option if you only want to save your text from your messages. Unlike the other file types, Plain Text does not include message formatting like message bubbles. Nor does it contain media like images or videos.
Print SMS and MMS – Printing out your messages ensures you have a hard-copy of your conversations. Printing messages will include any attached images.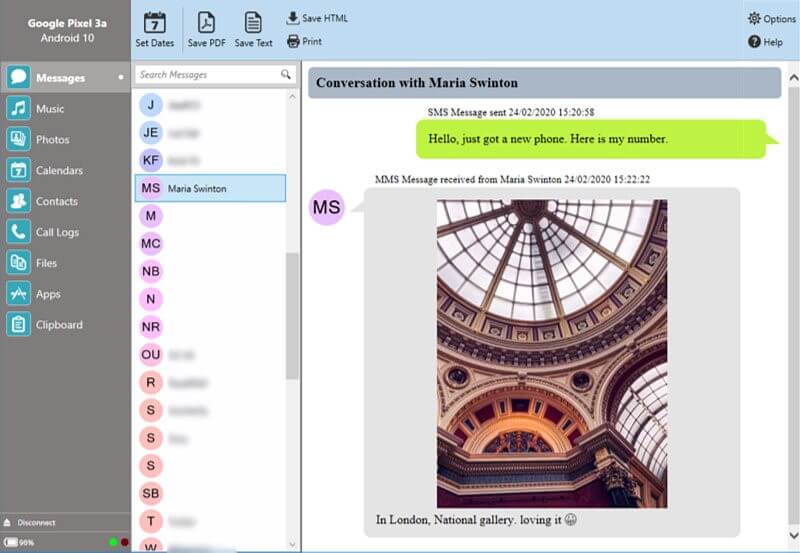 Backup and Manage all your Android device data
 So now that you've backed up contacts and text messages from your phone, you may be wondering what else you can do with Droid Transfer…
Here's a few more popular features:
Manage your Music: Easily add or remove tracks from your Android. Transfer music from Android to PC and vice versa. You can even use Droid Transfer to sync your Android with iTunes which isn't possible without the software.
Export Call Logs: Back up your Android's call history to your PC as HTML, PDF or CSV. Android can generally only hold 500 calls in their history. So, if you don't want to lose your older history, back up regularly.
Transfer Apps: Droid Transfer provides the ability to install or install apps on your Android from your computer. You can even copy your apps to your computer, then transfer them to another Android! (does not include app data)
Backup Photos: Make regular backups of your snaps with the "Export Photos" feature. It will let you know when you have new photos on your phone which you have not yet backed up, so you'll not have to worry about losing them.

Why do we recommend Droid Transfer?
Droid Transfer comes with a free trial, which we highly recommend for you to use. The free version enables you to connect your phone and your PC and backup a limited number of files on your Android device.
The full version of Droid Transfer costs $30 for a perpetual software licence and all trial limitations removed. Droid gets new features and updates regularly, which can also be downloaded for free. Even though the program is super easy to use, there's a friendly support team on hand to help with any queries you may have.
So, if you need to backup or transfer your Android phone contacts, save and print your Android text messages, or backup any of your Android phone files to your PC, look no further. Droid Transfer is a comprehensive utility which will meet all your backup and Android file transfer needs.
Free vs Paid version of Droid Transfer
Droid Transfer
Features
Free Trial
Paid Version
Save Messages
First 5 messages in conversations
✔
Print Messages
✘
✔
Copy Call Logs
✔
✔
Transfer Calendar
✔
✔
Delete Music
✔
✔
Copy Music to PC
100 Copies*
✔
Add Music to Android
100 Copies*
✔
Sync Music with iTunes
100 Copies*
✔
Export Photos
100 Copies*
✔
Add Photos
100 Copies*
✔
Backup Contacts
✘
✔
Transfer Files
✘
✔
*This is a sponsored post