With the rising popularity of online shopping throughout the world which is available in many countries like Canada, Germany, Netherlands, New Zealand, the UK, Australia, and Sweden, more purchase options are being created with the intention of bringing more customers on board.
Part of this is the introduction of new payment options for retailers to choose from in order to lure customers. Among these is Klarna Vs Afterpay. What are the pros and cons, and which of the two should you serve as your checkout option of choice?
Let us take a look.
What Are
Klarna
 And
Afterpay
?
Klarna and AfterPay are popular 'buy now, pay later' (BNPL) concepts (rather than upfront payments) that have been introduced by the respective financial technology companies. It enables customers to pay the amount of purchase instantly while spreading the entire cost of payment across multiple payments. This is convenient for a lot of users as it gives the flexibility of paying the amount in installments. 
These payment methods have gained popularity and achieved significant growth in recent years, attracting both consumers and merchants with their user-friendly interface and convenient payment options.
Process Of Sign Up
The sign-up procedure is done through the respective websites and can be completed easily.
Klarna
The sign-up procedure for Klarna is done with a few simple steps wherein you will be required to give a few details to confirm your identity. The signup process is completely free and can be completed within minutes. Follow the steps given below to sign up on Klarna:
Step 1: First, visit the Klarna website on your device and click on login at the top of the page.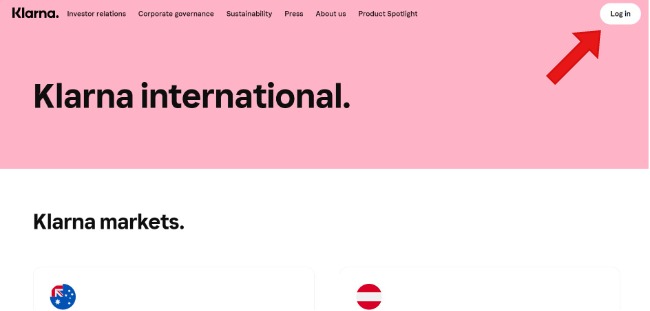 Step 2: Choose your country from the given list and proceed to give your details.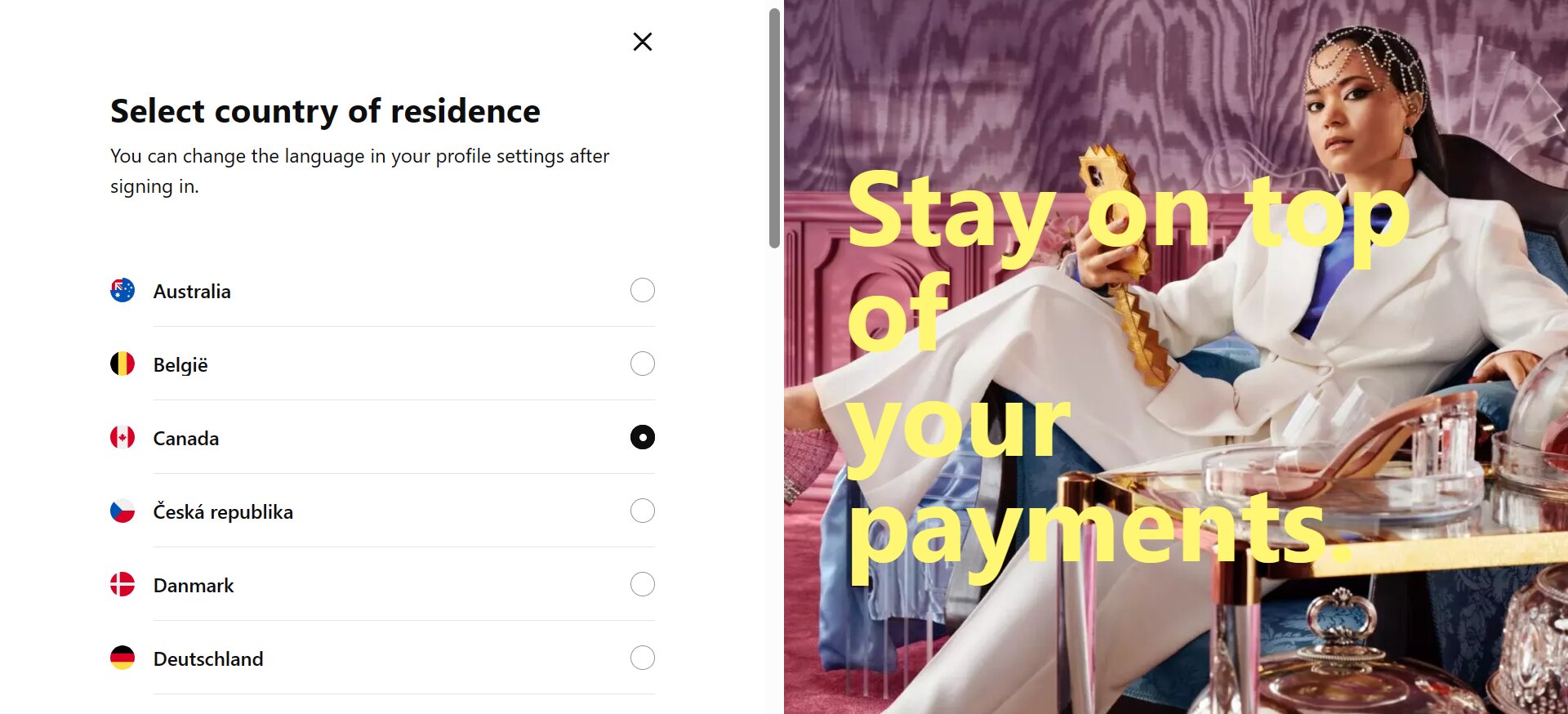 Step 3: Now you can create your account where you will be required to share your phone number, email address, date of birth, ID for proof, and your credit card, debit card, or bank account details. 
Step 4: Agree to the terms and conditions and you can start using Klarna.
Afterpay
The sign-up for Afterpay is almost similar to Klarna with choosing the country and sharing details to get started. Follow the steps given below to sign up on Afterpay:
Step 1: Visit the Afterpay website on your device. You will see a page that shows you options to choose your country. 
Step 2: Once you pick your country, it will show the site and a sign-up option in the top right corner of the screen.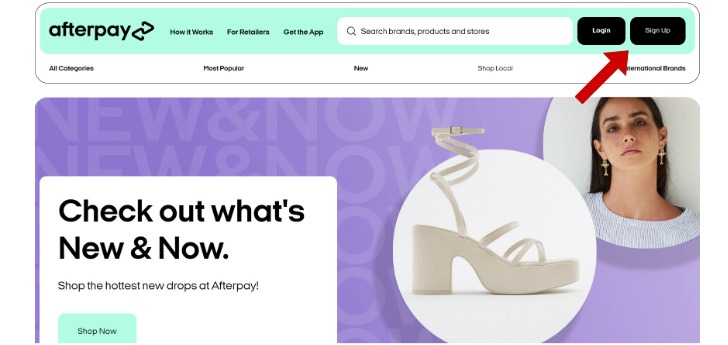 Step 3: You will be redirected to another page where you can give your email id to create an account. You will be required to share your phone number, date of birth, and link a payment method to your account to make future payments.
Step 4:  Agree to the terms and conditions and you can start using Afterpay.
Working Of Both The Services
Both Klarna and Afterpay are almost similar in the way they work with minor differences in their features. We will look into them as we progress through the article. Both the BNPL methods can be used online as well as in-store. Both these methods have apps through which you can shop conveniently. Let's dive into how exactly they work.
Klarna
Klarna has an in-built browser store where you can browse through different stores. You can easily add these products to your shopping cart and use a one-time card at the time of checkout wherever Visa is accepted. The payback of the money happens in three installments which are interest-free. As a Klarna user, you will be aware of this which is a benefit for the customers. 
In-store, all Klarna users must have an NFC-enabled device where they can choose the in-store option on the app. 
Afterpay
(
Clearpay
)
Afterpay is available as one of the ways to check out on each store's online app. Once you choose Afterpay on checkout, it will ask you to log in to your account and you can make the payment. 
The in-store option for Afterpay is similar to Klarna where you can activate the app in-store and use a card to pay with Apple Pay or Google Wallet.
Comparing
Klarna
 And
Afterpay
1. Afterpay
Vs
Klarna
: Credit Requirements
Credit is something that can be difficult for a few people, hence unlike the hard and fast rules like in loans, it is much more lenient in 'buy now, pay later' systems. 
Klarna performs a soft credit check to ensure you can afford the amounts, however, it does not leave any mark on your credit score. However, choosing loan financing or any such bonus features from Klarna can lead to a hard credit check.
Afterpay does not perform a hard credit check or any soft credit check and instead hands all users a small amount of cash at the beginning itself. Neither are any late payments reported to the credit bureaus, which is a plus point!
2.
Afterpay
Vs
Klarna
: Repayment
The repayments are usually done in installments for both the buy-now-pay-later services and have no interest fee. 
With Afterpay, you have to make an initial payment at the time of checkout itself. After that, the next installments are divided into three installments. The money is automatically deducted from the linked payment method that you have attached. This is done with no interest charges.
With Klarna, the payment is done in four installments with equal amounts being returned at each installment. They also provide an option of repaying the amount on a particular day or within a particular time. This can be done without any interest rates or fees. However, for larger purchases, Klarna provides time for repayment over an extended period but this usually comes with interest charges. Hence, Klarna generally offers more payment plan options. 
3. 
Afterpay
Vs
Klarna
: Interest And
Fees
Both services offer interest-free repayment options and no extra fee charges as long as you are paying the amounts on time and are within your budget.
With Klarna's extended payment option for larger financial purchases, they may charge interest of $19.99 to a maximum of $29.99 depending on your purchase and length of financing. Afterpay does not charge interest for any of the payments at all. Hence, it offers interest-free payments.
As for fees, there is no joining fee or any fee for their services and financial facilities. However, there is a late fee charged from both the services in case of crossing the due dates for repaying. On Klarna, you may be asked to pay a late fee of $7 and for Afterpay, it is $10 if the purchase value is below $40. Otherwise, you may be asked to pay a late fee that is 25% of your installment amount. Hence, ensure that you do not make any delay in your payments and spend the amount that is within your budget for easier repayment.
The Pros And Cons Of
Klarna
And
Afterpay
Both Klarna and Afterpay offer buy now, pay later (BNPL) services that allow you to make purchases and pay for them in installments over time. Here are some pros and cons of each of these services:
Klarna
Pros:
Klarna

is widely accepted by a large number of

retailers

globally both online as well as

in-store

, providing you with a broad range of options for shopping from stores.

A Pro of

Klarna

is that it has various

payment options

, including interest-free

installments

, extended payments, and options for later payments for larger

payment options

, giving you more

flexibility

in managing your finance and budgets.

Another pro is

Klarna

's integration with online stores often provides a seamless

checkout

experience, making it quick and convenient for you to complete your

purchases

.

Also,

Klarna

's shopping app and availability at various online stores allow you to discover new products, access exclusive deals, and make

purchases

from various

retailers

within the app itself.
Klarna
Cons:
Utilizing

Klarna

's

BNPL services

can lead to the accumulation of debt if you are not careful with the spending or repayment capabilities.

Failure to make payments on time can result in

late fees

or

interest charges

, adding to the overall cost of the

purchase

. Hence, it is necessary that you pay the amount back on time at the scheduled time.

Klarna

has the feature of performing a

soft credit check

during the sign-up process, which could impact a customer's

credit score

. It also has a

hard credit check

on any additional features which can discourage people from using it. 

Another con to remember is that while

Klarna

has a wide network of partnered

merchants

, it may not be available for every online store or in every region and has limited availability.
Afterpay
Pros:
Signing up for

Afterpay

is generally quick and straightforward, allowing users to start using the service as soon as possible. The linking of payment methods to

Afterpay

is very simple as well.

A major pro of

Afterpay

is that it does not

charge interest

on its

installment payments

, making it an attractive option for those looking to spread out their expenses without incurring additional costs. Even on high payments,

Afterpay

does not

charge interest

to the users.

Unlike

Klarna

,

Afterpay

does not perform a credit check during the sign-up process, making it accessible to a broader range of consumers and a better option for people who struggle with their credit.

Afterpay

's

installment

structure can help users manage their budgets more effectively by breaking down larger

purchases

into smaller, more manageable payments.
Afterpay
Cons:
Afterpay

's availability is way more limited compared to

Klarna

, as not all

merchants

accept

Afterpay

as a

payment option

.

A major con of

Afterpay

is that if payments are not made on time,

Afterpay charges

late fees

, which can increase the total cost of the

purchase

.

Smaller

purchase

limits for new users: Initially,

Afterpay

has a lower

purchase

limit for new users until there is a good payment history that has been established by them. 

Sometimes the ease and convenience of

Afterpay

can tempt users to make impulsive

purchases

without proper consideration and thought of their financial situation. This can lead to overspending without the user realizing they are doing it. 
Which One Should You Choose?
While both the bnpl services have their own pros and cons, you need to choose the one which is convenient for you.
If you require a service that gives you wider payment options and larger financial purchases with more availability in online stores, Klarna is a better option. 
However, if you are looking for a service that is useful for smaller purchases with more freedom of repayment without any interest charges, Afterpay is the right choice for you.
Conclusion
After having gone through both the 'buy-now-pay-later' services, you are now in a position to choose the service that is most suitable for you.