Open GApps is an open-source site and app offering Google Apps packages for Android phones. We cover how to use it, different packages, and more.
What is Open GApps?
If you decide to use an application that requires Google Play Services on a custom Read-only memory(ROM), you'll have to flash a separate Google apps package or GApps after flashing the ROM. This action is something you need to do to avoid legal challenges from the custom ROM developers who build Google apps into their third-party ROMs.
If you're interested in custom ROMs, there's no way you don't know of the Open GApps Project. With the launch of every big Android update, the Open GApss team of developers publishes their latest flashable GApps packages for the newest version of Android. Open GApps is the best website for downloading Google Apps packages, and it's not hard to see why. The site is good-looking and easy to use, and the packages, which are available in nine sizes and varieties, are always up to date. Now that team of developers has combined everything that makes their site so great and created a free and simple Android app.
Open GApps Application
When you open the app for the first time, you can see that it's very stylish. The application requires only two permissions- access to the filesystem to download and store the Open GApps packages in your Downloads folder and root permissions so it can tell the recovery to install the Open GApps package. You can download Open GApps from the Play Store or OpenGApps.org. By installing the application from Play Store, you are pretty much making your life easier – the developers have installed all the main features of their website inside a 3.9MB app. The application combines essential Google services like Gmail, Play Store, and Play Services all in one package. It also follows the guidelines put down by Google, which makes downloading a suitable Gapps package for your device safer.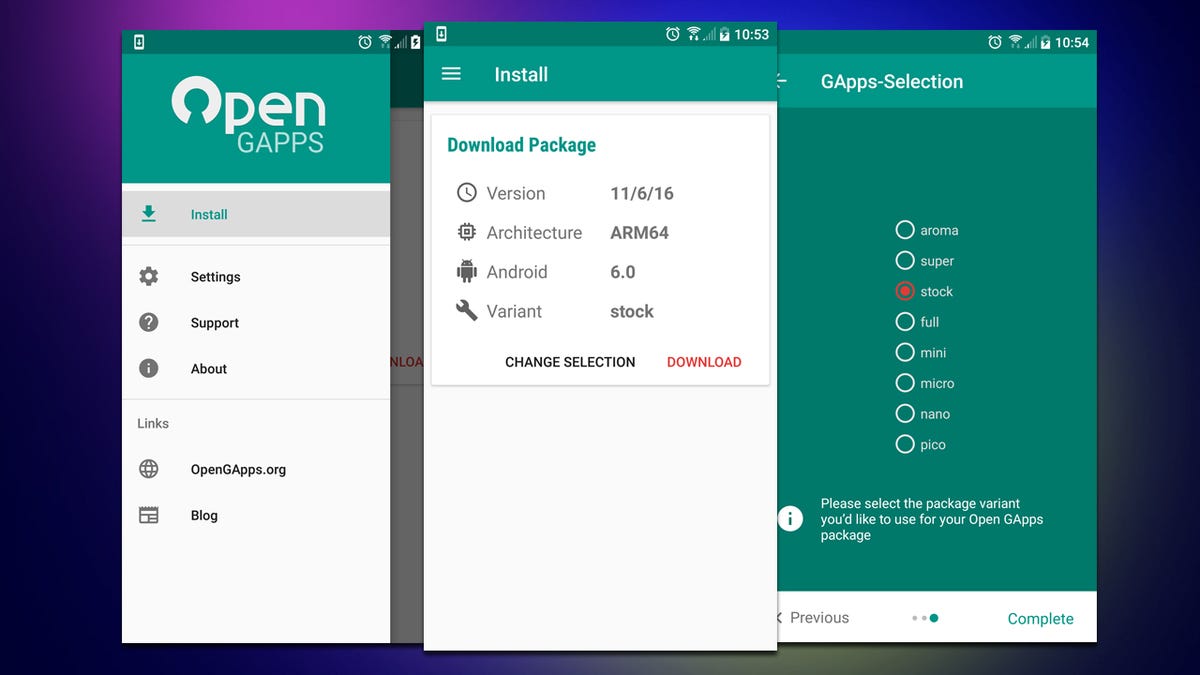 How to Use the Application
The app will automatically detect the architecture and version your Android device is running on in order to ensure that you don't flash the wrong packages by accident. When you finish with the selection of the CPU type and Android version, you will see a list of 8 Gapps packages you can choose. These include super stock, aroma, full, mini, micro, nano, pico. If you are thinking about moving over to a custom ROM that is different and with another Android version, you have the ability to select the desired CPU architecture and version manually. All you have to do is go to the install page. From there you can see all the information about the package you are about to download. If you want to change any features of your download, just tap on Change Selection and switch away. When you start the download, a video ad will appear, but considering that the download has already begun, it won't affect the downloading speed, and it won't be too annoying either. Other than that, the app is ad-free and very user-friendly. If you have enabled an ad-blocker, then the application will politely ask you to turn it off.
The settings menu of the application also allows you to customize the download location of the GApps and whether or not to download the Gapps only on Wi-Fi. If you are fine with downloading the Google applications over your mobile data, you can leave this option unchecked. You also have the option to automatically delete old packages when newer ones are downloaded. These options are simple yet very useful. The 'Support' page includes everything you need or want to know about Open GApps and an opportunity to donate to the team of developers, and the 'About' page displays if you've found the hidden Easter egg. We didn't manage to find it, so we leave that task to you.