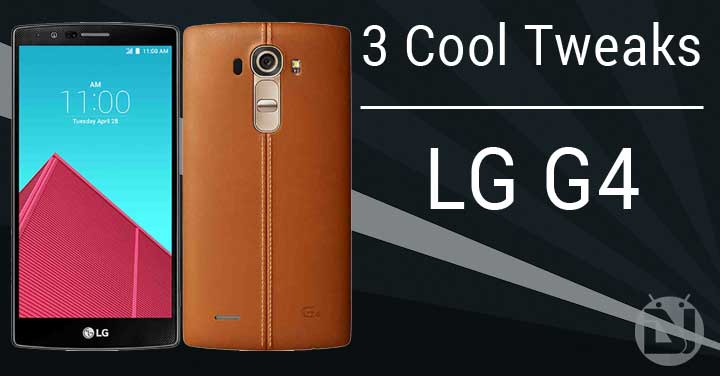 One of the hottest flagships to be launched this year, the majestic LG G4. Packed with spectacular features such as a Snapdragon 808 SoC, Adreno 418 GPU, a stunning 5.5 inch IPS LCD Quad-HD display with a pixel density of 538ppi (pixels per inch) and an amazing 1/2.6" 16MP rear camera capable of capturing photos of resolutions up to 5312 x 2988 pixels.
Now, a while back we had covered how to Unlock and Root the LG G4. If you missed out on those then be sure do check it out in the links given below.
One of the many advantages I had discussed in rooting your LG G4 is that it gives you much-needed freedom to start modding your device to improve its functionality. Although many would argue that messing with stock settings is a big no-no, I would tend to disagree.
In the case of the LG G4 here are 3 tweaks or 'modifications' (the fancier word for it) that will allow you to enhance your experience with the rooted LG G4.
Note: To use these tweaks/mods you will need a rooted LG G4, if you haven't rooted yours yet do check out our post
Record 1080p videos at 60fps
The first tweak gives us the ability to use to the LG G4's amazing camera sensor to record 1080p full HD videos at 60fps. Normally video recording at 1080p doesn't usually cross the 25-30fps mark, which tends to affect video quality. So all you have to do is visit this XDA post, download any flashable zip from the options given and flash any one of them using a custom recovery such as TWRP or CWM.
And that will give you the ability to enable the option in the video recording settings to record 1080p videos at 60fps.
Don't Miss: PPI vs DPI: What Are They and What's the Difference?
Change the Screen Density
DPI or dots per inch is a measure of pixel density across the screen estate, now even though the LG G4 with its QHD Display, which offers a huge dpi is sufficient. You might want to now and then reduce or increase the DPI for a smaller screen of larger icons.
In such cases, it's very easy to do so. Normally there's a long and complicated procedure to make changes to the build.prop file. But that method has simplified by a nifty app called TextDroider DPI.
Do keep in mind, the default value is 540, you might be able to bring it down to around 480. But going too low will cause all your apps to start crashing.
Enable Dual Window
Now you might know that the LG G4 already supports multi-window or dual window. But it's only available for a few applications which honestly you won't be using at all. Now enabling this feature for all application is super simple and all that's needed is to make a small adjustment in a line inside the build.prop file.
Using any root file manager, navigate to '/system' and you will see the build.prop file. Open it and search for the line that says 'persist.splitwindow.support_all' and set it to =true. Save the file and Recheck the permissions so that they are unchanged. Reboot your device and voila! In the Dual Window option in the Recents menu, you will see all the applications pop up. Besides, there are many other build.prop tweaks that can help you customize your LG G4.
And that's it! 3 amazingly helpful and interesting tweaks to make your LG G4 even better. For any more suggestions or queries do let us know in the comments below