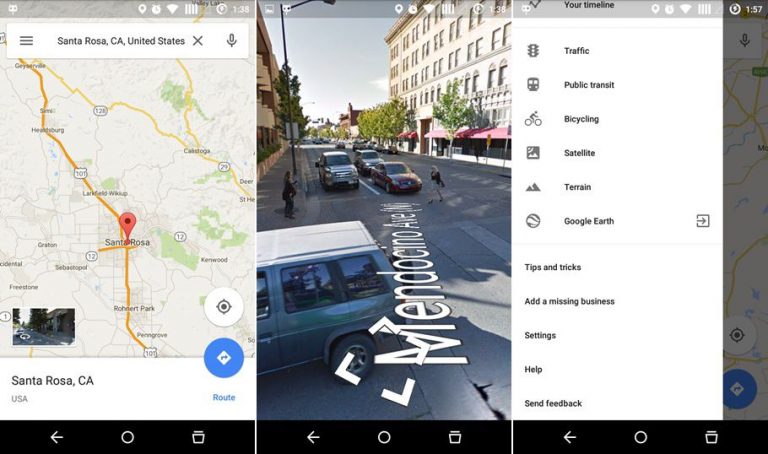 Google Maps is undoubtedly one of the Google's best products which made navigation easier than ever. It is a revolution of all sorts and gained monopoly over the navigation industry. Google Maps is available on almost all platforms but it is at its best on the Google own Android. The Google Maps on Android has a simple and clean interface with all the necessary features and is updated regularly with more and more features. The latest version 9.13.0 brings a small but significant new feature, which happens to be "Quick access to Street View."
Google Street View allows you to see 360 degree view of the streets from your smartphone. In short, it gives you an opportunity to take a walk along the streets so that you can check out the neighborhood before you actually visit. The latest version of Maps include a quick access to the street view whenever you search for a destination. The update puts a thumbnail at the lower left corner of the screen whenever you search for something on Maps, or with a long press while dropping a pin on map. So, with the latest update, all you need to do is to click on the thumbnail to access the street view.
However, this feature is not available for all locations, so you might not see the thumbnail for few locations. Another minor feature upgrade is the addition of "Add a missing business" button at the bottom of navigation drawer to add missing business locations to your map. According to few reports, Google has also released another feature called the "Photo Notifications" which asks users to click "foodographs" (pictures of food) but this feature is not visible to all the users as of now. So, we believe this feature is some kind of experimental feature which was out for some testing.
If you have already installed Google Maps on your device, open the Play Store app and update the Maps app to the latest version. Also make sure you've installed the Street Views app for Google Maps on your device. If you're an avid traveler, you'll definitely find this update useful to access your favorite place in a single tap. The fast access to Street View will certainly come in handy when you're travelling to place you're unfamiliar with.
You can download the latest version of Google Maps from the below link.