Okay. The dust from the Lollipop storm hadn't even settled and Google decided to unleash something intriguing for us within the span of a couple of weeks! Not a long while back, there were more than a couple cos. in the email arena which could boast of being popular. But as is evident, this scenario changed as soon as Google entered the ring with GMail. And as it now stands, Google has become the biggest email service provider — riding on the success of its search engine and later, the Android OS. Now the search giant has stated with the release of the Google Inbox service a couple of days earlier, that it is one of the biggest disruptions it has brought to the good old email.
But the Google Inbox isn't available for the general public as of yet. It is more of an invitation-only service for the time being, but that may well change soon. This new app/service won't really replace GMail as you know it, but will instead work in tandem with it. You have to download a standalone app on your Android devices, and can also access the service from your PC browser itself. We shouldn't be jumping to conclusions yet, but the web service has one perk we liked. But we will talk about all that later. And for your info, the Android app will obviously not work until you have an invite from Google itself or one of your friends who has access to the service.
Your Mails Will Now be Materialistic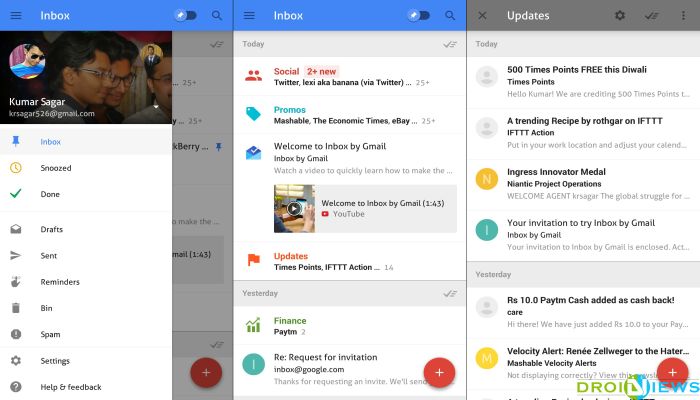 Yep. We meant every word of it. Google Inbox, in fact, is the best way for getting the material design on your mail client (well at least until we get the update for the main Gmail client itself). The app has got a lot of love from Google, and we ain't complaining! Be it the slide-out menu or the action bar, bold blue hues are all around. The app in itself might give you the idea that it isn't stuffed with many options or customizations you'd expect from a mail client. But once you use it and get around the simplistic interface, you'll see that it can easily handle almost all of your mailing requirements.
As you open the app, you will be greeted with your emails arranged in a card-like fashion, not too different from the design language of Google Now. Tap on the red '+' button and you will get a neat animation with the buttons for composing a new email or sending one to your most recent recipients. Touch any of the bundle headings, and another animation will open the pop-up of the related emails of that bundle. To access Inbox on your computer, just type in the following URL: http://inbox.google.com/
In a nutshell, Inbox is a fusion of Google Now and Gmail, with all the Lollipop material design aesthetics thrown in.
A Peek is All You Need
In terms of productivity, the greatest advantage here is that you don't really need to open up any of your emails which Google thinks are significant for you. These emails will appear in a card like fashion with the important info right there for you to see. This might be really helpful for people whose mailbox is a lot busy since they won't need to open up the emails individually. If your mail has a link to a Youtube video or even attached file, it will be shown right there on your main screen within a card for that mail!
Another great tool here is what Google is calling 'bundles'. What this essentially does, is that it keeps all similar emails in their specific categories or bundles, hence sorting your mailbox for you. There are certain pre-defined bundles like Social, Promos, Forums, Finance, Travel, etc. and you can create your own bundles too. Thus, Google will categorize these emails based on its source and its own knowledge graph.
Love it Or Hate it, It's the Google Way
But it's not all hale and hearty here. There are certain perks, and then there are certain other customizability elements (or the lack of them thereof) which people may frown upon. The app is totally secluded from Hangouts, unlike its sibling on PC web browsers. Within the app, there is no option to see all your emails at once — you simply can't get around the categorization to do that! The settings menu too doesn't offer much except for notification control and other label options.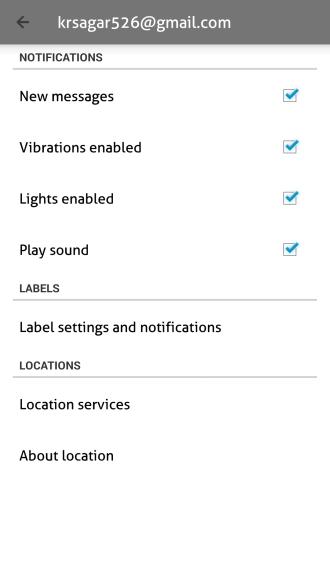 The Inbox also reinstates the fact that Google has information regarding almost all your emails in their knowledge graph. What this means for the more privacy concerned folks among us end-users, is that all our data isn't really in our hands! There are certain users who don't care about this. And there are others who value their privacy to greater lengths. What we believe, is that the Inbox is a shrewd masterstroke by Google wherein they are introducing a change in GMail, but gradually. The invite system might be there just because the search giant wanted us folks to all get accustomed to this change first! (We aren't saying that the Invite system is totally a bad thing. It also ensures that the service won't crash on launch due to an overload of millions of users with itchy hands.)
And on Google's end, this service might give them another way to deliver more streamlined and specific ads. But let's not jump the gun here. Inbox is a beautiful app, no doubt about that. But it definitely isn't everyone's cup of tea. It is a major overhaul and works unlike to what you are used to. If you prefer your emails in a single list, you are out of luck here! But the app surely has made most Android users curious and we know you are going to try it nevertheless. If Google's new take on good old email does seem interesting to you, maybe you should send your Invite request now! Yeah, we have taken care of the official email ID for you. Here it is: [email protected]
Okay! You can thank us later. But if you have already tried Inbox, how about sharing your thoughts in the comments section below? And yes, do not forget to learn these secret Gmail tips and features before you leave.