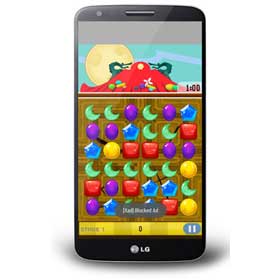 Whether it be watching television, or listening to a radio channel, or just using a free app on our mobile phone or tablet, most of us do not like Ads. They irritate us because we think of them as intrusive things. Ads might be seen with hatred for these reasons but there are various arguments that might be forwarded in their favor. Xad Module for Xposed lets you get rid on in-app ads on Android.
All of us enjoy television or radio programs for free because of the ads that are shown or played at intervals. The disappearance of ads from such programs simply means that the producers will be forced to charge money from their audience. In the same way, it's through the ads that the developers of free apps get some reward for the time and hard work spent behind the development of their apps and games. The same principle works for the bloggers like us too. How many websites do you think will survive if all users in the world begin using a program like AdBlock. Hardly any, I presume!
A friend of mine once released a system tools app for Android. Because he did not want to show in-apps ads or make his app a paid one, he simply added a donate button, thinking his happy users might make donations to appreciate his app. Weeks passed and gradually his apps reached more than 10,000 downloads a month. Good download stats and a users' review of 4.2 stars at the Play Store promised a handsome amount of donations. Contrary to his expectations, he received only about $100 after one and half month. He was frustrated and decided not to release another free app. The point is, other than selling apps in the market, integrating apps is the only profitable thing a developer can rely on.
Keeping these things in mind, I do not know how good is it to disable in-app ads, but if you use any such method to enjoy an ad-free environment, you must at least make a small or large donation to the developer. With that being said, always keep in mind that by installing any kind of ad blocker you cut their revenue, which means that the developer of an app will either have less money to cover their necessary expenses or no money at all.
All the same, if you are insistent on getting rid of apps that you see at the bottom or top of your device's screen while using a free app and find them intolerable, XDA member DragonHunt3r has made a module for the famous Xposed Framework. The XAd module lets you disable those ads by disabling the Google Ads API.
Requirements:
A rooted Android phone or tablet device.
The latest version of Xposed Framework installed. If you do not have this wonderful app on your device yet, get it now.
Also, download the latest XAd module for Xposed and install it.
Do Not Miss to Read:
A Detailed Guide to Xposed Framework and Its Modules
How to Install and Use Xad Module for Xposed:
Install Xposed Framework Installer app, then open it.
If you are prompted to grant root access, tap on "Allow".
Now tap on "Framework" option and then touch the "Install/Update" button.
Reboot your phone and install the XAd app.
Open Xposed and tap on "Modules".
Now check the box before Xad.
Reboot the device again.
Please note that Xad does not have an interface of its own and it starts working as soon as you select in Xposed and reboot your phone or tablet. I tried it on Nexus 5 and here are the results: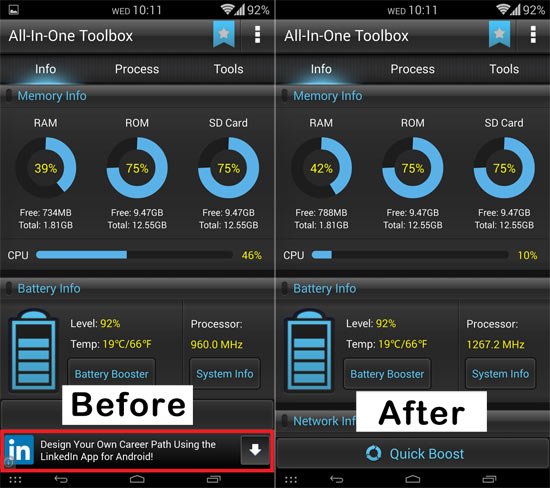 Enjoy ad-free apps on your Android device but do not forget the other side of your enjoyment: "One's gain is someone's loss". Cheers!