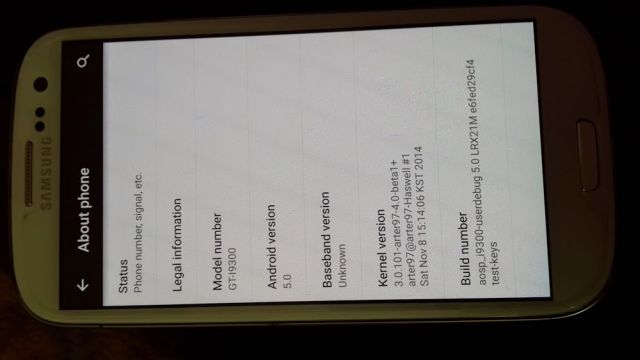 Android 5.0 is the latest and greatest that Google has to offer. While users sporting devices with the latest hardware are itching to get the update, quite a few of us are left drooling. This version bump is significant to say the least, and the design aesthetics of Android OS are getting praised all over for the first time. But do users of older devices have any hope of getting the biggest Android update yet on their devices? The answer to that may well be in the negative, but Samsung Galaxy S3 users should definitely disagree.
While the device itself has seen the end of its official update cycle, there's no doubt that its popularity has helped it in sailing forward. The developer support for the device has been phenomenal and not a long while back, a stable build of Android 4.4 Kitkat got ported to the device. Lollipop seemed like a far cry until that time. But today, an early build of the latest Android update is already available for it. Even though the build is very unstable and hence far from being given the stature of a daily driver, the fact that the dev has tested success to an extent is promising enough! And, it is a work in progress so you sure can expect progress anytime soon!
Quite a few essentials don't really work on this ROM. So, before getting to the installation part, let's tone down our excitement and take a look at the bugs associated with this build.
Bugs
Here is a list of stuff that the OP recognizes as 'not working':
Radio
Camera
Sensors
Internal & External Storage
Wi-Fi
GPS
Graphics including color calibration and hw composer
Screen off (the device can not enter deep sleep)
And if you did sail through that disappointing list, the fun starts now! Let's first steady our horses for battle.
A Word of Warning!
Do not forget that flashing your device and any other similar customizations thereof can sometimes have adverse repercussions. Also, these processes are not for the faint-hearted since none of these are full-proof. But we do assure you that they work in most normal scenarios if you correctly follow the guide. And, since we are currently talking about an early build, please do not expect normal functionality from your device under any circumstance.
Requirements
Installation
The ROM comes in a nandroid backup format, hence to install it, you need to just restore the backup after putting it on your SD card backup folder.
Extract the downloaded ZIP file and copy the ROM back-up file on '/sdcard/clockworkmod/backup'
Now boot up your phone in recovery mode.
Next, perform a full data wipe (except if you're running previous versions of this ROM)
You now have to Restore the nandroid backup which you copied
Finally, flash the downloaded kernel
That's it! You are good to go!
You followed the guide, didn't you? Okay, folks, we get it, only the most strong-willed must've read the whole story here. But that doesn't mean that the average user doesn't have anything to cheer about! We for one are no less excited about the possibility of a future stable build for your beloved Galaxy s3 devices. And yes, keep in mind that this device is totally not dead. Not yet.
Oh! And don't forget to share your views or experiences of using this ROM in comments below.
Read Also: Install OTA Updates on via ADB Sideload & Recovery