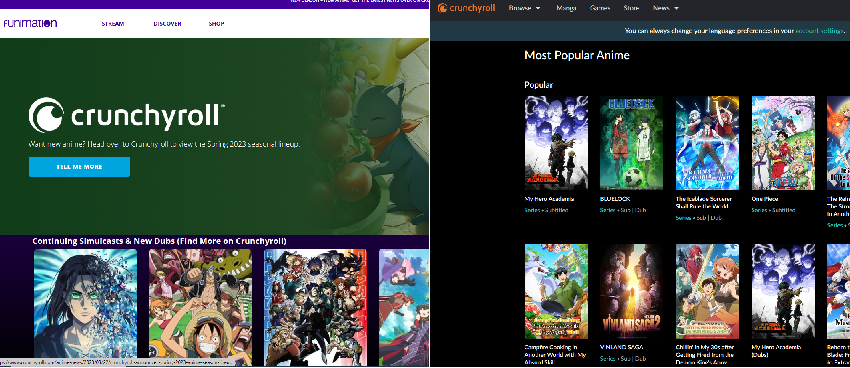 You are here because you are a fan of anime, the fantasy world stories, unending seasons of action/drama. You mostly like the cute characters, and their supernatural abilities. Now, you are deciding which website to choose to stream your favourite characters, there are 2 leaders to choose from – Crunchyroll or Funanimation. Let us help you decide that here.
Who owns Crunchyroll and Funimation?
Currently both streaming services are owned by Sony Corporation. Both companies announced in 2022 that Funimation content to be integrated into Crunchyroll.
What are these sites?
Both are famous for streaming premium anime content all over the world. Funimation is only available in US, Canada, Brazil, UK, Ireland, Australia, Mexico, and New Zealand. Crunchyroll is more widespread. Both sites have anime fan subscribers worldwide.
How are the subscription models of both sites?
Funimation has 2 plans, Premium is $7.99 per month and Premium Plus is $9.99 a month. Both plans also come in yearly plans of $79.99 and $99.99 respectively. Both plans feature ad free watching experience, Subs and Dubs of many titles. Difference is premium plan supports streaming simultaneously in 2 devices whereas Premium Plus in 5 devices. Premium Plus also supports feature to download and watch content offline.
Crunchyroll has a 14 day trial and thereafter 3 premium plans – Fan is $ 7.99 a month, Mega Fan is $9.99 a month and Ultimate Fan is $14.99 a month. All plans feature no ads, all access, new episodes one hour after premier in Japan, Digital manga content. Fan supports only 1 device at a time, the latter support 4 and 6 devices respectively. Offline viewing is supported only in Mega Fan and Ultimate Fan.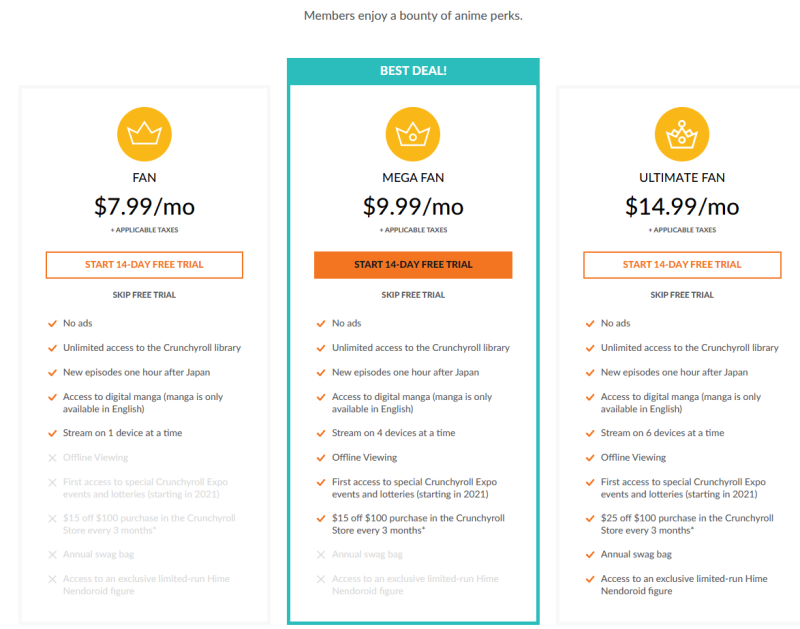 Which devices are supported for streaming?
Both websites are available in wide variety of streaming devices from dedicated apps/browser based. Compatible devices include Smart tvs,  cellphones(android/iOS), PC, Laptop (Windows/Mac), Streaming sticks (android tv, Roku, apple tv, amazon fire tv, Google Chromecast), Gaming consoles (PlayStation, Xbox).
Content review of both sites
Crunchyroll has one of the most complete collection of anime totaling 30000+ episodes, 1300+ titles. Popular titles include Death note, Full Metal Alchemist, Attack on Titan, Naruto, Dragon Ball Z, One Piece. You get a modern way to watch titles There are also many original series. Spring season 2023 collection is mostly on Crunchyroll. You also find jap shows/j-dramas. The subscription also provides access to premium mobile games, member-only events, theatrical distribution, collectibles, digital manga content, exclusive titles.
Funimation has better description of shows compared to Crunchyroll. Show clips are not available in Funimation. If one wants to watch anime dubs in English, Funimation is the choice. with it's huge collection targeting english speaking audience.  You would not find many dubs on Crunchyroll.  It also has more/better subtitles. Upcoming new series is mostly on Crunchyroll after the acquisition, they even have a banner on their site announcing the same.
Also note that content varies across countries. Obviously United States has the most content in both sites.
Browsing convenience
Crunchyroll ui is a bit hard to get adjusted to. It has huge collection of content which can be filtered based on Seasons, Genres, Alphabet, Popular etc. Genres include comedy, romance, sci-fi, music, aAction, adventure, fantasy, Shoujo, Seinen, Shonen, supernatural etc.
Funimation is intuitive to navigate. It also groups content by Genres, Popular, Seasons. It has much more descriptive text about the series/episode.
It is pretty clear now that with same pricing and moving of content from funimation to Crunchyroll, the winner is Crunchyroll. There are also new competitors to these sites like Netflix, prime video etc. which one should consider.