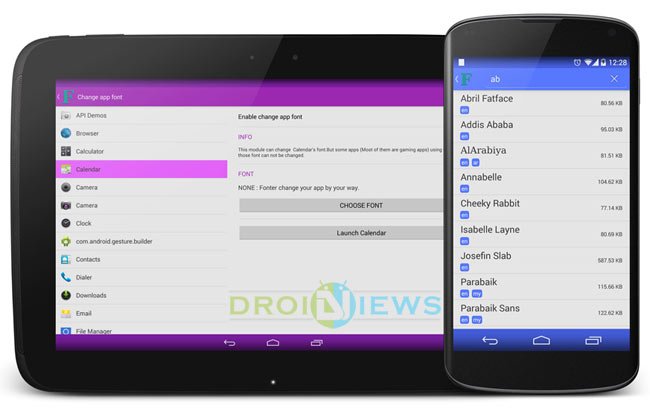 Changing the font of Android devices is a part of customization. Some people like default fonts and some want custom fonts. If you own an Android device and have root privilege on it, you can install fonts on it using the Fonter Xposed module.
We are all human beings yet we differ from one another our physical appearance, creeds, habits, way of thinking, apparels and so on. Even within the people belonging to the same group and even family, no two persons are the same in all respects. We are born to be different despite all apparent unity. We might buy a smartphone or a tablet device owned by millions of people worldwide, but we keep seeking new ways to customize our device with different kind of wallpapers, launchers, widgets, themes, ROMs, apps, and fonts. By trying different types of variations on the same phone, we keep adding freshness to our everyday experience. Without change and novelty, our smartphones and even the world itself would be so boring! Isn't it?
If you love your phone, you are one who loves customization. You won't disagree that changing the system font on a device is probably the most effective way to change its overall look. As things go in Android you need to have root privilege on your device to replace system fonts with custom one by pushing the fonts manually or flashing a flashable zip in custom recovery. There are some OEMs, like Samsung and HTC, who bundle their stock ROMs with FlipFont that lets you purchase custom fonts and apply them without root access. Besides, you can find a number of 3rd party apps at Google Play to enjoy new fonts.
Thus, changing system fonts on Android is not a really big deal. But how would you feel if there is an app that lets you enjoy different fonts systemwide and in individual apps? Now that's is wonderful! Thanks to rovo89 for giving us the awesome Xposed Framework and to goodevh from XDA for developing Fonter Xposed module.
Fonter Xposed module is a font manager that is available both as an independent app and an Xposed module. The app lets you change not only the default system fonts but also the one found in different apps. This powerful font-changing tool allows enjoying the luxury of custom fonts without root, especially on Samsung Galaxy devices, OnePlus One and some others. However, if you got a device from OEMs like HTC or Motorola, you'll have to use the Xposed module to change fonts.
To be able to use the Fonter Xposed module, you must have root access and Xposed Framework installed on your device. If you are new to Xposed and do not know how to install and configure it, read our detailed Xposed Framework tutorial.