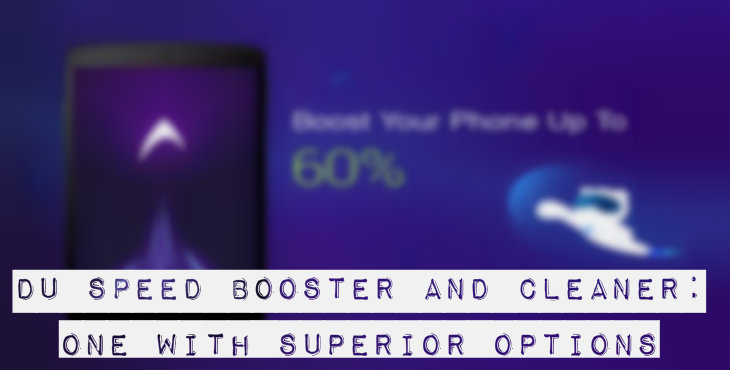 We all are Android fans, aren't we? One reason behind this is Android's flexibility and power to run any kind of app thrown at it. But there is also a disadvantage of this. Some wrong combination of apps (or too many apps) can make your phone slow and difficult to use.
That's where a Speed Booster and Cache Cleaner come into use. A speed booster and cache cleaner kills running apps in the background and also cleans junk files to make your processes fast.
One of the best speed booster and cleaner available in Play Store is DU Speed Booster and Cleaner. According to the developers of DU Speed Booster and Cleaner, it can boost the speed of your device up to 60% by optimizing games and apps performance. Here we will discuss features of DU Speed Booster and Cleaner.
Features of DU Speed Booster and Cleaner
Phone Boost
As the name suggests, Phone Boost speeds up your device by cleaning all those apps which have no purpose of running in the background. This frees up some of your RAM which results in fastening of your Android Smartphone. You can also select the apps which you want to be killed automatically i.e. prevent it from starting, schedule phone boost within a defined time interval and whitelist apps which you never want to kill.
Trash Cleaner
The Trash Cleaner of DU Speed Booster and Cleaner help you in erasing residue files. By residue files, we mean unused files, APK'S app data of previously installed apps.
App Manager
DU Speed Booster and Cleaner also have its own app manager. The Unique feature of DU's App manager is it can uninstall app's which come pre-installed with your Android device. It can also move apps to and from the SD card to Phone memory and vice versa. A useful feature in DU's App manager is its APK files and tells you whether they are installed or not.
App Lock
Now, guarding your privacy is easier than ever before with DU Speed Booster and Cleaner. This App Lock prevents others from accessing data from social media app.
Network Boost
Using this tool, you can easily change the network setting of your phone to enhance your network connection.
Security and Antivirus
The antivirus present in DU Speed Booster and Cleaner scans all the SD Cards and phone content and removes any malware if found.
This was all about the features of DU Speed Booster and Cleaner. Like DU Battery Saver, this app is also full of superior options for one to use. In fact, it has so many features, that you will have to take out time to explore each and every aspect of this app. So, if you enjoyed reading the features of this app, we will suggest you download DU Speed Booster and Cleaner once and give it a try.