According to Google, as the era of Cloud storage has arrived, file managers are a thing of past. That's why nowadays Android come without a file manager. But, most people aren't as open to accepting change as is Google. So, we need a file manager. Well, at least for now.
Now, since Google has omitted the file manager in its list of pre-installed apps, we have to download a reliable file manager from Play Store. The best file manager available is ES File Explorer. It is completely free and has a host of wonderful features which we will share below.
Features of ES File Explorer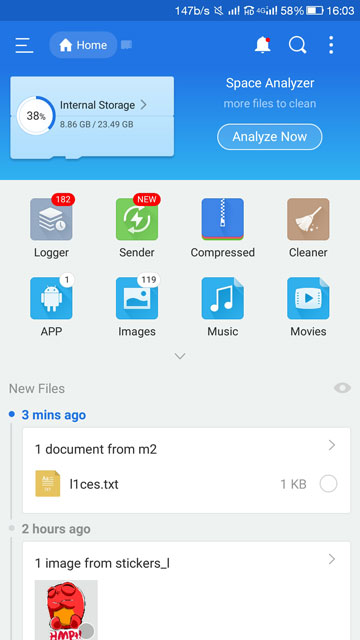 ES File Explorer has all the basic features of a file manager like selecting multiple files and folders, performing operations like cut, copy, paste, share a file, search for a file and view its properties in detail.
With ES File Explorer, you can access files on the local computer using Windows file sharing.
Easily connect to a host of clouds services like Google Drive, Dropbox, Ubuntu One etc.
Manage files with Bluetooth.
Download and upload files using FTP Client.
If your Android Smartphone is rooted, then enable root explorer to modify admin files on your device file system easily.
With ES File Explorer you can easily compress and decompress ZIP and RAR files.
ES File Explorer helps you to create backup copies of .apk files and install backed up .apk files. It has a Text file editor which is so great that you can modify and rewrite root files cooperating system files with it.
With ES File Explorer, you can access your home PC through your smartphone via Wi-Fi with SMB.
ES File Explorer has an SD card Analyst which analyze the SD card files and search for redundancy files, duplicate files and clear them to save some memory.
You can kill tasks, increase RAM and speed up your Android device with a single click using home screen widget.
According to our tests, ES File Explorer load recently added files in library 80% faster than only other files manager.
These were some of the super awesome mind-boggling features of ES File Explorer. And when thinking about the fact that ES File Explorer is available for free in the Play Store it increases the value of these features to at least a dozen times.
ES File Explorer also has a pro version available on Play Store for $4. The pro version of the app is ad-free and has more theme and customization options. We will conclude by giving a little piece of advice: Ditch your present file manager and move on to ES File Explorer. We bet you won't be disappointed!