With Assistive Touch for Android, you can now get iOS like Assistive Touch for your Android device and access different functions of your device with ease. For iOS the AssistiveTouch has slightly different features. However,  Assistive Touch for Android has many useful features that are worth looking for.
It has Home button shortcut key that can function as your Home button in case it has been damaged or faulty. Although Assistive Touch for iOS was meant for people with physical impairments or for devices with faulty hardware keys like volume and home key, it has become quite popular in among Android and iOS users more often in China as people have grown to the ease of operating it.
Assistive Touch for Android has a clean User Interface with easy to use functions. You need to enable its functionality within the app. Once enabled a floating button will appear on the screen. Within the app you can change the Icon of the floating button as well as make changes to the panel that is displayed when you touch the button. Moreover, you can also change the Animation Speed, display of the panel  and size with the app.
The Floating button can be moved anywhere as per your convenience. When touched, a panel shows up with many options to choose from. You can lock your screen using the Lock option but you need to provide Administrative rights to it first. The Favorites option contain provides the ability to add apps of your choice as shortcuts.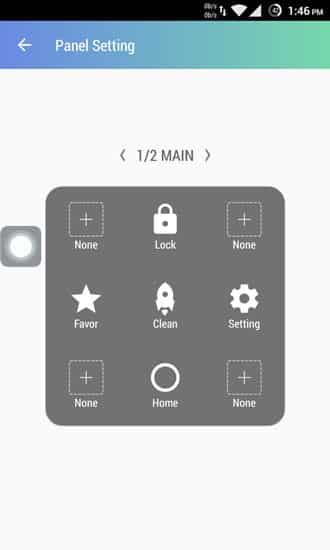 Moving to the Settings Option, it has Quick settings options like Wifi, Bluetooth, Location, Volume toggles. Assistive Touch for Android can also clean clean ram, boost speed with one touch boost.
Basically, Assistive Touch for Android has got something for everybody. For people who need shortcuts and want to operate their device's function quickly this app would certainly help.