Samsung Galaxy S7 is the latest flagship from the Korean giant, featuring some beastly specs and a stunning 5.1 inch Quad HD display. Showing off this beautiful display is Samsung's new always-on display mode, which shows you the current time and the battery level. It is a feature that I've loved using on my old Nokia devices and it's great to see it becoming popular on Android too. It looks great and you probably want it on your Android smartphone as well. Thanks to the amazing third-party developers on Android, you can actually use always-on display feature on your phone now.
Motorola brought this always-on display to Android with the first Moto X. Called Motorola Active Display, it displays the time, date and an icon of any new notifications you may receive. The feature became so popular that several third-party apps were released that mimicked this feature. Other companies like LG and OnePlus also followed suit by adding this always-on display feature to their own devices. Samsung has added this feature to its flagship Galaxy S7 now, making great use of its beautiful display.
Always-On Display Feature on Android Devices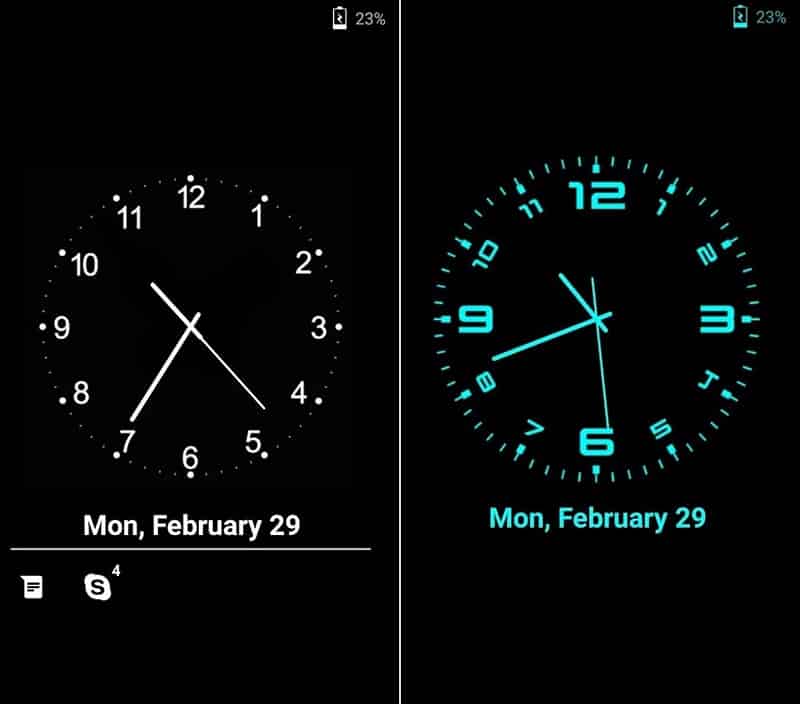 There are a bunch of third-party apps that come with this always-on display feature. Some of these apps are free while some come at a low price. I have been using these apps for a while now on a number of devices – some with an LCD display and some with an AMOLED display. Before we get started, you will have to know that this feature will keep your display on (or, at least, a part of it), so you will notice some extra battery drain. However, for the utility and the beauty of it, it is a very small price to pay.
The latest third-party app that brings this cool always-on display feature is Glance Plus. While I have tried a lot of third-party apps to enable this feature on my Nexus 5, Glance Plus stands out for its variety of clock faces.
Download Glance Plus from the Play Store.
When you first open the app, Glance Plus will request you to let it modify system settings. This permission is required to refresh the time when the phone is locked and the Glance Plus clock is turned on.
Additionally, Glance Plus can also display weather information using internet and GPS. It's optional, though, so if you don't want to let it access your location, you can keep it disabled.
Glance Plus can also display notifications from other apps – messages, calls, emails etc. For this purpose, you will have to grant Notification Access to the app. When you are setting up the app for the first time, Glance Plus will request this permission. Grant it if you want to enable display of notifications.
At any point of time, if you want to disable Glance Plus, you can do so by pressing the power button once. It will remain disabled until the next time you relock your phone.
If you are looking for an alternative to Glance Plus, you can give AcDisplay a try. Just like Glance Plus, AcDisplay is free, too.