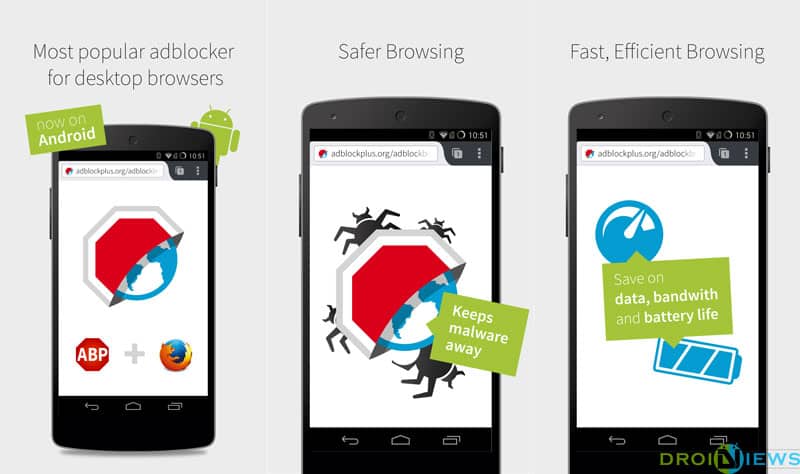 Ad blocking is a hot debate on international forums. Right from irritated surfers to website owners, each one of them has their own story to tell. Amidst the raging outrage, Adblock Plus, a very popular chrome extension has now taken a step ahead. They have come up with a new browser which automatically keeps the ads out of way.
In the past, the extension was removed from the Google Play Store, it was said that the app violates the terms and conditions laid by the Google App developer program policies. It was reinstated after the app developers successfully found a way around which has a degree of compliance with the policies.
Talking about the Adblock Browser, it is said to increase your surfing speed, obviously if all those flash ads are out of loading content, you experience is going to more than fast. The most interesting feature of the browser is, it lets you to whitelist websites. If you ever think that you liked a site so much that you don't want it to run out of money because you are cutting off the ad revenue, this feature will let you can add it to white list and bear some ads as you love the content and you think it deserves.
It is said that you'll be able to do this specifically to each site, and the other sites which aren't listed in whitelist will continue with ad blocking. The positive effects of this new browser is said to improve your battery life while conserving mobile data.
With this app, Adblock plus has successfully invaded the mobile space. The extension was for desktops, but with this app, both desktops and mobiles will be benefitted. Sometime before this app was made available in open beta form by the developers – Eyeo. Now, as it has stormed the official Google app store, users can try and experience this app legitimately.
[googleplay url="https://play.google.com/store/apps/details?id=org.adblockplus.browser"/]
Let us know, if you liked this app. There will be an app review soon. Comment below.