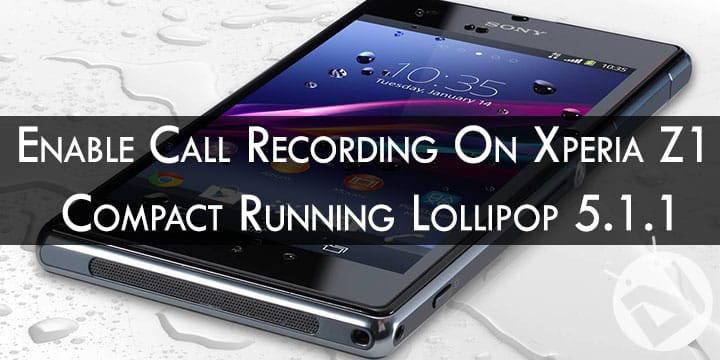 Xperia Z1 Compact features a 4.3inch HD display, powered by Snapdragon 800 and 2gigs of RAM. It also boasts a 20MP camera which is capable of taking amazing pictures. Though the device was released back in January 2014 with Android 4.3 Jelly Bean, Sony has been consistent in updating this device with the latest Android operating system. Recently, it was updated to Android Lollipop 5.1.1. Though it may not get the official update for the recently released Android Marshmallow.
Various mods for Xperia Z1C are available on the XDA and/or other forums for this device prior the Lollipop update. But since the update those mods do not work anymore. To our rescue, Xda member  slsamg7112 has developed this mod which runs even on the latest Lollipop update. This mod enables you to add certain features to your device including call recording, speaker sound enhancements and few more.
Features
The following features can be enabled after installing this mod on your device:
Disable data notification when turning off data connection.
Enable 2G/3G only
Enable speaker voice enhancement: Get better sound out of your phone's speaker.
Enable call recording: Records all incoming and outgoing calls.
Things You Will Need
Rooted Xperia Z1 Compact running latest stock ROM.
Custom Recovery like TWRP should be installed on your device.
CallRecording_Z1C_5.1.1.zip| Link
Steps To Follow
Download CallRecording_Z1C_5.1.1.zip from the link given above.
Copy the file to your device.
Boot your device into Recovery mode:

Power off your device, by holding the Power button and then selecting Power Off on the menu appeared.
Turn on your smartphone, but when its LED notification light turns Pink (or any other color) press volume up or volume down button for a couple of times until the recovery mode is being displayed.

Once booted into recovery, select install zip and browse for the zip you just downloaded.
Confirm to install the zip.
After installation completes Reboot your device.
You could enable the call recording option from the Call settings available in the Settings app on your device. Other Network related features can be enabled in the Mobile Network Settings in the Settings app as well.
Screenshots
Install this mod on your Xperia Z1 Compact running stock Xperia ROM to enable call recording and few extra features. Drop down your queries regarding the installation procedure in the comments below.