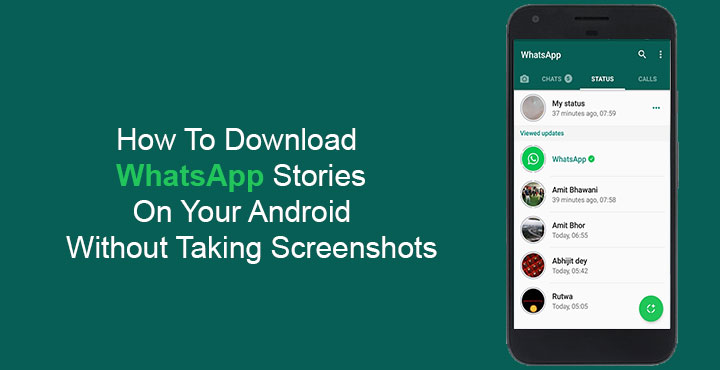 By now almost everyone knows about the Snapchat story like Status feature on WhatsApp. You take a picture and it is set as your status, albeit only for that particular day. After 24 hours, the status disappears. Unlike Snapchat messages though, this status is public and therefore anyone can take a screenshot and save it on their phones. If you want though you can set the status to be visible only to certain people. The Status privacy options can be accessed via the three-dot menu button while in the Status tab. But did you know you can download WhatsApp stories on your Android without taking screenshots?
That is very much possible since WhatsApp isn't exactly known for being the most secure messaging client. Also because the developers probably don't mind. Nevertheless, there are quite a few ways to save someone's status or story on your Android device. We'll discuss a couple of them that we think are the easiest and most efficient. You don't have to root your device for either of them. You will, however, require an app for both methods.
Method 1 – Download WhatsApp Stories using a file manager
A file manager is one of the most basic apps on an Android device. It is not surprising therefore that most manufacturers pack in a pretty decent file manager built-in. Even if your device does not have a good file manager, you're probably already using one downloaded from the Google Play Store. The point is, essentially this method does not really require you to download an extra app. Here's how you can save WhatsApp statuses on your device using a simple file manager.
Also read: Everything You Need to Know about Malware on Android
Enable Show hidden files. This isn't a feature that might be present in the most basic of file managers but any decent file manager will allow you to enable this option. The method is quite different for every file explorer app so you'll have to figure out how to do that on the app you're using.
Navigate to the WhatsApp folder generally present on your device's internal storage. There are usually three folders here, but now that you can see hidden folders, you'll find actually four.
Go to the folder named Media and you'll see a hidden folder named .Statuses.

In the .Statuses folder, you can find any statuses that you've viewed on WhatsApp. The status or story that you haven't opened on WhatsApp won't show here.
To save the image or video permanently on your device, just copy or move the image or video to another folder. Any folder will do except the .Statuses folder.
Don't miss: 5 Must-Have Utility Apps for Android
Method 2 – Download WhatsApp Stories using Story Saver for Whatsapp
If you'd rather not deal with a file manager you can use an app that is even simpler to use. It's rightly called Story Saver for WhatsApp and it isn't the first or the only app of its kind. A quick search on the Google Play Store will let you know that there are quite a few such apps, mostly with similar names as well. There's a good chance that you might not even find this one with a simple search. We can't speak for all of them, but we used Story Saver for WhatsApp and we can only vouch that this one works. Considering how easy it is to save WhatsApp stories even without an app or root though, all the other apps should work just as well.
Install the app from the Play Store using the link provided above.
Launch the app and you'll have three buttons with pretty self-explanatory names – Recent Stories, Saved Stories and How to use?

Since you don't obviously have any Saved Stories yet, and you already have a How to use? guide right here, you should tap on the Recent Stories button.
Here you can see all the stories that you've viewed on WhatsApp, categorized into pictures and videos.
Find the story you want to download, tap on it to select it and then hit the download button in the top right corner.

Once downloaded, the story can be viewed by tapping the Saved Stories button on the main screen.
When you tap on a downloaded story, you can view it, share it, delete it, the usual stuff.
So now that you know you can download WhatsApp statuses, obviously anyone else can too. Doesn't this make the "disappear after 24 hours" thing quite useless?
Read next: 7 Best Android Auto Alternatives to Use in Your Car