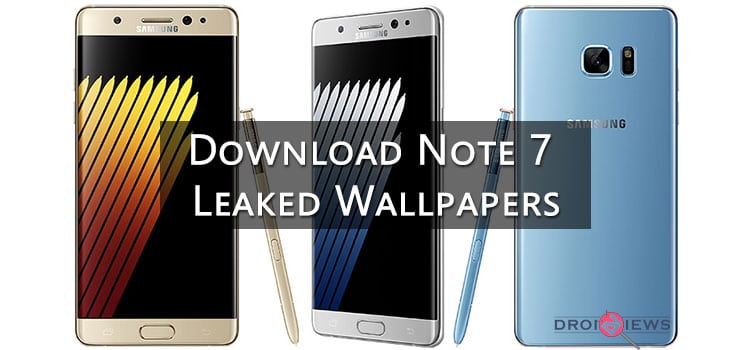 Galaxy Note 7 the upcoming device in the Note family is set to launch in an event to be held on August 2, 2016. Samsung has already sent out the invites for the event to be held in New York City. Make sure to watch the live stream of the event if you are excited about the upcoming Samsung phablet. Samsung has not been good at keeping information to itself or rather peeps at Samsung manage to leak news/ information about the upcoming devices prior to the launch event. This time, we have managed to obtain the stock wallpapers from the upcoming Note 7.
Wondering why Note 7 instead of Note 6. Well, Samsung decided to skip the name Note 6 in order to maintain uniformity with the S series of devices. Samsung gave following reasons to name the device Note 7: First, the Galaxy Note 7 Will complement our Galaxy S7 and S7 Edge, and unify our product portfolio. Second, the Galaxy Note 7 will minimize confusion about the latest mobile technology from Samsung, and provide full alignment with Galaxy S smartphones.
Samsung Galaxy Note 7 is rumored to be launched with 5.7-inch Quad HD Super AMOLED display. The upcoming flagship could be sporting up to 6GB of RAM, 32GB of expandable storage, a 12-megapixel camera on the back and a massive 4,000 mAh battery. We also expect there to be a slew of S Pen-related features bundled with Android 6.0 Marshmallow. Although nothing can be said for sure, final specs would be revealed only on August 2 at the launch event.
Samsung is already testing the upcoming version of TouchWiz with few Beta testers. The updated TouchWiz UI is named the Grace UI and would come pre-installed on the Note 7. Grace UI also has hints of upcoming Android Nougat throughout the user interface. Although, we won't see Android Nougat in Note 7 before Q3 of this year or rather much later than that. Grace UI may reach previous generation flagship devices via an update.
You can download the full resolution wallpapers from the link given in the Downloads section. Here are few glimpses of the stock wallpapers of upcoming Galaxy Note 7. Images below are cropped in order to reduce load times of the web page, to get full-size wallpapers download the zip file with all the wallpapers from the downloads section.
Galaxy Note 7 Wallpapers
Downloads
Samsung Galaxy Note 7 Wallpapers | Mirror
Do share your thoughts about the upcoming Note 7. Are you excited about it? Are looking for a new device? Do you think Note 7 will fulfill your needs? Let us know what changes you would like to see in the Note 7.