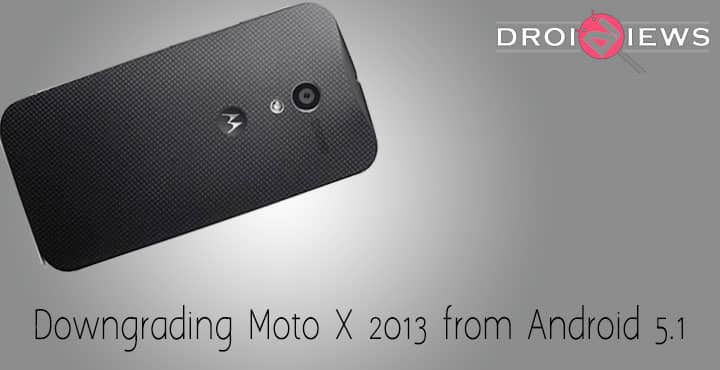 Updates are great; unless they come with bugs, or unnecessary apps, or they start taking a toll on your device. What to do in such a case? If you are a Moto X 2013 user, this tutorial can guide you to downgrade from Android 5.1 to Android 4.4.4 [and lower]. The process is quite simple and quick. You will be able to start using the device in 12-15 minutes. All you need are the required files and basic understanding of fastboot, command prompt & bootloader. Also, make sure you read this tutorial carefully [a couple of times] before you proceed.
Disclaimer: We have tested this procedure across different users multiple times, but there is still a level of risk involved. Such procedures can potentially brick your device and render it useless. We do not undertake any responsibility for damage to data or device.
Performing a system downgrade will also void your warranty and it shall not be supported by the manufacturer or service provider.
Towards our effort of being a responsible website, we strive to mention all precautions & notes in our guides.  We also undergo several tests on our own devices to ensure that any procedure we post is authentic & accurate. The same has been tested for this tutorial more than a dozen times on different units of the device.
Eligibility, requirements & steps
Unlocked bootloader

[Motorola & their default bootloader does NOT support downgrade & will create errors during Fastboot mode].
Note: Unlocking your bootloader will erase all data on your device, make sure you backup before attempting. This tutorial is not for unlocking the bootloader. If you haven't done it already, look up the official Motorola procedure here.

Make sure you have Android SDK platform-tools installed.
Make sure you have the latest Motorola USB drivers installed. If not, download here.
Head over to this link by Motorola to check whether your device can be unlocked and get an unlock key. Follow the step by step procedure [clear and short].
Note: If you are unable to unlock your bootloader, you CANNOT downgrade.

Files:

For this tutorial, we chose to downgrade from 5.1 to 4.4.4 since this is the safest and generally common downgrade option. Please follow all the steps without skipping.

Signed image of Android 4.4.4 for Moto X 2013: You can download the image on these links: 1. Please note we have used the device model XT1052 for this tutorial. If you have a different device, please download its correct image. You can check your device model in Settings > About phone. Let us know if you are unable to find the correct image.
Motorola Device drivers: Download link above and here
Motorola Android tools package: Download link here.

Flashing your device:

Make sure your device is charged to at least 35%.
Extract the archive with the signed images somewhere (we used C:\Temp )
Extract the Motorola Android tools archive in the same directory (you should now have boot.img, recovery.img, system.img, and mfastboot in the same directory).
Reboot your device in Fastboot mode (Power off your device, then hold Volume down & press Power button; and release)


THE NEXT STEPS WILL DELETE USER FILES EVEN IF YOUR BOOTLOADER IS ALREADY UNLOCKED

Open a command prompt and navigate to
C:\Temp
or the folder you chose for all files extracted. You may also open this folder in Explorer and open Command prompt directly by pressing Shift + Right Click and choose Open command window here.Now type in & execute [Press Enter] the following commands in this sequence one by one.
mfastboot erase cache
mfastboot erase userdata
mfastboot flash boot boot.img
mfastboot flash recovery recovery.img
mfastboot flash system system.img
mfastboot erase userdata
mfastboot reboot
Do not skip the erase userdata code; you will end up with a soft bricked device.
Result:
You have successfully downgraded your device to Android 4.4.4. It might take a while for the first boot since the device shall create Dalvik cache and other such stuff, but it shouldn't take more than 5 minutes.
At start-up, on some point, the device shall prompt you to agree to downgrade the Motorola services agreement, on accepting it shall reboot,  and confirm that downgrade was successful. We have tried it over a dozen times.
Also, we'll try to answer queries if you face certain issues (frankly, there shouldn't be any if you 'followed' this guide).
Cheers!!