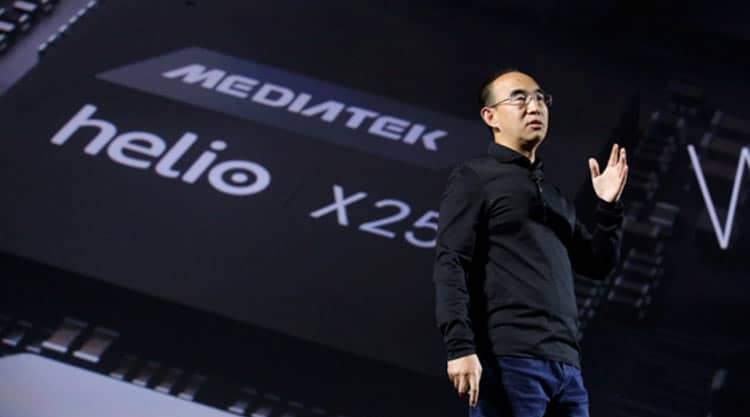 We all know that MediaTek introduced its new naming convention for its processors in the previous Mobile World Congress (MWC).The Helio X line of processors , made for the high-end segment, got its latest sibling called the X25 or the MT6797T. The features of Helio X25 are highlighted below:
It is a Deca-core Processor, comprising of ten cores arranged in a tri-cluster (2+4+4) pattern, made by the 20nm manufacturing process.
It has two A72 cores clocked up to 2.5 GHz, four A53 cores clocked to 2.0 GHz and again four A53 cores limited to a comparatively lower 1.55 GHz. The GPU is ARM Mali-T880MP4 clocked at 850 MHz
OEM's can install memory up to 8 GB (2x 4GB LPDDR3) on their phones.
It hosts a 1920×1080 display at 120fps, with an innovation by MediaTek called the Mira-Vision. It also supports 4K and 2K at 30fps (10 bit)
The Multimedia section is taken care by the cortex M4
The Camera can be upgraded to either 32 MP @ 24fps or 25 MP @ 30fps
It stands third powerful in the market today, after the SnapDragon 820 and Exynos 8 scoring just below 1,00,000 in the AnTuTu Benchmark. Though most of the above traits are common in today's processors, MediaTek can raise its collar on two new innovations for sure – the tri-cluster arrangement and the Mira-Vision.
Processors, we use today have dual cluster arrangement, one set of the cores clocked at a low frequency will be responsible for running lightweight apps (most system apps like phone, dialer etc and certain third party apps) whereas the other set clocked at a higher frequency will try and ensure smooth running of video playback and heavy games like Asphalt 8. Low-Frequency cores would consume low power and high-frequency cores if active will start evaporating the juice in your mobile.
Apps that cannot run at the lower core is pushed to the higher core, thus most of the third party apps that we use today utilize the higher core, even if they can run in between the higher and lower frequency. For Example, In One Plus 3 containing Quad core Snapdragon 820 (2x Kryo @1.6 GHz + 2x Kryo @2.15 GHz) imagine if a photo editor app is executed, it utilizes the 2 cores @ 2.15 GHz, though in actual parlance it may need only a single core @1.8 GHz, thus on running the app on One Plus 3, one of the two cores @ 2.15GHz is consuming power even if it is of no use, leading to wastage.
Opposed to the usual convention, the 10 cores of the Helio X25 are arranged in a three groups (2x A72 cores @ 2.5 GHz + 4x A53 Cores @ 2.0 GHz+ 4x A53 Cores at 1.55 GHz).By Introducing a Mid-cluster i.e. the 4x A53 clocked at 2.0 GHz, the processor has overcome a disadvantage in the traditional processors, it can run any app effectively in (in terms of battery)  by tunneling the app towards the most suitable cluster. Thus saving your juice whenever and wherever possible. MediaTek says that it has reduced power consumption by 30% compared to the dual- cluster.
Though Samsung, Apple, and other chip manufacturers have already innovated in the display by introducing the Amoled and Super Amoled, Retina screens etc, Mira-Vision is quite different and unique. What it does is that it blends the phone's backlight and Image's pixel data based on the picture's contrast and brightness to ensure crispness and detail are at their peak.
Taking into account the long history of MediaTek Inc, its processors are just sky high in terms of theory, but in practical usage, they have not reached the position where they should have been if their theory had worked out. Even after months of release of Helio X25, only the Meizu Pro 6 is said to come with the processor.
What do you think will the Helio X25 able to turn the table for MediaTek? Post your comments