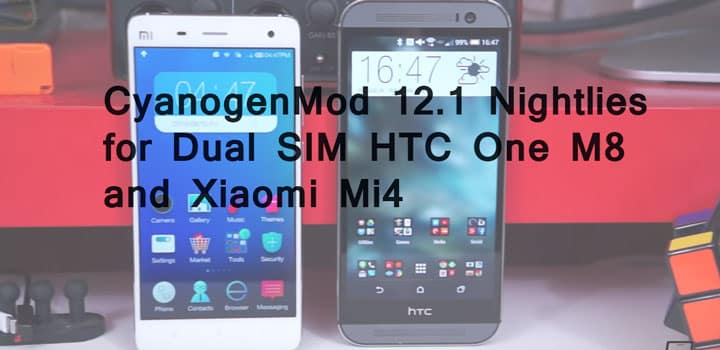 Many Android users are turning over to the CyanogenMod ROMS as it provides you with the latest features and updates from the Android world. CyanogenMod Community has grown larger not just in providing alternative ROMS for most Android devices in the market but also for launching Cyanogen OS based phones.
CyanogenMod has become one of the most popular ROMS due to its ever-expanding support for new Android devices and support for many Cyanogen based ROM. The latest to the addition is from HTC and the Xiaomi viz, the dual-SIM version of HTC's 2014 flagship One M8, and Xiaomi Mi4.
CyanogenMod has not supported many dual-SIM handsets but the latest to be supported is the HTC's One M8. Now they can enjoy Android 5.1 with dual-SIM functionality. The users of HTC One M8 (dual-SIM version) and the XIaomi Mi4 have long been waiting for the official CM 12.1 release and the wait is finally over.
The CyanogenMod ROMS for these two phones are available as nightly builds of CyanogenMod repository. Both are running CM 12.1 which is based on Android version 5.1 Lollipop. The two ROMs are labeled "m8dug" for the One M8 and "cancro" for the Mi4.
The best part about CM based ROMS are its lightweight ROMS and the update frequency. You can get it from the official CyanogenMod website or just follow the link in the Download's Section for quick access. Here is a guide on how to install CyanogenMod 12.1 on HTC One M8  (dual-SIM) and Xiaomi Mi4.
Downloads
Download | HTC One M8 (dual-SIM version)
Download | Google Apps
Prerequisites

Rooted HTC One M8(dual-SIM version) or Xiaomi Mi4
Installed TWRP recovery or CWM recovery
Ensure you have at least 60% battery
Warning: We at DroidViews are not responsible for any damage to your device what so ever. Rooting and flashing a custom ROM may void your device's warranty. Proceed only if you know what you are doing.
Backup all your media and files before you proceed. A nandroid backup is recommended. As this is a Custom ROM, you need to wipe your system which will remove your Stock firmware or ROM and install a fresh copy of CM 12.1 nightly.
Installation Instructions
Make sure you have the  cm-12.1-2015xxxx-NIGHTLY-xxxx.zip and gapps/ Google apps on your phone internal storage.
Reboot into TWRP/ CWM recovery.
Once you are in TWRP recovery/ CWM recovery, select and perform a full wipe; You can do this by going to Advanced and selecting System, Data, Cache, Dalvik cache. Do not wipe internal storage.
Now go back to the recovery home screen and select Install, to install the ROM.
Repeat this for the Google Apps zip file as well and install it on your phone.
Reboot to System.
Once reboot you can now enjoy CM 12.1 on your device. If you have any queries, then let us know via comments.