You can now customize the Active Edge present on the Google Pixel 3 and Pixel 3 XL. This is made possible with the help of an application called Edge Sense Plus. This app was earlier meant only for the HTC U series devices. But, it has now been ported to the Google Pixel 2 and Pixel 3 devices as well. With Edge Sense Plus app, you can customize Active Edge on Pixel 3 and Pixel 2 easily.
Now, you must be aware that the Pixel 3 series was recently announced by Google. Among all the great features of Pixel 3, there is a feature called Active Edge. Note that the Active Edge feature was available on the Pixel 2 series smartphones as well. Basically, Active Edge feature is the same as HTC's Squeeze feature. Active Edge or HTC's Squeeze is a pressure sensitive mechanism placed on the edges of the device. Once a user squeezes the edge of the phone, it will detect the squeeze and trigger an action.
Customize Active Edge on Google Pixel 3 with Edge Sense Plus
Currently, Google has set very limited functionalities for its Active Edge. You can trigger the Google Assistant with a squeeze as well as trigger the camera and take a selfie. But, it is now possible to open any application or do whatever we want by customizing the Active Edge. For this, we have an application named as Edge Sense Plus developed by j to the 4n. "J to the 4n" is a Recognized XDA developer.
Since we have already mentioned that Google has limited the Active Edge functionality on Pixel phones, we need to have root access. For this, we need to root the Google Pixel 3 with the help of Magisk.
Once the application is installed, you will have plenty of options for your Active Edge feature. You will be able to set custom shortcuts for long squeeze, single squeeze as well as a double squeeze as seen below.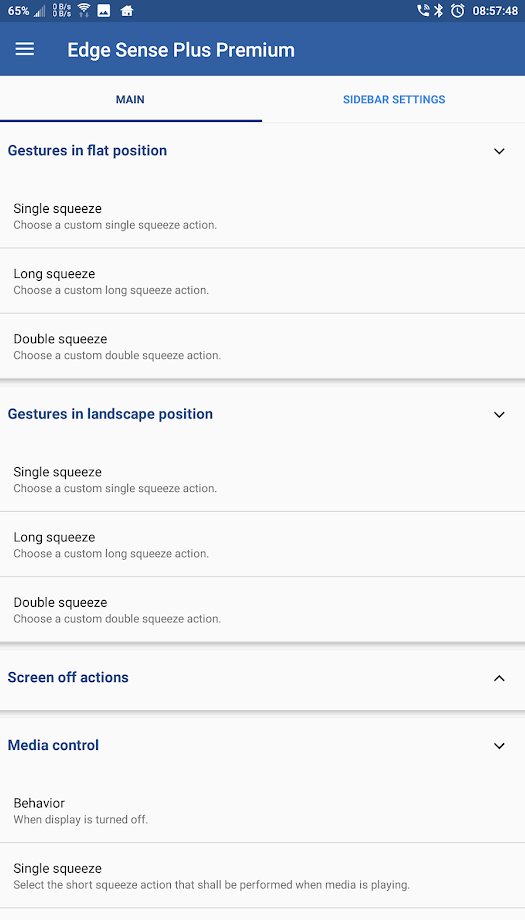 Also, it is possible to set Active Edge gestures for the portrait as well as landscape mode with Edge Sense Plus. There are various options to choose from for shortcuts, navigation etc. on single squeeze, double squeeze and long squeeze too.
There are plenty more features of Edge Sense Plus apart from ones mentioned above as well. Therefore, we have attached a list of all the features of the application mentioned by the developer of Edge Sense Plus himself.
Features of Edge Sense Plus:
Quickly Start camera – Also when the screen is off and locked
Per-App Action – Execute different squeeze actions depending on what app you are!
Sidebar
Gesture Panel – Draw custom gestures to start different actions
Custom App
Shortcuts – e.g. to make direct calls, start tasker tasks and more!
Scroll up/down
Flashlight
Recent Apps
Autorotation toggle
Auto-brightness (6 states: Auto, Min, Low, Mid, High, Max)
Split Screen
Expand/Collapse Statusbar
NFC enabler
Toggle for Display on/off
Toggle Autorotation
Toggle to DND
Vibration toggle
Bluetooth mode toggle
Toggle for enabling WiFi
Music Play/Pause
Previous Track
Next Track
Toggle Keep Awake
Google Assistant
Lock Screen
Back
Home
Toggle Sync
Sync all accounts
Previous App
Take Screenshot
Clear all notifications
GPS
Answer/End call
Immersive Mode
Shell command
Now, we shall get to the topic of how to install this application on your device and what are its requirements. Therefore, you need to carefully read all the steps mentioned below. After that, you will be able to easily customize your Google Pixel 3's Active Edge.
Prerequirements
You need to have a Google Pixel 3 running Stock Android first of all. If not, you have to flash the Stock ROM on your Google Pixel 3 to run this application
This app requires root so you need to gain root access on your Google Pixel 3. To do this, follow our guide to Unlock Bootloader and Root Google Pixel 3.
Also, you need to have Magisk installed on your device. For this, we have a detailed guide to Install Magisk on your Android device.
Downloads
[googleplay url = "https://play.google.com/store/apps/details?id=eu.duong.edgesenseplus"]
How to customize Google Pixel 3 Active Edge with Edge Sense Plus
Once you have followed all the steps from the Prerequisites section, the process is fairly simple.
You now have to download the Active Edge module as well as the Edge Sense Plus app from the Play Store. We have linked both the files in the Downloads section above
Now, open Magisk Manager and search for "Active Edge Mod" and you will find a result as seen below
Install this module to your device by clicking on the Download button next to it.
After that, install and run the Edge Sense Plus application so you can start customizing your Active Edge on the Google Pixel 3.