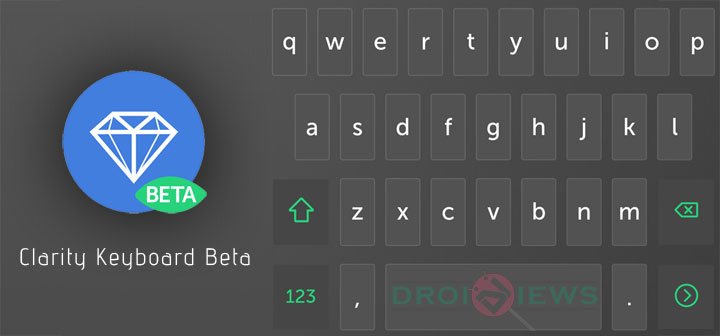 Android is vastly known for its utmost customizability. There is no part of the UI element in an Android OS which you cannot customize. Ranging from the Look and Design, to each and every application, Android lets you choose from a variety of options to customize from. One of the most used part of the Android OS, which people would prefer to customize, is its Keyboard. Many of us don't like the buggy Samsung or LG Keyboard. Thanks to Android, a new keyboard is just a tap away.
You can find various keyboard applications at the Play Store to satisfy your personal needs. Out of the many keyboard applications available for Android, SwiftKey has been one of the most successful so far. SwiftKey has also made its way to iOS 8 this time. However, SwiftKey doesn't only change the look of your Android device's keyboard, but it provides you with an exceptionally easy-to use UI, with loads of features.
The new SwiftKey Greenhouse program aims at providing the users with more and more experimental apps to improvise their lifestyles. SwiftKey states that the Greenhouse is where new ideas are sown, to get the result as an awesome to-use application. Not only will Greenhouse store keyboard experimental programs, but other applications which need BETA testing too. Overall, SwiftKey's Greenhouse is a place where users can download and test the experimental programs made by SwiftKey. The idea behind this is to gain as much as user's opinions, and then complete a product with awesome and satisfying features.
However, this particular post isn't about SwiftKey, or SwiftKey's Greenhouse. The very first experimental SwiftKey Greenhouse application is a keyboard itself. However, don't expect it to be anything like SwiftKey. Clarity Keyboard is a stand-alone application which is available on the Google Play Store.
As its very name suggests, Clarity Keyboard is meant to help the user focus on the typing-experience, more than everything. So, if you were expecting loads and loads of features packed into one mighty keyboard, then this might disappoint you a little bit. Today, we share with you all our experience with the Clarity Keyboard. We have divided the review into individual parts, to let you decide if this keyboard is the one for you!
Design / UI
'Clarity Keyboard' – the name suggests a very classic-looking, and simple keyboard, right? Well, it indeed is. Unlike the variety of features that you got in SwiftKey, with the ton of themes to download, Clarity Keyboard might be a step back for you. However, for some people who just don't really care about the beauty of a Keyboard, and just focus on the typing-experience, then Clarity Keyboard might be the best option. There are no options to customize this keyboard, which also results in faster and fluider performance. Clarity Keyboard looks much like the Stock Android Lollipop Keyboard (the dark themed one), and hence is not alien-like to newbies either.
However, this keyboard has some minute details too. This keyboard could be classified into the top-flat UI Keyboards. If talking more precisely, the new Clarity Keyboard has a slightly Green and Black accent, which in my opinion lets the user focus on the letters more.  There isn't much to talk about its design, as this keyboard focuses more on the typing-experience.
Functionality
The only reason why this is still under the BETA category is that this keyboard is a little bit ahead of its time. Meaning that, no other keyboards available on the Google Play Store have the specific features that Clarity Keyboard holds. One of the main features of this keyboard is its tendency to auto-correct multiple words at the same time, meaning that it checks the last few words you've typed and retrospectively corrects them. Also, if you want to undo the auto-correct, a tap on the backspace will do.
One of the biggest features of SwiftKey, is now available with Clarity Keyboard too. The feature being the fact that the keyboard learns your personal slang, nicknames, and phrases with time. One of the biggest hauls when this was released was the absence of the 'Prediction Bar', which would predict the next word/phrase that you were about to write. This is primarily because of the fact that this application is still in BETA testing, and experimental as stated by SwiftKey itself.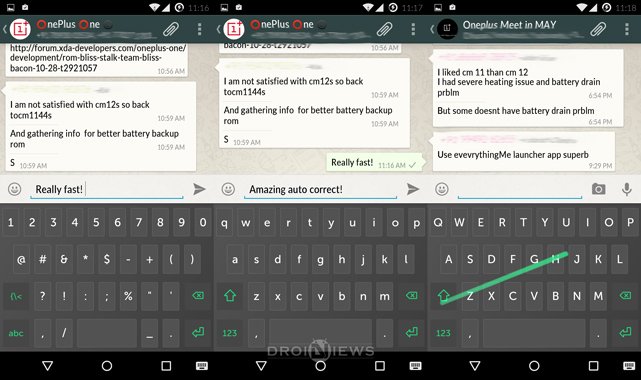 Another easy-to use feature which Clarity Keyboard boasts about is the simple SHIFT (Caps) key and the Symbol Key functionality. Just swipe from the SHIFT key to any word to make it capital, or just swipe in from the Symbols key for a symbol.
What's Not There
Yes, you read it right. Mostly, while doing an app/game review, we take a look at the features which are new and which differentiate the specific application from the others. But, in this case, it would not be a dishonor to take a look at what's missing in Clarity Keyboard. SwiftKey itself has it written about this on the Google Play Store and on the official website. Since Clarity Keyboard is supposed to be a light and simple application, here are all the things that SwiftKey had to sacrifice in order to make this awesome keyboard.
Prediction Bar– One of the most used feature in a keyboard. To keep the typing-experience simple, SwiftKey believes that no one needs a Prediction Bar when typing with Clarity Keyboard. I think this is justified, because of the amazing auto-correct features that Clarity Keyboard has.
Emojis– Yes, the one thing which everyone used to love in SwiftKey, Emojis. For those of you who don't exactly know what an Emoji is, it is nothing more that a smiley. The Emoji add-on has been removed in Clarity Keyboard. For those of you who have used SwiftKey for a long time, it might be quite hard to let go of the Emojis while using Clarity Keyboard.
Voice Control– Unfortunately, the little Microphone icon isn't present in Clarity Keyboard as well. I personally don't really think it came to be much of a use for most of the people around.
Settings– There isn't any individual settings button in the keyboard, as most of the other keyboards do.
The above list of things which aren't present in this keyboard don't really affect your typing-experience with Clarity Keyboard. I say, it is good that SwiftKey has removed all of the confusing buttons, and re-designed the whole keyboard, to provide the user with an over-all better experience.
Verdict
So, at the end of the day, you're looking at nothing more than just a smart keyboard, with the best typing-experience so far. I've been using it myself for a day now, and I must say it's the best thing that's ever happened to my Android device. The idea behind this is not to just auto-correct words, but to grammatically correct a group of words, or even a full sentence.
With Clarity Keyboard, you can type in jet speeds, and not worry about a single spelling or grammar mistake. Note that Clarity Keyboard works only with Android devices running Android 4.4 KitKat and above so far. Also, one thing to note is that Clarity Keyboard is just an experimental program for now, so don't rely upon it totally. SwiftKey itself stated this. However, if you're looking for yet another adventure with your Android device, then download Clarity Keyboard by clicking the link below.