The android text message app has been continuously redesigned throughout the years to cater to its users' needs for customization and personalization. Features like changing the background picture, the font, and the message bubbles shape and color were readily available for Android phone users. Unfortunately, with the Android 9 update, the messaging app was stripped down to basics. Customizing it to one's personal preferences was no longer possible. Don't worry though, there are alternatives that can deliver these desired changes to the app's layout.
First things first, you should check if your phone supports color, theme, and font modifications to the stock Messaging app. You can follow the steps below:
Open the Messages app —> Touch the More button at the top-right of the screen —> Select the Settings option —> Choose the Backgrounds option —> Select your preferred background.
If your phone is updated to Android 9 and later, the customization feature in the messaging app is probably no longer available. In this case, you can still make some limited changes, mainly to the color of your stock messaging app, through one of the following options: 
Switching to Night Mode (Settings —> Display —> Night mode)

Inverting the colors of your phone display (Settings —> Accessibility —> Visibility enhancements —> Negative colors)

Changing your phone's theme (Settings —> Wallpapers and themes)
You can even download apps that offer a wider array of theme options. (Google Play —> Search for "themes", "launchers").
GO Launcher – 3D parallax Themes & HD Wallpapers by GOMO Live (4.5/5 rating, 100M+ downloads) 
This launcher offers thousands of free themes and HD wallpapers to style your whole phone, not just your messaging app. You can use several transition effects, 3D effects, live wallpapers, and widgets to personalize your mobile experience. App management is made so much easier and more secure as you can hide or lock your apps and take pictures if someone tries to unlock them without your permission.  
But if you're seeking a highly personalized and customizable messaging experience, you'll need an app for that. Check out our top picks:
Textra SMS by Delicious (4.5/5 rating, 10M+ downloads)
This app can be a customizable, stylish, and responsive substitute to your stock Android messaging app. It offers hundreds of different theme designs, bubble and icon colors and styles, and countless emojis from various platforms. It allows you to switch between dark, light, and auto-night modes in addition to features beyond simple style customization such as the ability to schedule messages beforehand and send them at a future time.
Chomps SMS

by Delicious (4.4/5 rating, 10M+ downloads)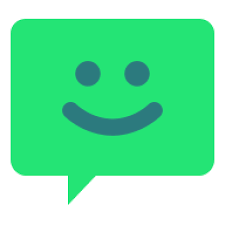 Chomps is equipped with an array of options that put the FUN in customizable functions for a highly personalized texting experience. From the notifications' LED colors, ringtones, and vibration patterns to the screen color, font size, text style, and background wallpapers; the possibilities are endless! All these features are free to use but you can choose to make an in-app purchase to get rid of the ads.
Mood Messenger SMS & MMS

by Mad Seven (4.1/5 rating, 5M+ downloads)
If you're looking for more than a pretty replacement to your default messaging app, this is the app for you. It ensures a simple, smooth an effective texting experience by providing a typing indicator to show when your contact is writing, group conversations, real-time Caller ID, password protection, and Chat Encryption between Mood Premium users.
Handcent Next SMS

by Handcent (4.5/5 rating, 1M+ downloads)
Combining beauty with usefulness, Handcent is a messaging app that can make your life not only easier, but also  stylish. It is supported on all your devices so you can check and send messages from your PC, Mac or tablet without disrupting your workflow by checking your Android phone texting app every so often. You can also reply quickly and seamlessly to messages as they pop up without opening the app. With this app, you can receive and reply to your messages even on the go through your smartwatch thanks to its Wear OS support. To ensure total privacy, you can add a passcode to encrypt your messages and keep them safe from prying eyes. Finding what you're looking for within your inbox is no longer a hassle when you can pin your favorite contacts to the top and see them first or simply use the search tool to sift through your messages based on time, type, or whichever filter is most useful to you. 
New Messenger 2020

by Sunny Lighting (4.5/5 rating, 1M+ downloads)
For a fun and colorful texting experience, New Messenger allows for total customization of the texting interface from the text bubbles and fonts, to choosing or creating your own themes. It offers some other useful features like group messaging, dual SIM support, muting notifications, and quick dial.
Cute SMS Texting App by Thalia Ultimate Photo Editing

(3.8/5 rating, 1M+ downloads)
This is a free cute-looking messaging app allowing for background, bubbles, and font customization. It's packed with handy options such as assigning pictures to your contacts, receiving delivery reports, delaying messages from sending and muting notifications from specific contacts.