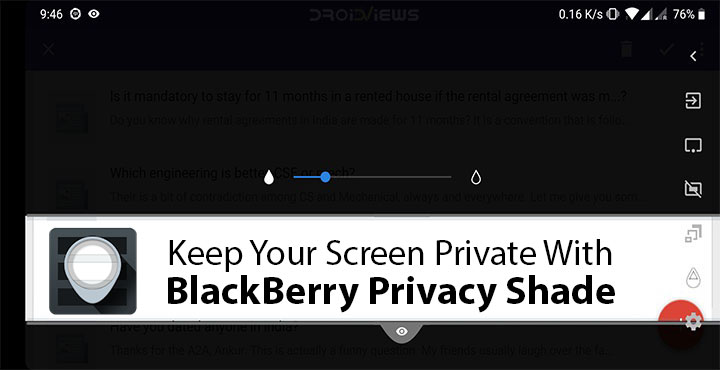 Most of us have been on a subway, a local train, a bus, or a similar situation where you're surrounded by people. You've got an email, a text, or something else that you want to see but can't, not without allowing the person next to you a peek. Sure you can cover the screen with your hand, turn around and face a wall, making it obvious for everyone that you have something to hide. That'll only attract more attention, which you probably don't want. BlackBerry Privacy Shade is a brilliant, innovative tool that can help you in situations like these.
BlackBerry Privacy Shade
It's a free-to-use app pre-installed on BlackBerry devices such as the BlackBerry KEY2. Like all other BlackBerry apps though you can install this one from the Google Play Store as well. Like most other BlackBerry apps, this will require that you to also install the BlackBerry Hub+ Services app from the Play Store. It's a background app like Google Play Services that powers all other BlackBerry apps. Unlike Google Play Services Services though, BlackBerry's aren't free if you don't have a BlackBerry device which makes sense. After a trial period of 30 days, you'll need a BlackBerry HUB+ Service subscription worth $0.99 (₹65) a month.
If you travel to and from your workplace every day and are concerned about privacy though the cost is totally worth it. The subscription gives you access to a bunch of other BlackBerry apps too like the Hub, Calendar, Password Keeper, etc. Moreover, the Privacy Shade app can not only keep your screen private but also allow you to share screenshots easily while still allowing you to hide certain parts of it. Usually, that requires taking a screenshot and then editing it which isn't a great experience on a smartphone. As I said, the subscription completely justifies its cost.
Don' miss: How to Uninstall System Apps or OEM Bloatware without Root
Install BlackBerry Privacy Hub+ Services
Install BlackBerry Privacy Shade
Using BlackBerry Privacy Shade
When you install the app from the Play Store, you actually get two apps. One of them is the Privacy Shade app that you downloaded while the other is the Redactor tool. Redactor used to be a separate app but it was then bundled with Privacy Shade. Redactor allows you to hide parts of a screenshot whereas Privacy Shade protects your screen from unwanted peepers. Right when you launch either of the apps, you are introduced to some of the basic functionality via a quick guide.
When you launch the Privacy shade app, it covers up almost all of your screen. A small, movable, rectangular box allows peeking through the shade to view what you want to view. You'll notice that while most of your screen gets covered with a black filter, it is still readable from a close distance. You can change the opacity of the black filter by tapping on the drop icon on the right. You can also switch between a box or a rectangular or a circular window by tapping on the shape icon. The app isn't difficult to use at all and you can safely tap around and check out other functionality. To exit, you'll have to tap the exit button since pressing the back button will do nothing.
Using the Redactor tool
Similarly, you can use the Redactor to capture screenshots but you can hide the parts you'd like to keep private before the screenshot is even captured. Tapping on the Circle/Rectangle icon on the bottom left allows you to change the shape that you can draw over your screen. Next to it is the undo icon. You can use the share icon when you're done to share the screenshot. While you're here, you may want to disable Always show notification from the settings, because there's a better way.
Must read: How to Get Rid of Google Apps and Services on Android
Add BlackBerry Privacy Shade to your Quick Settings for easy access
Since both the Privacy Shade or Redactor apps need to be accessed while you're inside another app, you can't rely on the app drawer icons. A persistent notification makes the job easy but it might be better to just add them to your Quick Settings. Adding the Privacy Shade or Redactor to your Quick Settings is not really necessary but it can be if you don't want the persistent notification. Doing this is easy too. Pull down the quick settings, tap on the edit icon, drag and drop the Privacy Shade and Redactor tiles to where you'd like them and that's all. Anytime you're in an app and want to use either of these tools, they're just a couple of swipes and a tap away.