High-speed internet is not cheap. Of course, you want to get the most of what you paid for. But why are Netflix and Youtube still buffering so often? What is wrong with my device? Or is my internet service provider just reaping me off? An Android WiFi analyzer is what you might just need.
As the name suggests, a WiFi network analyzer analyzes your WiFi on various factors. Some apps can simply be for WiFi testing, to test the speed of your network. Some can help you troubleshoot issues causing your WiFi network not to work. Some can help you find a perfect spot for that WiFi signal strength that you need. Some can even help you stop anybody from misusing your network. Regardless of your specific need, these Android WiFi tools will let you optimize your WiFi signal.
The best WiFi analyzer apps for Android offer a range of useful features intended to help you get the most out of your WiFi network. You won't need an all-in-one app if you just want a speed test. Although, some might need advanced troubleshooting aid to resolve an issue. With this in mind, we designed a list of the best Android WiFi analyzer apps to save you the time you might otherwise waste on apps that won't fit your needs.
 WiFi Analyzer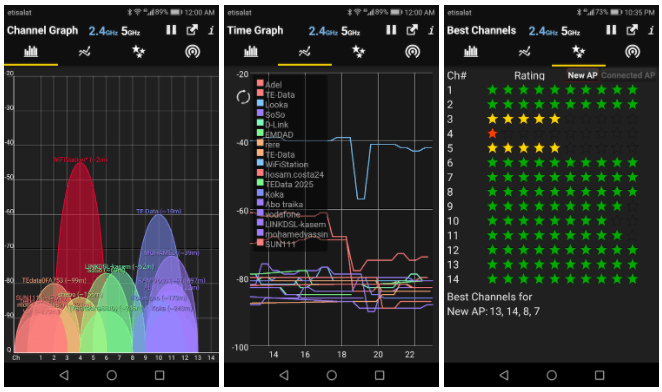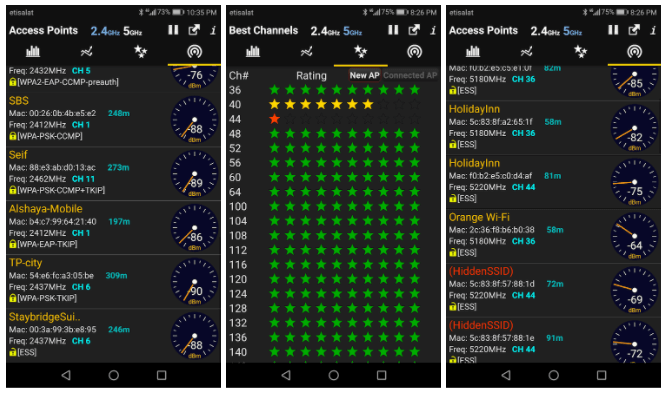 Wifi Analyzer by Abdelrahman M. Sid is one of the best Android apps to locate WiFi networks around you. Simplicity is what makes it stand out. It may not have many features to offer, unlike other Android WiFi tools out there, but it absolutely does its job of displaying the wireless channels around you and helps you find less crowded channels for your wireless router. It supports both 2.4GHz and 5GHz channel bands and allows you to export the graphs.
The app contains ads and you can download and install it for free. A premium paid version is also available and offers you many more features. App size varies with the device.
Get the pro version here
OpenSignal
Open Signal is the most famous WiFi analyzer for Android in this list, with over 10 million downloads. It is designed for WiFi as well as cellular 3G, 4G/LTE & 5G monitoring. It includes a geographical map showing signal strength in the area using a database of speed tests and signal strength from local users. Very useful if you are planning a trip and want to make sure you will not be out of data coverage. It is a speed test tool packed with a lot of useful features. 
Analyze the quality of your mobile video performance; See how much time you spent on buffering, loading, and actual playback.

Show availability stats and a historical log of your 3G, 4G/LTE & 5G connection, as well as data usage history; Best for checking if you are getting the data network quality you are paying for.

Show location of 3G, 4G(LTE) & 5G tests on Connectivity map

Locate nearest cell tower

Alerts you

when you have no data or call connectivity
The app is ad-free and it is available for download at no cost. The app size is 4.7M.
WiFi Monitor
Wi-Fi Monitor is a strong competitor in this list of apps for analyzing WiFi networks. Aside from its attractive user interface, the app offers several tabs and many useful charts. You can use it as a scanner and discover devices connected to your network.
Connection tab provides information on your current WiFi connection

Networks tab allows you to analyze all available WiFI networks by various parameters

Channels tab displays channel traffic distribution

Strength tab compares signal strength levels of available WiFi networks

Speed tab shows your downlink and uplink speed

Scanning tab allows you to search for devices connected in your network
This app is free to download but contains ads and offers in-app purchases. The app size is 3M.
 Netspot for Android
NetSpot has been known as a WiFi tool to help assess, scan, and analyze WiFi coverage and performance for Macs and PCs. This Android version of Netspot lets you discover, analyze, compare, and troubleshoot WiFi networks around you from any Android device. It promises a real-time scan of your WiFi network and all WiFi networks in your area. It provides you with a ton of details about the WiFi network in your area in a customizable table to fit your needs.  It supports both 2.4GHz and 5GHz channel bands.
This app is free to download and install. It is the biggest in terms of app size at 8.4M.
Network Analyzer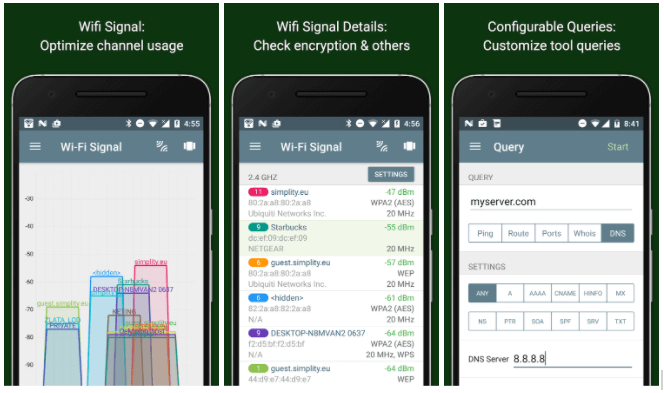 Network Analyzer does a great job of helping you troubleshoot your WiFi network setup and connectivity. It offers a long list of tools to help you evaluate and debug WiFi networks at home or office. A clean, crisp, and easy-to-use user interface makes it great for a quick glance. 
WiFi Signal presents a graphical and textual representation of the network channels, as well as signal strengths that are customizable to let you see what you just need

LAN Scan gives you a list of WiFi devices in your WLAN

Ping test to check your server's response time

Port scanner for detecting open, firewalled and closed ports.
This app contains ads but is free to download and install. The app size is 6.1M.