Keeping an extra eye on something or someone does not necessarily mean invading privacy, most of the time, we do this for security reasons. I mean, there must be a pretty good reason why you're on this page, right?
The recording should be fine as long as at least one party involved has consented. Otherwise, you can be susceptible to legal claims and charges. Bear in mind that when you do this, keep an eye out for yourself too.
Why use a hidden voice recording app?
Privacy is very important, but there are situations that can lead us to do extreme measures. You may be a…
A parent who wants to keep track of your children's whereabouts, keep them from accessing unwanted sites, from cyberbullying and for other security reasons.
A business owner/employer who wants to keep track of what your employees are up to during work hours, making sure that important business matters are kept private and keep records of important business transactions.
Or in most cases, someone who wants to keep an eye out on a partner or spouse who shows signs of infidelity or strange behaviors. You may or may not be able to use this on-court(for married couples) to prove adultery, depending on state laws, but the peace of mind you get knowing the truth is priceless.
Whatever your reasons are, always make sure to read and educate yourself about state and federal laws about recording phone calls and conversations.
There are rarely any call recording tools pre-installed in phones, let alone a legit secret recorder. Even if you search Google Play, you'll barely get any good results for hidden recording apps. But don't worry cause we got you covered. We scanned the internet and came up with the TOP 3 tested and proven hidden call recording apps that actually work, paid and free.
3 Best Hidden Secret Voice Recording Apps for Android in 2020
OneSpy Hidden Call Recorder
OneSpy is an all-in-one phone monitoring app that lets you record phone calls from your own device, monitor your kid, employee or someone close to you. The hidden call recorder is one of its many features. You can use it to record incoming and outgoing calls not just from a phone's built-in calling app but from multiple apps like Hangouts, Line, Kik, Skype, Instagram, Snapchat and so much more. It can also help you monitor call logs, access locations using GPS and get live updates on the whereabouts of your target device, access target phone's internet history, take screenshots automatically and more. The app is protected with a 2-factor/OTP authentication on the target device. Monitoring can be done from a computer or a mobile phone. Ideal for business owners/employers that wants to monitor a high volume of mobile devices.
Note:
It is required that you get physical access to the target Android phone to set up OneSpy.
The target device must be connected to the internet
Screenshots feature only works on rooted Android devices
Android Version Required: 4.1 or higher
Space Required: 5 MB
Pricing: OneSpy Pricing Plans
Visit OneSpy's Website to find out more.
Hidden Call Recorder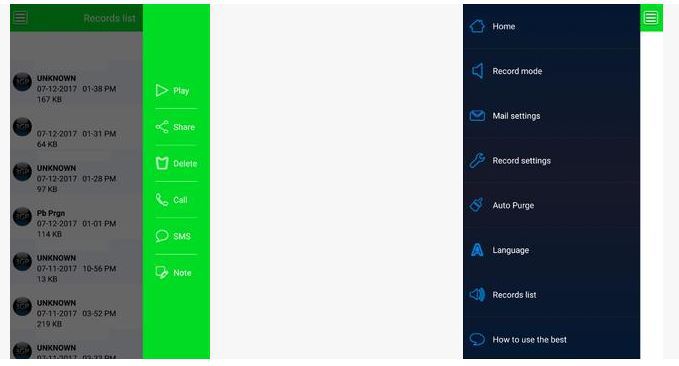 This is a very simple and straightforward app that lets you secretly record incoming and outgoing calls, save text messages and backup contacts. The app uses cloud technology to store files, which you can access from another phone. Installation and set up is easy. All you have to do after installation on the target device is to click the activate button and put your email where the recordings will be sent. You can set the recordings to be sent as soon as the call ends, as long as the target device is connected to the internet. You can choose not to save the recordings on the target device as soon as it's sent to your email. Record the files and save them as 3GPP or MPEG 4 file formats and set the channel that should be recorded(Mic, voice call, etc.).
Note:
App is available in multiple languages
Physical access to the target device is required for set up
The app only supports limited mobile phone brands
The app only works on the built-in phone calling and messaging apps
Android Version Required: 2.3 or higher
Space Required: 2.9 MB
Pricing: FREE
Click here to find out more about the app.
Download it here: Hidden Call Recorder
TheTruthSpy
TheTruthSpy is probably one of the best apps on the list. It is specially designed so users could keep track of their children, partner or even use it for personal or business purposes. The app has a lot of awesome features but the one that stands out most is the hidden call recording feature. After recording the call, it will be automatically uploaded as long as the target device has an internet connection, then you will be able to see all the recordings as long as you're signed in to your account. Other than secretly recording calls, the app can also give the location of the target device via GPS tracker, access browsing history, view files, SMS, etc,. Another awesome voice recording feature of the app is the Ambient Listening feature which lets you secretly call the target phone and listen to the surroundings without the person on the other end knowing!
Note:
Just like all the other apps, initial access to the target device is required for the setup.
To Install the app, you need to allow installation from unknown sources on your phone settings and turn off app scanning from Google Play.
Android Version Required: 4.0 or higher
Space Required: 9.5 MB
Pricing: Visit here for the up-to-date pricing
Visit TheTruthSpy to learn more.
 Reminders:
Though the said apps are hidden, always make sure the notifications are all turned off not to get unnecessary pop-ups. Go to settings>apps>click the hidden recording app>and turn off all notifications.
You can turn off battery optimization for some of these apps to make sure it doesn't stop when recording longer calls.
These apps are mostly from other sources and Google may recognize it as something that's harmful to your device, so you will have to manually check Google Play and make sure that app scanning is turned off, if it isn't, a Google Play notification will pop up on the target device asking to uninstall a harmful app.
We suggest you try these apps and see for your self. Then let us know about your experience using them in the comments.